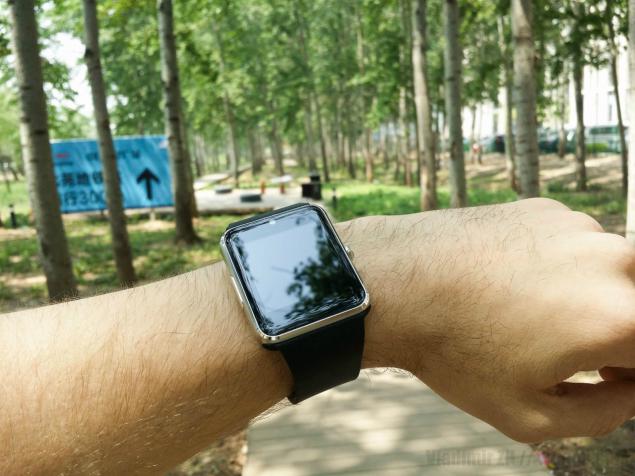 In the wake of wide sales Apple Watch Chinese "Uncle Liao" could not remain on the sidelines and not try to do something different. The range of "smart watches" on a variety of online stores ranging from "absolute clone", which will try to vparit in the lane at half price on this Watch Sport, to the "original design", vaguely reminiscent of the progenitor and issued for their development.
That got my hands - close to the center of the spectrum. The clock is clearly similar to Apple (and appearance, and the menu), but the apple logo nadgryzannogo contain are slightly different layout of the controls, and sold in the store under its own name (GT08 / EG08). I was terribly interesting to see what can be blind for $ 68 $ 55 dollars, and whether it can look decent (ie not to be ashamed to put on his hand, and out of the house). Spoiler: they can be used without a phone call!
But about all in order.
Performance Claims
... the alleged seller. Producer could not be found. I>
Wireless: GSM 850/900/1800 / 1900MHz, Bluetooth 3.0 , NFC (first blatant lie seller) i>
Interface: English, Chinese, Russian, German, etc. (the second and final blatant lie seller) i>
Screen: 240x240 TFT
CPU: MTK6260A
Memory: 128 MB + 64, + MicroSD ( up to 16 GB )
Battery: Li-po 350mAh (enough for 2-3 days)
Color: black
Functions: Sleep monitoring, camera, pedometer, telephone calls, synchronize contacts, answer a call, phone lookup, phonebook, music player count calories notification calls;
Case: stainless steel, moisture protection NO;
Strap: rubber
Weight: 62 g
Package dimensions: 10.5 x 10.5 x 9 cm
Package weight: 235 g
Price: $ 67 (with all sorts of coupons and is $ 54, about 1/6 the cost of these Apple Watch)
Compatibility: Android + Bluetooth 3.0. Supports iOS not. The manufacturer warns of possible incompatibility with the type of custom firmware MIUI.


Unpacking and appearance

Clocks supplied in a square box consisting of two halves in the form of prisms.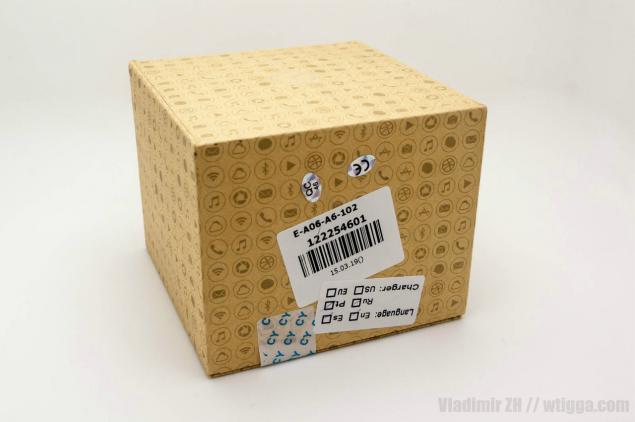 Inside lie on a soft substrate (suddenly) Watches: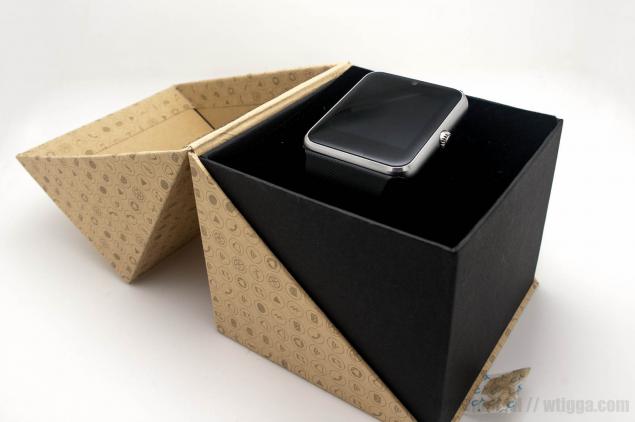 Packaging is simple: watch the flat cable MicroUSB, the battery on the 350mAh, instructions in English and Chinese and plyonochku (!) Hours on the glass (do not think that someone will take advantage of it):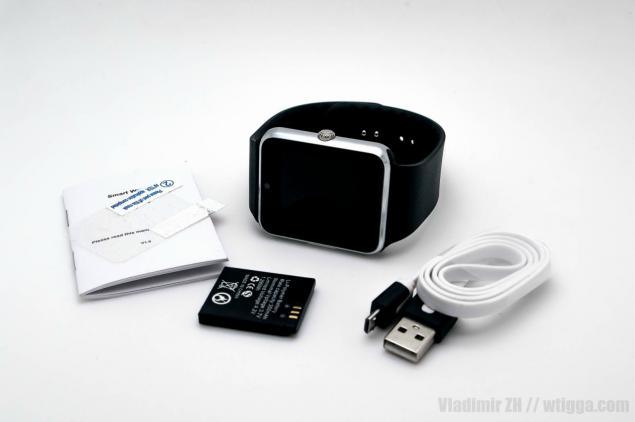 By the appearance of hours no complaints, they look decent. Nothing creaks and no backlash, no plastic burrs. Top honor glass, aluminum on the sides honest.