In this article I will discuss all aspects of life from Pebble and summarize all the knowledge about these smart watches, whose
сборы $ 10 million in
are still record on Kickstarter.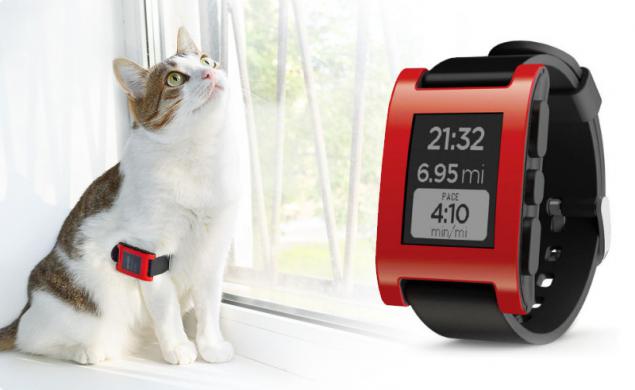 When you first hear about this watch, I advise you to see our first video review, and if you've already read about Pebble, then I hope that the movie will be able to help visualize your thoughts about this gadget.
Introduction h4> Pebble customers now come in a compact and stylish box. If before it was extended (as here this review ), now the box with the clock looks more like a cube.




It comes with a few instructions and a USB cable that connects to the magnetic plug on the clock. To be honest, until I read on the Internet that he often falls off - did not experience any problems with the cable. By the way, the charging cable has been changed from a new generation of watches Pebble Steel (they differ only in appearance and cable), and reviews of new lace much stronger hold on the clock while charging.




It is clear that there are hundreds of hours of clever applications. At this point the article should include Monitors with frames in shades of gray, where strange people can not get it out of his pocket phone, rip the meeting, racking their lives. And then all this is crossed out in red cross and each screen losers give the clock Pebble, that change lives for the better.

Of course, the reality is not so. So first I'll talk about those functions that are used every day, and then those that I use rarely, and in the end will explain the luxury of hours that each of the host certainly will test and then remove and forget about them.


Pebble - Watches h4> Clock - a thing that is always on our wrist, which peeks out from under the sleeve of a jacket or coat. For many men watch - the main and sometimes the only decoration. Of course, to put it mildly, Pebble appear in youth. Different colors, and quite thick plastic casing. Some say they look like children's Chinese clock, but a lot of them like the design, and I belong to it is among the latter. It is also worth remembering about the fact that now there is the sale of Pebble Steel, which already look a lot more stylish and presentable.

Another important aspect - the strap. Pebble immediately equipped with a long strap Soft Touch rubber. It is pleasant to the touch, it sits well in the hand. But if it is to tighten the wrist, the hand will begin to sweat. As far as I can tell, in the case of discomfort strap changes just like at any other hour.




From the appearance of the move to daily use.


This watch is able to show the time h5> To begin the game with a small card. Hours can really show the time and do it creatively and hundreds of different ways. For hours you can throw up to eight different dials (Watchfaces) and switch between them. It is worth noting two things.

First, there are dials just the original or interesting, and there are functional, which in addition to the time will display the temperature, the number of missed calls and unread SMS and anything else.
In the second is because 90% of the time on your clock will be displayed face - his choice directly affects the lifetime of hours without recharging. If you choose a favorite now vochfeys community with monsters, the clock will live 3 days. If you choose any dial with seconds, then 4 days, but vochfeys only the hours and minutes will give your hours up to 7 days of life.
 




The watch has a Service h5> continue on the standard functions, because no matter what - they are still in demand!



Pebble Do not have a speaker, so they can wake the vibration, which is great. I never spilled Service and I like that he does not wake anyone who sleeps in the same bed or room, but only the owner. This opens the door for a romantic breakfast or, for example, departures quiet morning walk, exercise, work, if you have a family of a different schedule. Service also will be a good and polite notice. Missed vibrating bracelet on the wrist does not really work. At least I did not get.



Clock display all notifications from your phone h5> But this is the trump card. The screen will appear all hours of the notice, are allowed at related smartphone. That is, the screen immediately get a message from the VC-mail, Skype and SMSki and challenges. The call can be accepted or turned off when the smartphone is connected to the headset also. The ability to receive notifications on the clock is very convenient. You do not have to climb into the pocket, if the phone fell to the next spam stretch ceilings, a taxi or a super favorable credit. Especially cool that the screen displays hours convenient SMS verification codes, which I often introduce paying services through the Internet. And if the work is related to communication with people and mnogochilsennymi business contacts, as I have, then it will immediately respond to important messages. I saw at Pebble important letter - took a laptop or tablet to answer. Quick response is impressive business partners and makes conversation more productive. After all, if a letter came from the United States to answer a few hours later, the answer may be to wait until the next day because of the time difference.





The watch can control the music h5>

This is the second trump card from the creators of Pebble. Smart Clock fully assume the functionality of a small compact player. Watches are always on hand, they are waterproof and they know how to put a song is paused, flipping tracks in both directions, display song title and artist as well as a progress bar to play the song. I'm generally a supporter of free hands. I do not like briefcases, bags, bags on one shoulder. Therefore, a gadget that allows you to once again not to go for a phone - the most it for my lifestyle and my habits.



Application of the second stage h4>

Personally, I have all of the above would be enough to head to one and all to say that I am satisfied with the purchase and I do not think they look like child's play. But Pebble is really a lot of things can, though little of it I use every day. Generally in Pebble Store has a lot of different kinds of applications. They are so different, that the search for interesting applications is a problem, as there are a lot of repetitive, very similar and just useless programs. It is worth noting at the same time on the clock may be only eight sides of the object, whether or dials application. And the phone applications can be any number, and can be downloaded at any time in the Pebble, replacing the unnecessary programs. However, I am sure that in Pebble Store everyone can find something suitable for yourself. And I would like to mention a few useful applications that I'm not there, but run several times a week.



Stopwatch and Timer h5>

Yes, this is not a standard application. They have to swing through Pebble Store. Functional they are trivial, but demanded. The clock can run multiple stopwatches, put them on pause, cancel. In general, all that is necessary from these two applications. Of course, these things are the basic functions of electronic clock, but the lack of them among a set of standard applications, a little surprised. And the need to take 2 of 8 slots available as simple applications is also not happy. I hope that in the future the program will include pre-installed.



Weather h5>

I caught it on the clock downloaded dial that shows the time, date, degrees outside. That is again the question is not that only Pebble give you this information, and that Pebble will do it instantly. Movement of the wrist in order to see how many degrees to change the track to read the SMS. We can not say that it saves time, and so we often do not appreciate their time, but these watches make things more convenient. Again, this is exactly what I was waiting for them.

Also, I often looked at one time in an application that shows the forecast for the next few days, and builds a graph of the temperature. But I think I'd still deleted.



Applications of the third stage h5> And here I will list what I set, I tried and tried to convince myself that it's convenient, but suffered a fiasco.


The clock can be used as a navigator, and it is very inconvenient. There are two options - either the clock displayed on the screen text prompts like: "After 300m, turn left", or they can view a map with the route. Perhaps if I were naked, but with the Pebble in a strange city, I was frightened to climb the navigator on watch. But then I remember that they only work in conjunction with your phone, and if it is in front of me, then I will open the browser on your phone.
The clock can read a book and it looks weird. Hand position which will have to read and his hands, which have to switch pages is not very convenient. So this option is good for taking notes on the similarity of leaf purchases or short cribs, but hardly suitable for normal reading.
On the hour, you can send a response message to the messenger. What can I say, dial SMS three buttons are not so simple. Especially if there is a phone that beckons its full keyboard.
Games. All day long on my watch lasted Tetris. It is funny, but to play him uncomfortable to wear for hours. Anyway use the clock for the game, it is at least strange.
 

Even with the hours you can make a smartphone to take pictures, you can use the clock as a pedometer, you can throw them images from the photo gallery, but it is all I have on the clock and the day did not hold. While someone may enjoy. In general, it should be said that for 3-4 days Pebble take any almost any man. This is a great adult toy that even after the wow effect will please its owner its not wow, but very useful features.



Custom application h5> It should be noted at the outset that the developers are interesting Pebble policy. Hours for three years, and the only proposed change - only cosmetic improvements hours Pebble Steel and improved adhesion to the clock at the charging cable. But it is not justified by the authors intelligent laziness hours and the fact that they want to develop the first intelligent infrastructure of hours to fill store useful applications, to teach users to use them, and not to drive developers and buyers line hours with different hardware stuffing.

So exactly how high-quality applications and the development of new applications Pebble at the heart of - hours available for the so-called online environment. It does not need to download the library and configurators, it is not necessary to set up, it only requires an internet connection. Programming under the Pebble everyone can and this is perfectly written in the following articles:


Programmable at Pebble. Lesson Two: The stone that gives answers, dice and dice sex
 And for fans of something harder - photos of disassembled watches Ayfiksit.





Compatible Devices h5> Pebble connected to your phone via Bluetooth. If the phone or tablet works with Bluetooth 4.0, it maintains a constant Bluetooth connection is virtually no effect on the lifespan of a smartphone without recharging. A previous version of the Bluetooth module can already eat away precious interests.

At the moment, I found confirmation Pebble works with virtually all mobile platforms. Watch friends with iOS and Android. Also out applications for Blackberry and Windows Phone (бесплатное app for Windows Phone ).





Disadvantages Pebble h5> It is time to take stock and to summarize the flaws that I noticed during the use of these smart watches:


For me, the first one is still the need for them to charge. Yes, they have to charge no more than once every 3-4 days, but still have to.
A long-standing problem with the Russification and has not received the decision "out of the box." Ordering watch, you may have to put Russian firmware. This is done in three clicks in 1 minute ( there is leadership ), but it is unpleasant. Especially when there is a new firmware and have to crack to roll again.
Design. Whatever you may say, this watch their appearance does not suit everyone.
Display. These hours do not EInk display, as they say in advertising brochures and Memory LCD. He's good, but sometimes at certain angles can be seen on the screen divorces like to display someone pressed. It is not flashy, but once a week you will notice this unpleasant picture. I should add that there are no stains on the screen, and from the protective glass and Pebble Steel this you will not see.
A lot of low-quality applications in the Pebble Store. In pursuit of a number of uses, and thus the application, we get a lot of completely useless programs, including hard to find something worthwhile. A little help systematize by popularity, number of downloads, but at the bottom of the rankings is very difficult to find highly specialized pearl. I hope that soon the criteria for getting applications into the store, as well as their moderation seriously harden.


Strengths Pebble h5>

The most important thing - is the transfer of the center of notifications to the clock screen. It is very convenient.
The life of a single charge in the region of 7 days still happy on the background of a very long-lived are not competitors.
Good basic and downloaded applications also bring convenience to everyday life. Here I select music management, stopwatch, timer, weather forecast.
Watch waterproof.
It is the only watch that fit almost all existing mobile operating systems.
actively entering new firmware that activate new features in hours and adding new chips already in use.
Design. You can choose a black, gray, white, orange, red or steel watch. And yes, I like the look of my red, white and even watches. Due to its design Pebble well isolated and you will always immediately notice another peblovoda =)
Open and convenient online SDK
 



Conclusion h5> For me Pebble became not just a toy, but really useful gadget. The first few days I was completely immersed in the possibilities of hours. Permanently set and removes all new programs, read the forums in search of new opportunities for hours and tried to use them anytime, anywhere, even if it was uncomfortable. By the end of the first week of my furious onslaught at Pebble weakened, and a week later I have not put new applications quite accustomed to what is already there and gradually removing everything that I, as it turned out, did not enjoy at all.

After the first few days, I said to myself that became much less take the phone, and the motion of the wrist to read the message became habitual. I especially appreciated the fact that the screen displays hours convenient SMS verification codes, which I often introduce paying services through the Internet.

And then I gave the watch to be praised, my friend. Of course, I did not miss a letter, do not get up at the clock or not to dress for the weather. But on my phone again began to pile up unread messages and letters, which I could also respond quickly during the day.

To summarize, I would say that for me, Pebble became not just a toy, but really useful device, which is now closely associated with me, not only on the wrist strap.



P.S. Buy Pebble smart watch can here , and Pebble Steel here , in the already known habrasoobschestvu store Madrobots , who sent me this gadget review.

Source: habrahabr.ru/company/madrobots/blog/227149/