Immediately after the start Pebble Time broke the record on Kickstarter fundraising pace, and last week have already updated the record for the total amount of fees. Many publications have written about that specifically Pebble start up before the announcement of Apple Watch, in time to collect the cash before leaving giant. And now discuss whether to take Pebble Time erupted with renewed force after March 9 Apple told all about their hours, which has already appeared on the shelves on April 20 against the May delivery Pebble Time.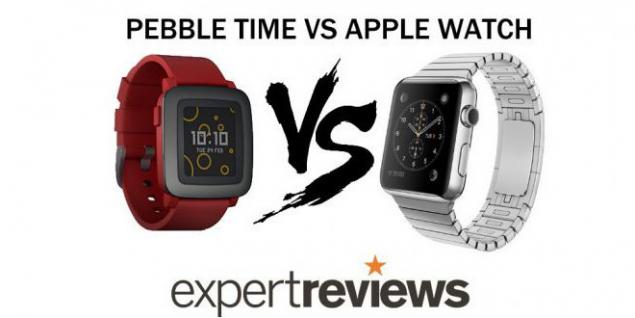 Let's compare Pebble Time and Apple Watch. Personally, I think that it gets pretty different products only partially overlapping audiences.
Another is to add that previously announced Pebble steel version of its new creation, which performed well, gold is very similar to smart watches from Apple.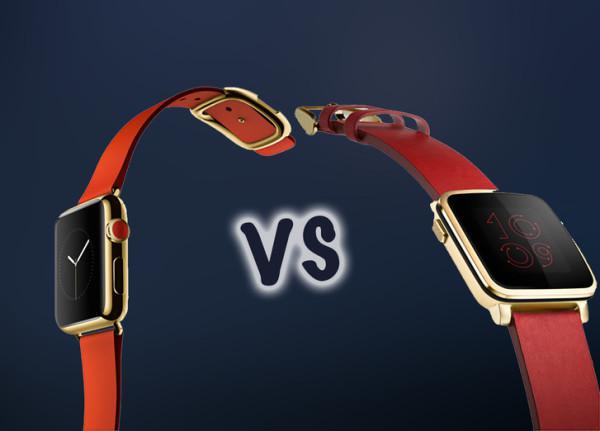 Price and
Expensive steel version Pebble Time Now Kick cost $ 250 + $ 15 for shipping worldwide. In reteyle this version will cost $ 299. In this case, there is a cheaper version for $ 179 hours + $ 10, which will be in Russia priced at 16, 990. Estimated delivery month Kikstarterovskih FORECAST - May for the basic version and August for steel.
Apple's watch will cost $ 349 for the cheapest Sport version with a display of 38 mm and $ 399 for the display of 42 mm. More expensive models have hours will cost from $ 549 to $ 1,049 + $ 50 for the same, but with a display of 42 mm. But the golden gadget will cost from $ 10, 000. In this April 10 will start pre-order, and the gadget will appear on sale on April 24 in nine countries (Australia, United Kingdom, Germany, Hong Kong, Canada, China, the US, France and Japan). About Russia currently unavailable.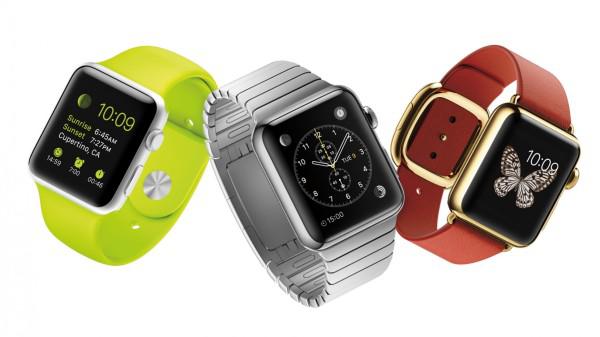 Design and variants
Apple Watch. H4> The watch from Cupertino many options. You need to select the model, then the display size, material, color and then straps available.

The model is called Watch, Watch Sport and Watch Edition, and each model can be equipped with a 38mm or 42mm in height display. Both options can be configured for right-handed or left-handed.

Watch standard model is represented by two types of housing: stainless steel and black stainless steel. And given a choice of a number of different straps of leather and other materials. Watch, by the way, are equipped with a sapphire crystal.

Watch Sport version is made of anodized aluminum color silver and space gray and glass Ion-X. Straps to choose from are: white sports, blue, green and black.

Watch Edition version will be made of yellow or gold with sapphire new protective glass. Straps here to choose from the sea, but the price corresponding tries. Hours will cost from £ 8 to £ 13, 000, 500 ($ 10 000 to $ 17, 000).


Pebble Time Steel. H4> The watch, thanks to a comfortable fit, fit any 22mm wide straps. And as a protective glass is used Gorilla Glass.






Display and navigation


Apple Watch. H4> Although the clock and there is a small 38 or 42 mm display. This is a full retina fingertip, made on technology AMOLED. It will be protected by Ion-X or sapphire crystal depending on the version.

The main feature is a digital-to-navigate crown that practically invented anew. Hours before it was used for winding the watch and set the correct time, but now it has become much steeper functionality. She gadget owners be able to scroll and zoomed the displayed items. Also, the crown is a button with the function of Home.


Pebble Time Steel. H4> have new hours of Pebble energy-efficient color e-Ink display, which displays 64 different colors and updated at a rate of 30 frames per second. And he protected using glass Gorilla Glass 3.

Unlike its competitors, the display at Pebble not touch. But the clock is, as much as 3 buttons for navigation (one responsible for past events and notification came, one for current affairs and play music, and one of the future plans and events).






Software


Apple Watch. H4> Watch Apple's just bursting with functionality. Chic retina display ready to display any information in conjunction with your smartphone. All that users operate in everyday life - in a convenient form to be displayed on the wrist. Throw in a touch screen and special gestures that are optimized for screen clock, new WatchKit, Apple Pay and all other features and applications Eplovskoy ekostiemy.


Pebble Time Steel. H4> Of course, Pebble has accumulated store of applications that the new version will be regularly work hours. But 6, 500+ applications and screensavers looks weak on the background AppStore, which simply was breaking from appov for the iPhone. It should also be noted that the best quality applications for Pebble always been from the developers themselves hours, though the last released and comfortable environment for programming and strongly support third-party developers.





Battery


Apple Watch. H4> Creation Tim Cook can keep the battery in normal operation up to 18 hours. This means that they will have to recharge every day. For this purpose, the magnetic induction charging convenient. The technology is similar to the MagSafe laptops.


Pebble Time Steel. H4> Normal version will have hours 7 days hold a charge, but the steel already 10. This makes the most long-lived hours on a single charge on the market. Power is also carried out using a magnetic charge that is attached to a special socket on the clock.





Other features


Apple Watch. H4> Apple many times repeated that their watches - the most personal product they've ever released. Apple Watch should become the center of a user's interaction with the digital world and the center of collecting useful information. In the hours of integrated heart rate monitor and GPS clocks take from your smartphone. Also stated the following functions:

tactile vibrator and built-in speaker for the combined interaction with the user
Special Epplovsky S1 system-in-a-package chip
Accelerometer
Bluetooth 4.0
Support Siri


Pebble Time Steel. H4> In Pebble out of the box there is no medical sensors, but there is a motion sensor for counting steps and the ability to connect bracelets with built-in peripherals, the same as a heart rate monitor, extended battery or GPS. Also watch can boast the following chips:


Improved lighting
The new Cortex M4 processor
6-axis gyro
Smart Accessory port (for connecting peripherals built into the bracelet)
Waterproof
Tactile buttons to control the blind
The quiet vibration notification
Support for international characters (even China)
Fitness tracking through third-party applications such as Misfit and Jawbone.



Compatible



Apple Watch. H4> The clock will work with the iPhone 5 and above. Work is needed to iOS 8.2, which was also announced at the presentation of March 9.



Pebble Time Steel. H4> Pebble can even make friends with the iPhone 4S and above, as well as with Android 4.0+




Which do you choose?
If you have Android-user, or want to take the watch cheaper, then you just pay attention to the Pebble. But if you iOS-adept and want maximum functionality of the clock, the choice will fall on you Apple Watch.

At Apple Watch the best display and already have such popular now, heart rate monitor on board. But they keep charging all day against ten days at Pebble.

In order to somehow summarize the functional watches that now have or will soon enter the market, is invited to refer to the following table.







Source: geektimes.ru/post/246996/