After one inadvertently stated bewilderment in comments to an article in "what someone else is the clock?" And the resulting violent response of the public,
the author decided to explore the theme of hours and understand - and whether watches are dying, or they are reborn, like a phoenix, into something new and fresh.
Under the cut you will find:
- Historical background
- Photo in a large number of (traffic)
- And many letters! [Next]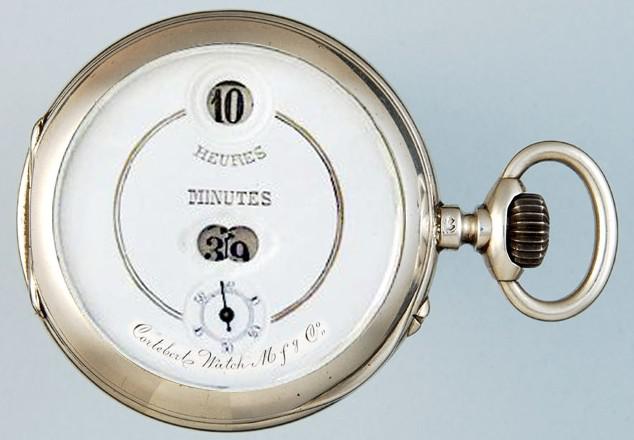 Background
So, historically watches appeared in the 17th century, and of course for a long time remained completely mechanical device. Interestingly, the very first personal watch worn on the neck as a pendant, and were intended mainly for decoration - nekudyshnaya mechanisms were, they had to start at least twice a day, and the arrow was only one - hour.
With the advent of vests mods have moved from a hours-pendants pocket watch, a chain from which pathetic flaunt.
By the 19 th century watchmakers get the hand to make quite precise mechanisms take into account the compensation of thermal expansion and introduced other tweaks to improve the accuracy of the clock - there were so-called chronometers, ie the clock as a device for the precise measurement of time.
By the end of the 19th century with the advent of the industrial production of watches were also produced on a large scale. At the same time, known to this day the firm Patek Philippe produced the first wristwatch.
Interestingly, although most hours were analog, sometimes appeared in the form of digital innovation mechanical clock - for example, Cortébert Jumphour already in 1890. But these clocks were only a trifle more the curious.
And long hours remained for hours. They could measure the moon phases, calendar and other cyclical processes, but they were all mechanical, and they mainly serve to measure the time (and the thickness of the purse of the owner, of course).
Electrical clock.
In 1957 appeared the first few hours on the battery. It is not yet quartz, instead of simply winding the spring mechanism is moved due to electricity. But it was also the prelude.
Quartz watches
A revolution took place in the late 1960s, when the well-known company Seiko produced the world's first quartz watch Seiko Quartz-Astron. It was already a completely new technology, these watches were much more accurate previous electrical, mechanical or rather most, much easier to them - and still they did not have to start.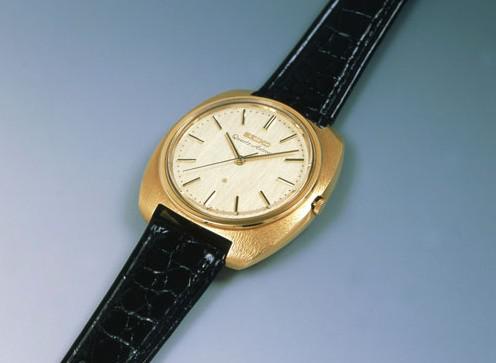 ...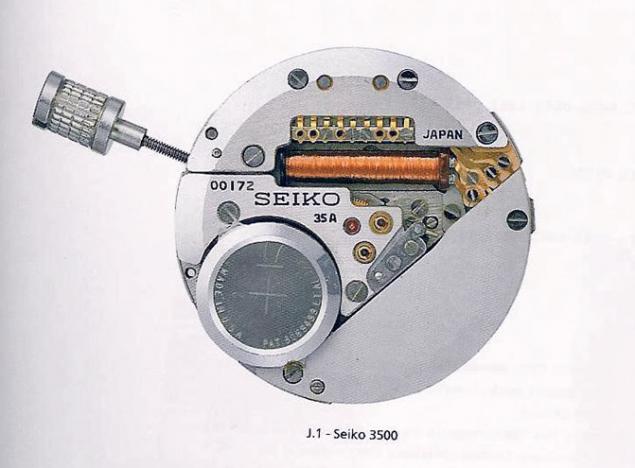 However, the second revolution was connected precisely with digital clock - in the era of the birth of computers were the first digital wristwatch.
Digital clock
In the early 1970s, an independent inventor Roger Rail made and put into production a unique watch with LED-display, which is charged by solar panels - double innovation! They were called Synchronar.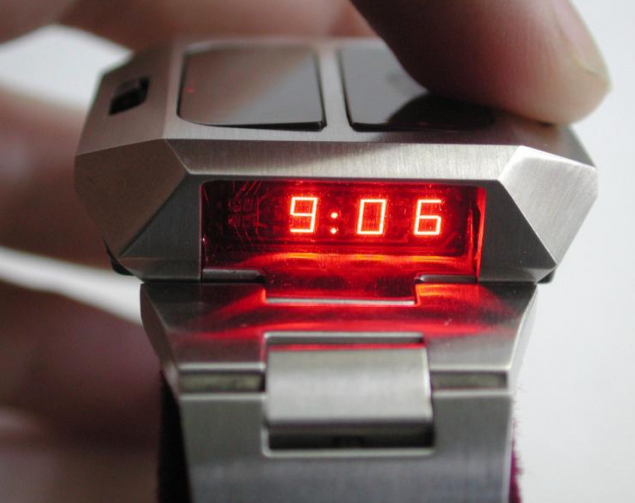 The inventor set out to make absolutely impervious hours without moving parts inside. Digital - means no arrows. E - means no gears. Solar cells - no need to change the battery. Inside the case all the parts were covered with plastic, and the configuration and management is carried out by means of magnetic keys.
Watch for the time looked like a fantastic gadget, besides the dial side was that it was too unconventional.
In hot pursuit of the company Pulsar in early 1970 released hours Pulsar P-1 with LED-display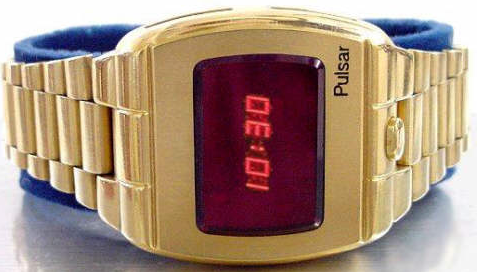 Like any new product, it was expensive, and decided to make Pulsar status accessory - a body of 18-karat gold, and all the rest. Therefore, these cost watch their first happy owners of $ 2'100. No, not in a hurry to be surprised - at current prices, given the inflation of the dollar in 40 years, it will be about $ 12'000. Behold, now surprised. It seems that today, when copies of several tens of hours left, they should cost even more.
Modelka Pulsar P2s came later, and cost slightly less lit up in Bond film "Live and Let Die».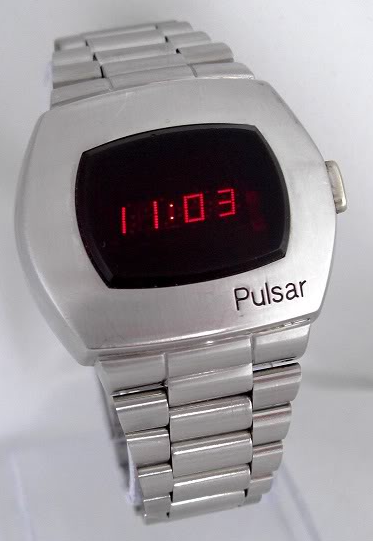 But the company is now clear, I have made quite a common mistake - made a bid for the exclusivity of the new technology, and does not take into account that technology is rapidly improving and getting cheaper.
And, of course, long music played - in 1975, again a well-known company Texas Instruments has released a massive cheap watches with LED-screens and plastic cases for only $ 20 (and a year later they were sold at retail for $ 10). Naturally, the company went bankrupt and the brand Pulsar bought Seiko.
I think I have found such a watch in his early childhood. LED devouring energy, so you had to click the button to see the time, but it looked like those little red lights are absolutely magical. Around the same time, the market shook and the first liquid crystal displays. Seiko released his first 06 LC Seiko watch in 1973.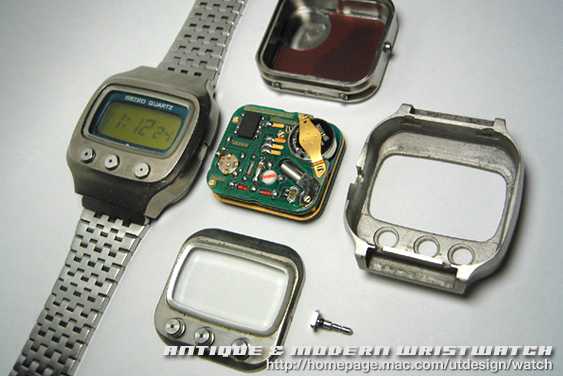 I remember these first generations of LCD, with a disgusting swamp color contrast - but also the miracle of technology, do not say anything. And the energy they spent much less than LED, so it is quickly ousted from the market. Gadgets
But in the mid-1980s there was a probably a third revolution - the clock began to gradually turn into gadgets. Superiority captured Casio.
1982 - Seiko T001 - the first watch with a built-in TV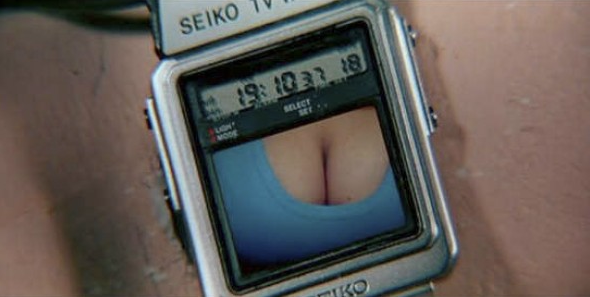 At the same time - Casio - watch with a thermometer and a translator from Japanese to English
1985 - Casio CFX-400 with a calculator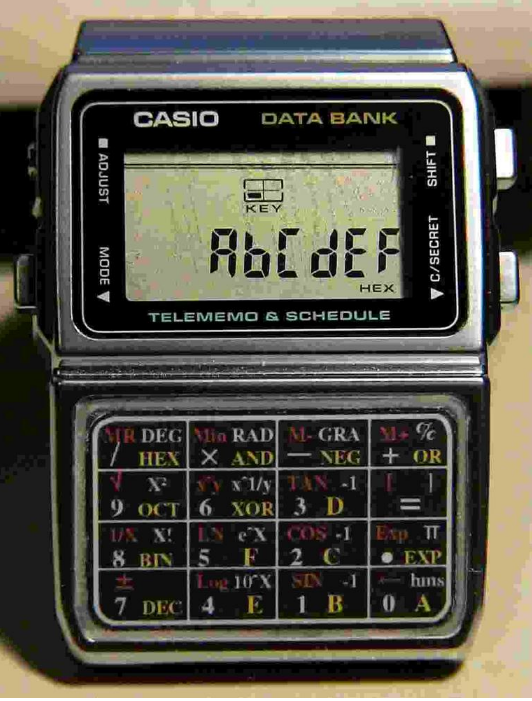 1987 - Casio watches with a set of telephone numbers (more information can not be found - I think they make sounds set the tone and they had to bring to the tube)
Also this year - the first widely selling watches with solar powered Casio AL-180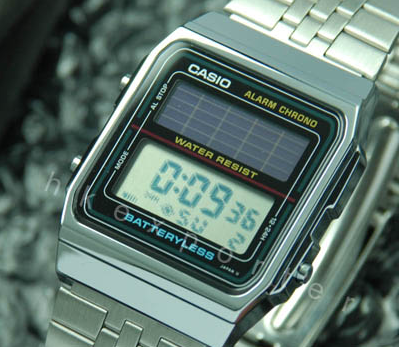 Of course, we all remember Casio watches with musical alarms ...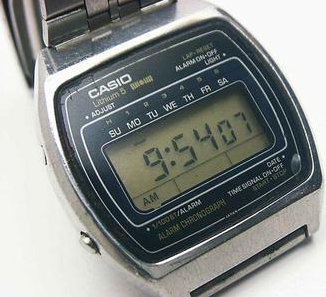 ... Their Soviet counterparts "Electronics»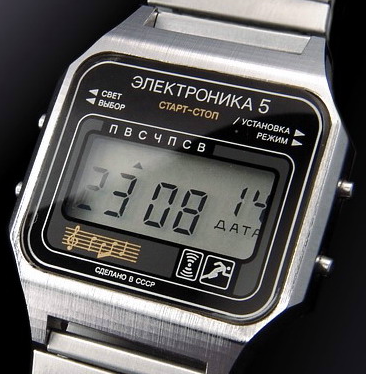 ... And also hit 80, no-name watches Montana: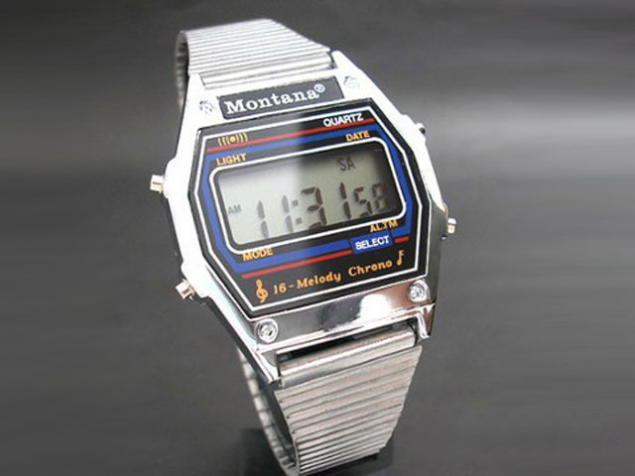 In 1990, the German company Junghans Uhren GmbH has released the world's first clock, which adjusts for radio signals, specially encoded and transmitted in the air - Junghans MEGA 1.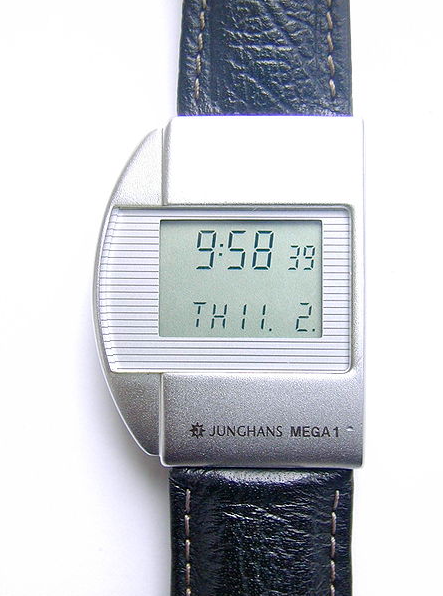 1991 - Casio watch with notebook, calculator and - pa-ba-ba-bum! - Touch screen! I do not know how it was possible to get a finger in such a small screen.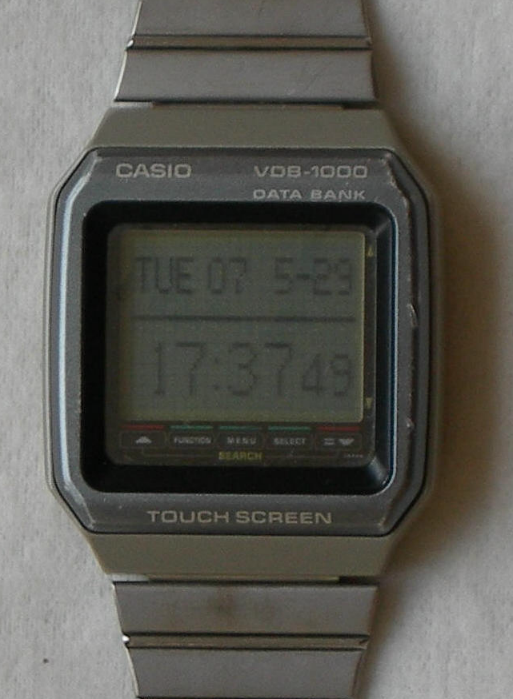 2000 - the first wristwatch with mp3-player from Casio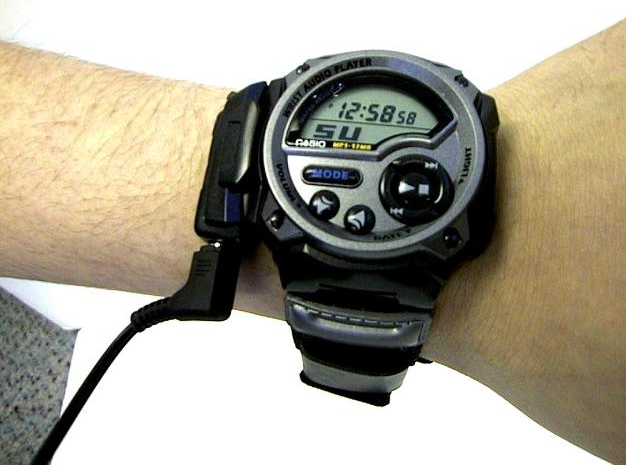 By that time, technology has reached such a state that all sorts of odd hours rained like frogs after the hurricane.
I'll try to highlight one category.
Clock with different players.
MP4 Player Watches⇗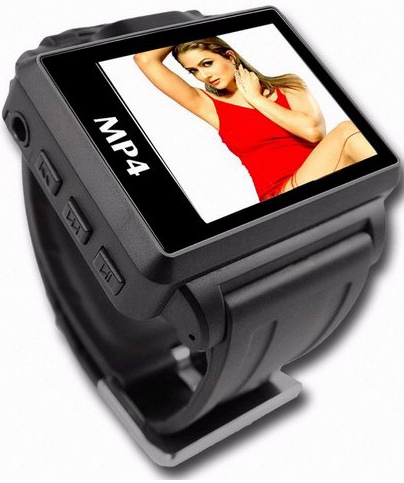 With Thanko MP4-players and mini-videokameroy⇗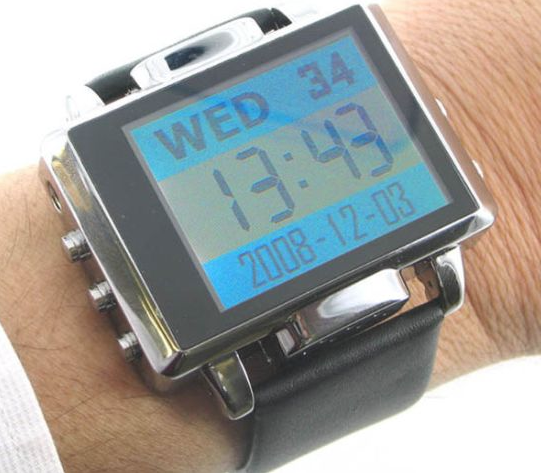 Watch with calculators and other devices
Cal-Q-Tek⇗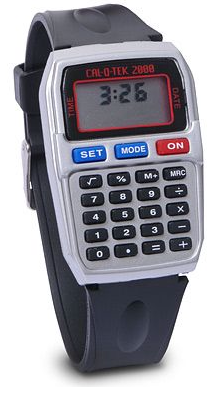 Casio CMD40B-1Z⇗
Built-in calculator and remote control for the TV.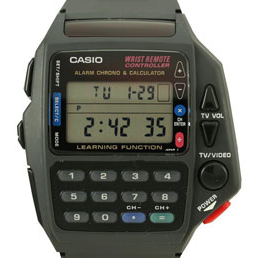 Already almost antique clock with OSes Palm - Abacus Wrist PDA⇗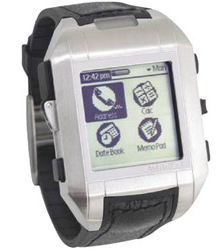 Unusual watches
Ora Watch Design by Alexandros Stasinopoulos⇗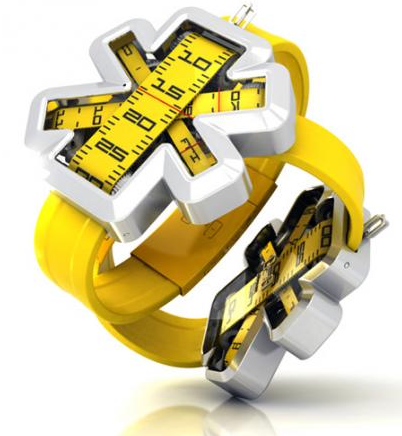 Watch, whose evidence is without preparation not read
BINARY-W1700⇗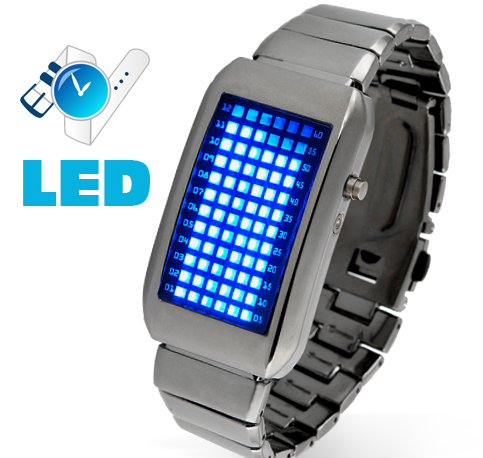 TokyoFlash Kisai Sensai LED⇗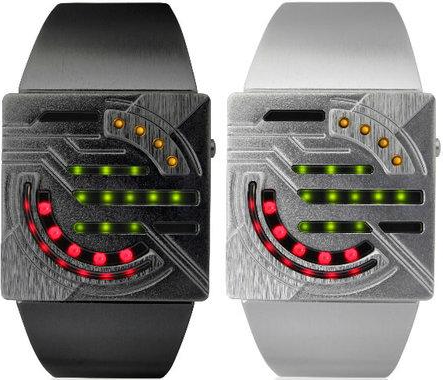 For sailors and divers
Jaeger-LeCoultre -Master Compressor Diving watch⇗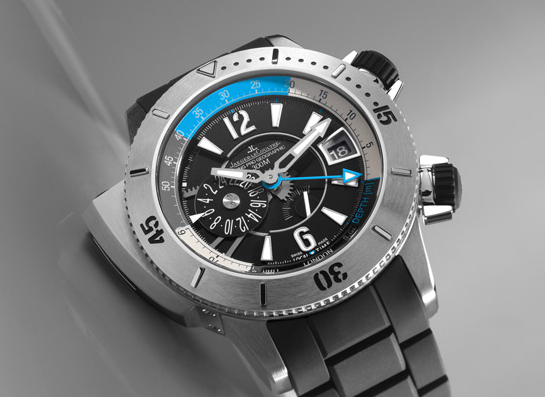 For tourists
Hours pyxis gps⇗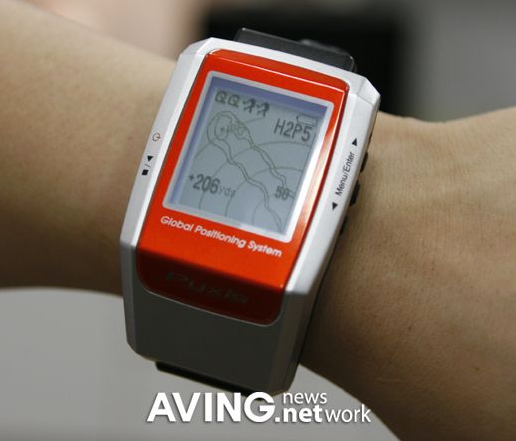 Watches with built-in walkie-talkie Walkie Talkie Watches⇗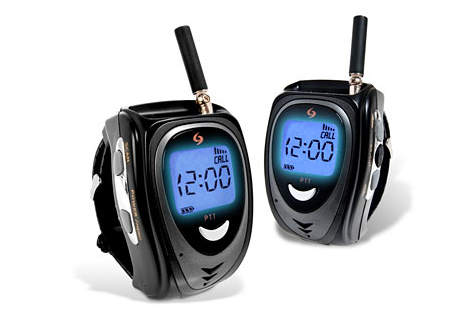 For athletes
The well-known and popular series of Casio G-Shock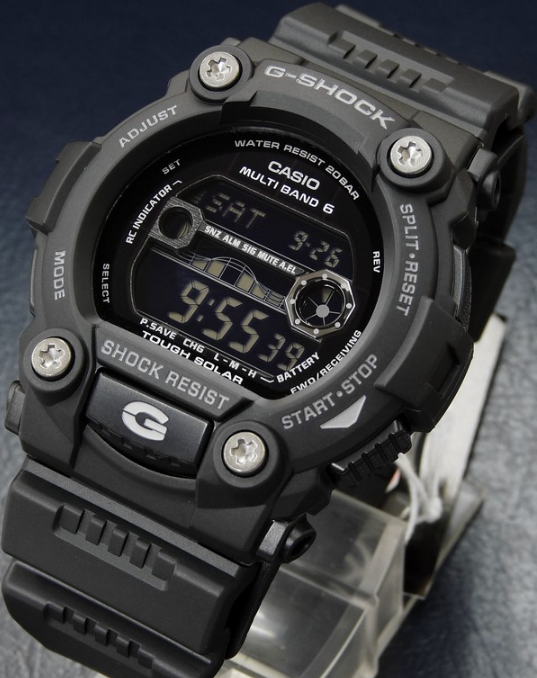 Music, heart rate monitor and GPS - all in one of the Motorola MOTOACTV⇗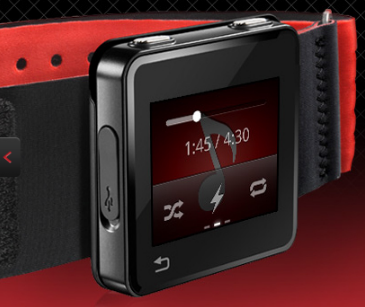 For fishermen
Hummingbird SmartCast Fish Finder Watch⇗
Wirelessly receive data from sonar, which is attached to a fishing line, and show where the fish are.
Watch headset gatzhety support for mobile phones and toys for geeks
Apparently, these models are now thousands of hours, they make a complete classification alone is almost impossible.
Here are just a few of them.
The first watch with Bluetooth - Citizen Virt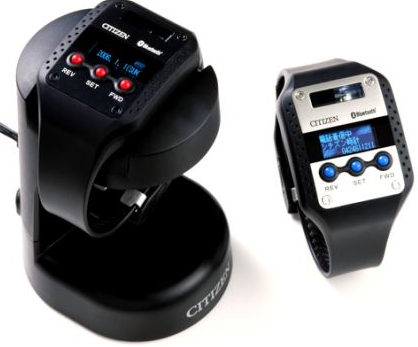 Citizen Proximity Bluetooth Watch For iPhone⇗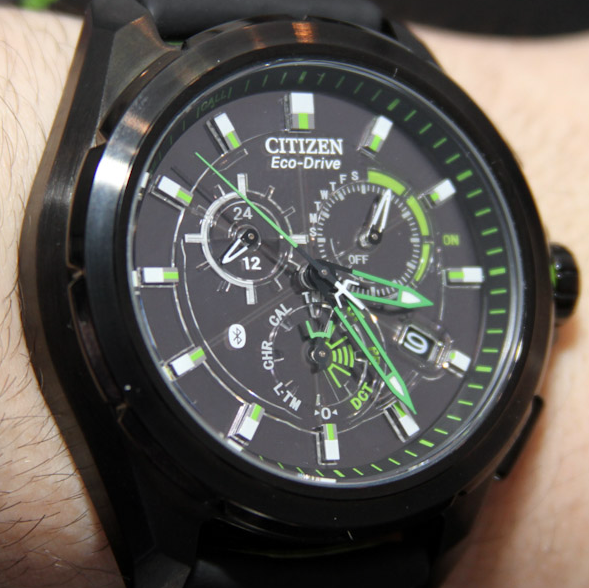 I'm Watch⇗ (on Android'e)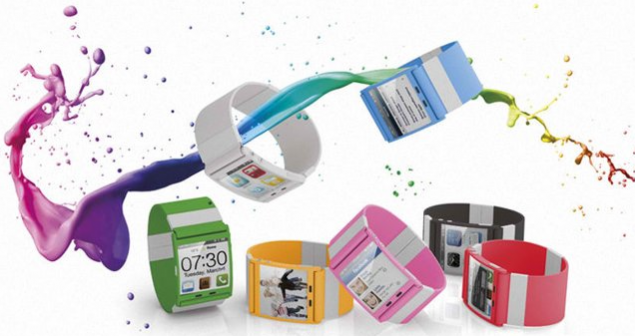 Sony Ericsson MBW-100⇗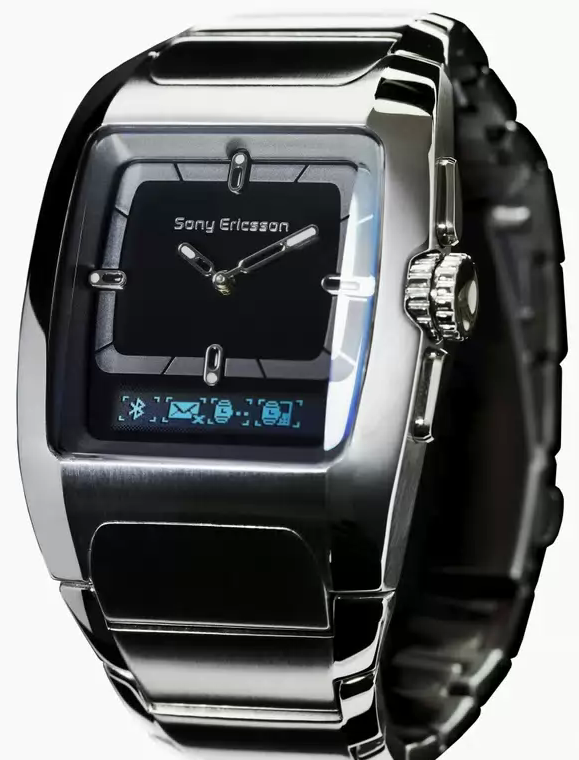 Fossil⇗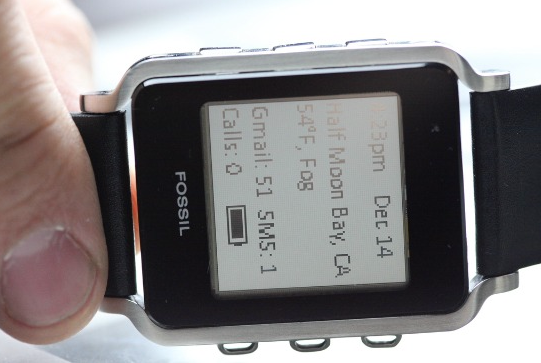 Casio G-Shock Bluetooth⇗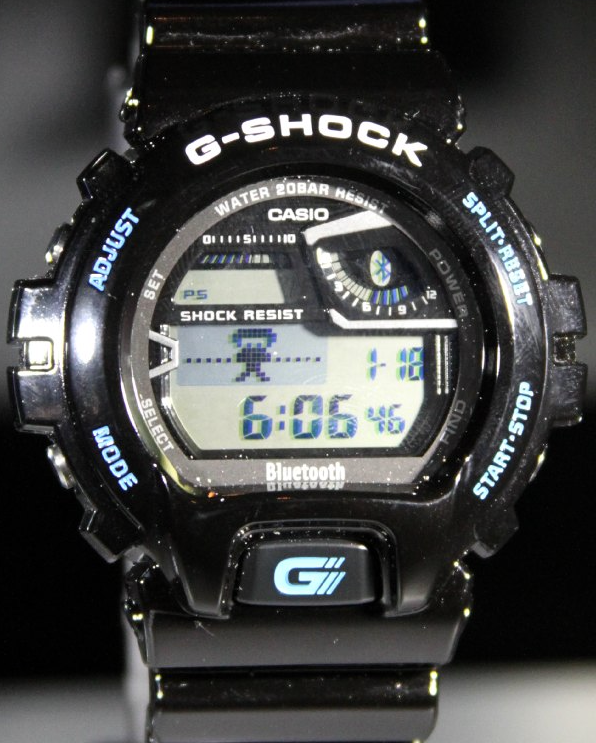 Prada Link⇗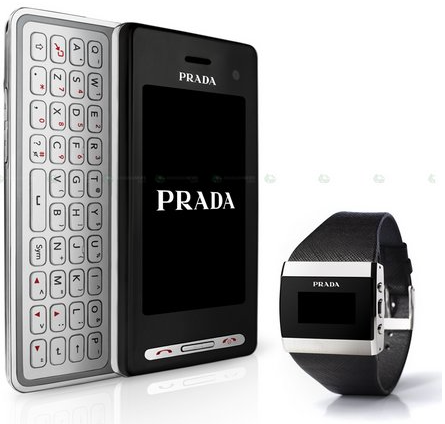 Deus Ex-Machine Watch Mobile⇗- clock with built-in mobile phone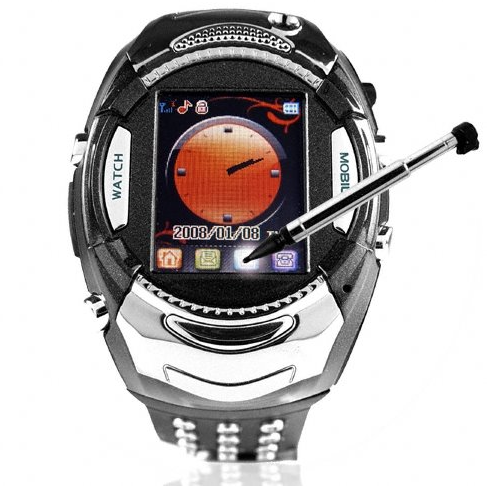 More one clock-mobile - Touchscreen Mobile Phone Watch⇗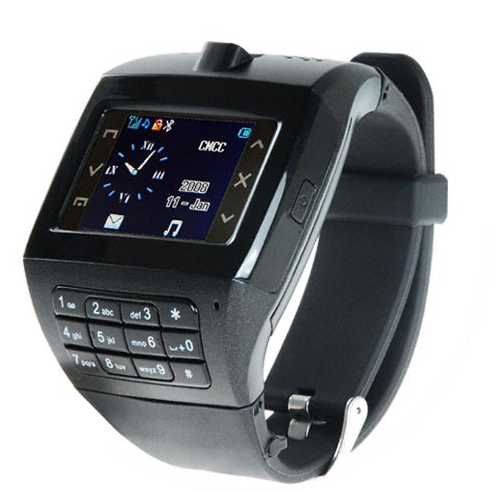 Watch mobile phone with a hinged lid and schёgolskoy arranged in a circle buttons (vintage) Cellphone Watch⇗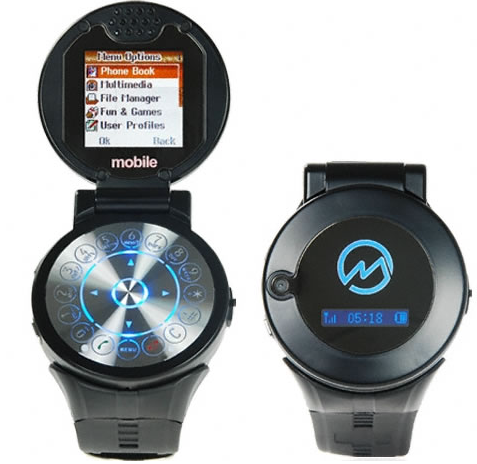 Watch the camera on a flexible wire for peeking around the corner Ultimate Spy Watch⇗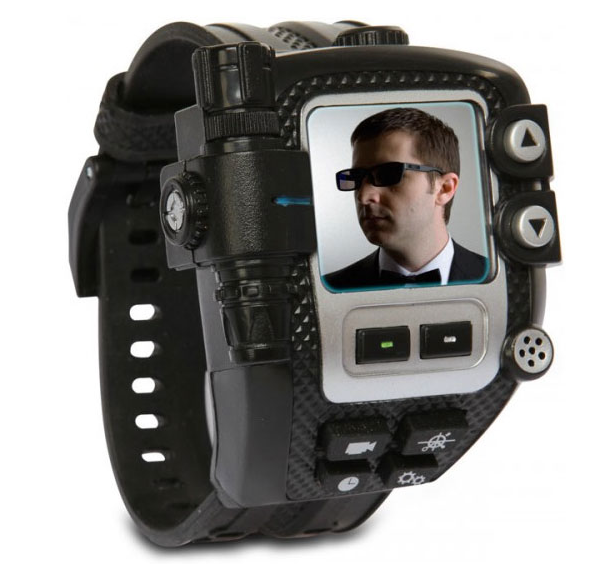 Watch as extra. Keyboard Keypad watch⇗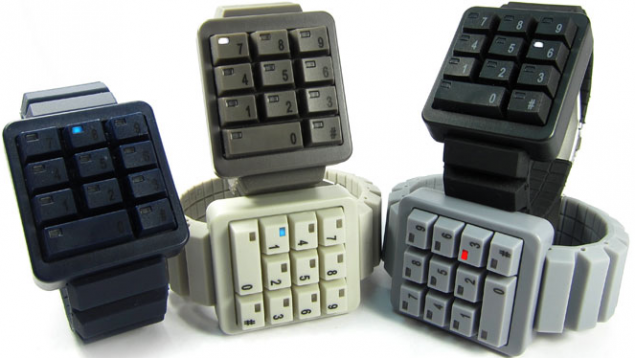 Boombox Metal Wristwatch⇗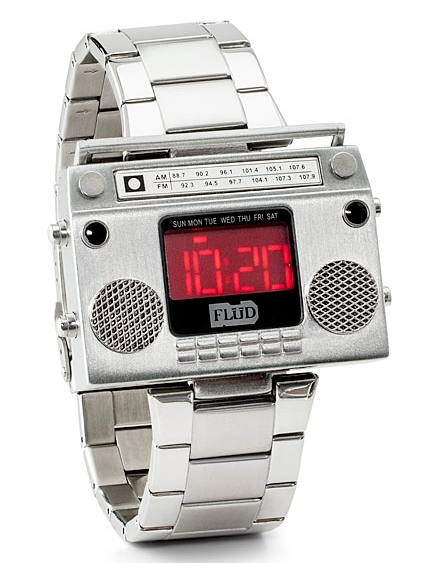 Sensational to watch Kick-controller Pebble⇗ (project collected $ 100,000 and collected more than $ 10 million)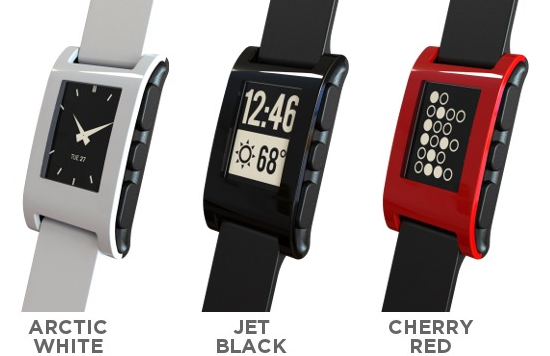 Kick You №2 ​​- «The thinnest watch in the world» CST-01⇗ (collected $ 200 thousand, and collected one million)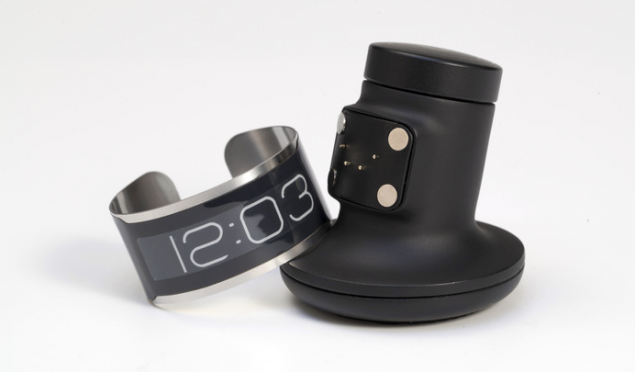 And so on and so forth ...
We can say that at the moment the evolution of hours of closed the circle. Ordinary watches are most commonly used as an accessory, and the time we learn, taking mobile phones out of your pockets, as once the pocket watch.
© Habra
Source: