So, in fact, not for sleepers - is a shame, I think, as a beginner blogger))), the answer to the post of companion findeler.
As they say, could not stand the fuck ... I have so many dashed
. This story was intended as a comment, but because of the volume of text decided to turn in a separate post. I do not know that so hooked. Apparently, because the theme is not just close to me. Anything else, I, my friends, in fact, engaged and can not ... And currently reanimated site, which is not to say that there be no publicity and plan the future sculpt your scrapbook builder in the form of a small building blozhka, good, funny stories you have noticed a cloud)))
So, on the theme:
TC something right, of course, but made a number of mistakes which, in general, that could have been avoided without losing the customer ... I will not criticize or defend Findelera ... say would have done in this case myself ... speak once, at the TC is little information about the object, but, as I understand, it is a house about 150-200 m2 in two floors with simple layouts and the selection of the correct constructive builder and briskly ordered it not the rich who want the highest possible quality for its money and comfortable house .
At a meeting with the customer in the first place made a cursory inspection of the site and the surrounding area for slopes, the surrounding marshes, lakes, ravines, etc. Sfotorgafiroval him.
At the first meeting in no way be nazyvvat no even approximately digits. In the worst case start to breed, tending to your lack of professionalism and lack of experience. In such cases - I suffer. This is the beginning. At the second meeting all usually goes) ...
Ten pages of comments on the nearly one and that convinced me that the theme of geology and geodesy should be given more detailed consideration. Of course, geology and photography do not ... It's a fact. But now it is necessary to pay only for geology. And this is important for the customer, maybe only 25 sput. we have in the city for two wells on the diagonal corners of the house - it's inexpensive for peace. I do not think that this is an excessive amount of money for anyone who was going to build a house. Need it, mainly to determine the most important thing - the groundwater level, and as a nice addition - bearing capacity of the soil ... At least, even if no Raman and work, and to estimate the type of foundation with higher accuracy, it will help you ... Well, and to talk with neighbors about the water level is superfluous. They can tell a lot of interesting ... I have not seen that much direct neighbors lied about water ... basically embellish, but do not lie, maybe, understand that then have to live with these people.
Geodesy, ie, for the simple - shooting, we need at a time when precisely define the contours of the foundation and will be on hand all the necessary tech. conditions for connection communications. Money for her client is now no need to pay, but it is, of course, also need ... it is useful, first of all, for the development of communications. Not all. Electricians draw a schematic for a long time, in at least in our region. But for the gasification project anyway asked survey, as well as for water and sewage, if it is not well and septic tank. And to paint, for example, the landscape then it will be very convenient. Here send zakazchitsu those conditions is collected in order to know where and what to shoot - it's the right thing.
And I put a house, for example, more convenient to just the area. Shoot me now it does not need, maybe then we can determine more clearly and the sun and the target ponaglyadnee homes, far away, so to speak, than it can show if it is, of course, not the whole street ... and to estimate where the house to move towards the more frequent side entrance of cars to the plot ... well, to put the house on the plot is more convenient than the shooting.
To explain even the most zlovrednyuchey had ordered it will not be difficult, maybe total of all costs at this stage: approximately 25 rubles geology, Square jus 7-10 rubles for shooting through kneading or two, and that is not me, and geologic and geodetic office where it will enter into a contract. Since this would not be put off, and once again will call on the phone with the customer will always be out of place.
Right from the area I would suggest ordered it to drive to the office. Not for what you're thinking, and to discuss, first of all, the composition of the premises and the area, maybe, it is very important for drawing layouts. After discussion and practical advice would have given her a few days to consider the proposed options, add something, subtract rethink area suspected premises, and would have met her again when she is ready, with photos of the site and a copy of the cadastral plan ...
At the second meeting, by joint efforts were born to lay the optimal zoning section, the outer dimensions of the structure. I am sure that in a small house to do it is not difficult. Hopefully, by the time the geology will be ready, and, on his own, on the basis of the information collected, would be offered the type of material the walls and floors with an approximate cost, which would allow to estimate the type of constructive foundation, based on the load and geology. Well, then - welcome to the competent designer responsible for the constructive steps - the foundation, and as needed, roof system, the benefit, the cost of a simple constructive settlement of the foundation - about 15-20 sput., Well, for the roof, again, if it complex, and if necessary, will ask no more. Too little money, you agree? Scatter plate on floor and jumpers on the windows can be easily and myself. It is not difficult.
In some cases, customers are asked to visualize the house. If a 2D facades - even 5 sput about if that is seldom asked 3-te - of course, more expensive. In our case, we omit. In simple house rarely requires visualization. For special requirements of the customer, which is rare. Total: 60-65 thousand rubles costs. Not too much, you agree? I do not think it will be a powerful obstacle to any customer.
Now I am preparing to build a house with many children fellow state. program, so it is even easy to pull, maybe, it is necessary and it is aware that peace of mind is more important. If you buy a finished project on the Internet, for a simple photocopy of a useless, except for you, blue print, you will be prompted with an average of 40 sput n pole is likely to need adaptation that is still, on average, the same. Yes, and geology in this case, too, is not going anywhere.
Office, by the way, last year moved home, changed the mk housing, and an accountant working on the house, what to save a lot of money)) Equipped currently account here. By the way, it is very convenient - finally, much more time is obtained to carry out at home with children and wife - this time, customers, maybe mostly decent people, even more penetrating when they come to my house in a nice office ... Here my wife children, ie, I do not stray any not run away, quickly changing office ... All the same, it is necessary to understand - a man builds a house for many years, perhaps even for several generations. Yes, and a lot of money. In short, a person must be reliable. Psychology, her mother))). His wife - a loved one, the mother of my two sons, my friend, a professional secretary, prepares to eat delicious, but still classy lover straight to work
Then everything is according to plan - free quotes, of course, the contract and drove. A couple of months, and here it is - the finished house to the joy of the mistress))
Anyway, the bottom line, will she not go away from me, and earn an extra couple of hundred kilorubley I would not stop) at the same time, I am sure, saving for the customer, much more ... That's about all that I wanted to say ... I hope for someone post will be informative in preparation for the construction and help to avoid mistakes with the selection of the contractor. Sincerely, RETROrus ... Uh, thick happened ... Firstborn 2004)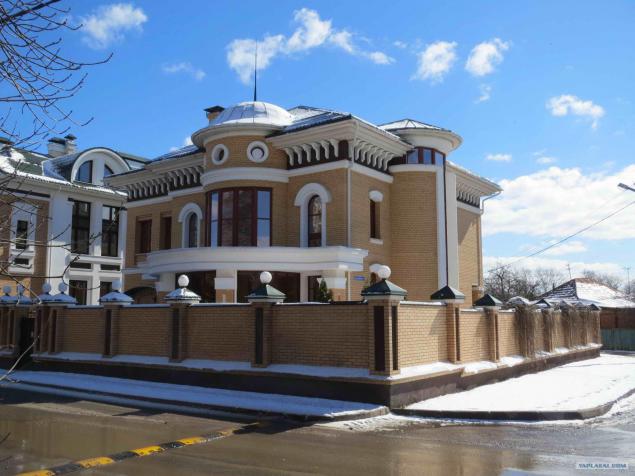 The younger brother). Born two years later)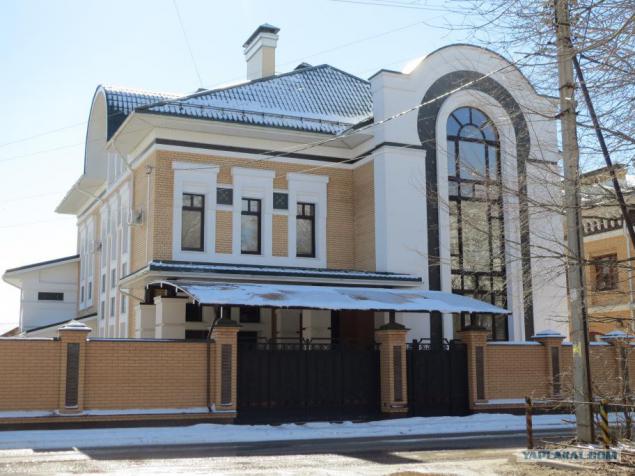 It was built in parallel with the second)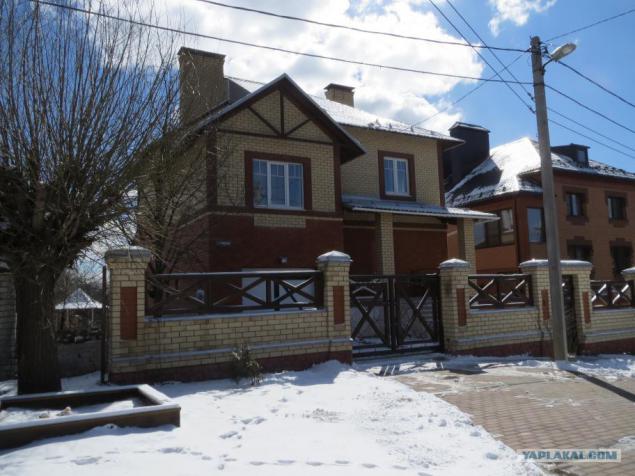 2009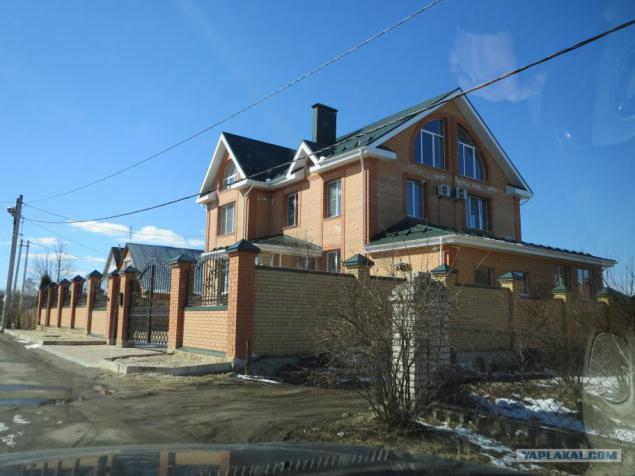 in the process) ranks brother) All.