After the September trip to the salon MakerBot in New York,
described Habre
, I seriously ill 3D-printing, all 3D-visited exhibition which is only possible, personally met with all the players in the market, with whom possible (who is not met - met my beloved partner), and then decided to
«Everything went! We go in 3D »
Being on the one hand, and draws a dreamy person, but on the other hand - a cynical and prudently cattle-businessman, before diving headlong into the industry, it was decided to shake vigorously pull manufacturers of 3D-printers, the choice of emphasis for future distribution.
Dwell on this point, not much I will say only one thing: "shaken" inconvenient questions, appointments, the real test, the weighted price comparison - out of the top 10 brands, occupying media space, low level segment is not considered, in principle, by virtue of well-defined competence Groups of people involved in distribution.

And so, in April of this year, we threw a wave in the Spanish town of Navarre, where I was able to personally see the European level of the assembly of 3D-printers in the factory bq , about anything and wanted to share with you, not forgetting " cherry "at the end of history.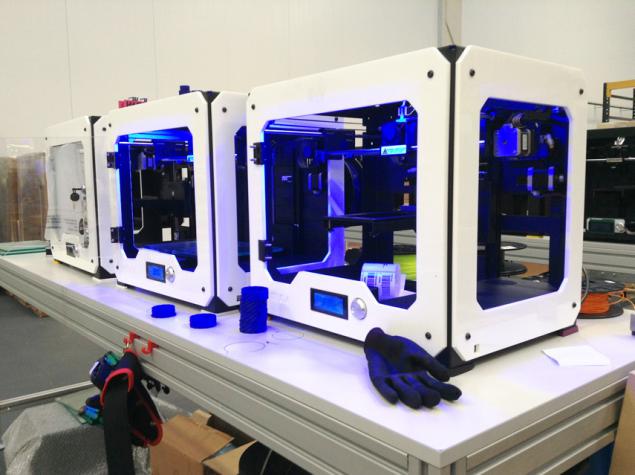 Town, where the company's factory bq , which produces printers Witbox , as usual for Europe (and I've been in many factories in Europe and China), is very small and romantic as expected: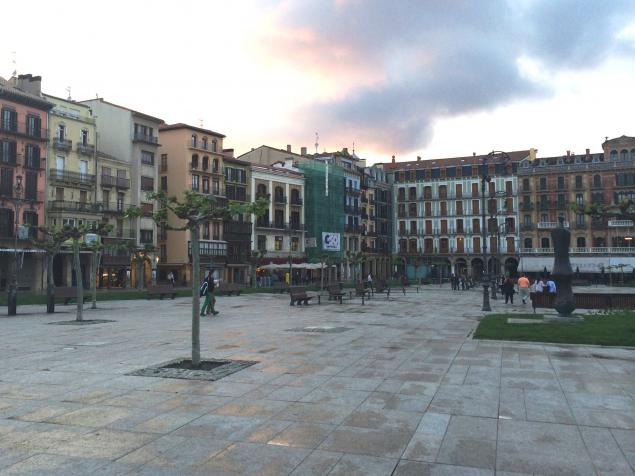 On the morning after his arrival in the city - we went to the plant itself, the meeting was somewhat muddled because bq on the same day came more distributors from Italy and Colombia.
Especially interesting for me was to see the production of human eyes, the arrival of which there was no time to prepare (ponastroili Potemkin villages on the famous tradition in Russia).

What to say after Chinese cold dimly lit shops with the girls, Kuta warm with belongings on desktops - European assembly always like oil per capita.
Immediately catches the eye: Space and Clean



We had a step by step throughout the production, allowing an overall plan to take photos without approximation.
Below - the most interesting of them, in my humble opinion, with a few comments: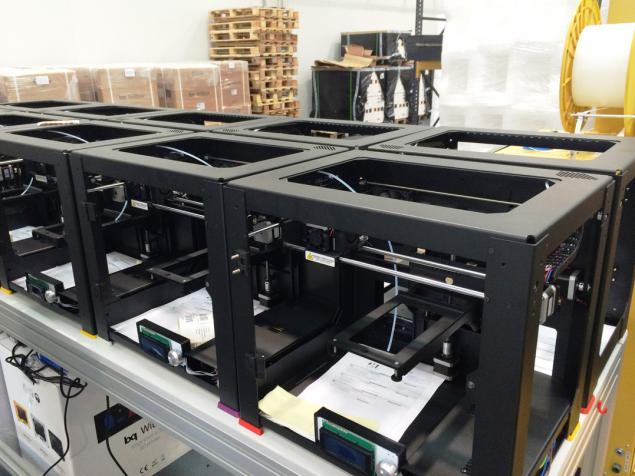 The first step in the production of the tables were collected with the guides, fastened inside the platform, and then fix the control electronics.
Under each printer goes CHECK list , in which collectors say the operation, and the intermediate testers, put a tick on the efficiency or lack thereof at a certain point (in the photo - a white leaves inside each Witbox printer):

External elements of e-filling - set guys "blue collar" on this line. they also conduct testing of electronics:



In the next room we found a FANUC Robodrill - essentially a large 3D-printer, only nonadditive format production.
Seeing him, the engineer of our company, who arrived at training, trembled with emotion and began to whisper in my ear that "this thing is worth more than all that is here," and this made me worry for no apparent reason.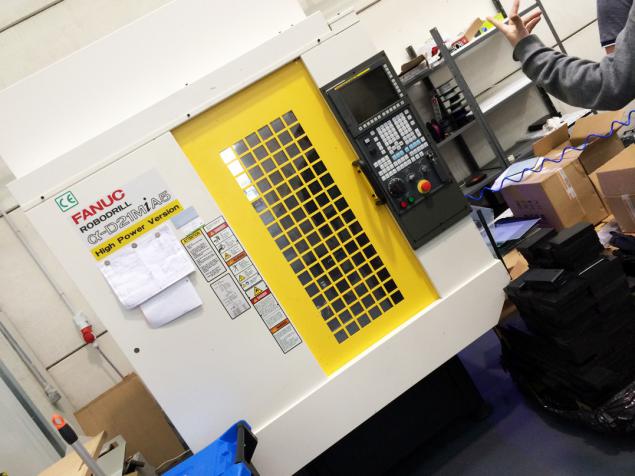 Our question: «What is it used?» I> we have shown here on a stack of folded parts next.
This snap-ducts for electronic filling of the printer, the Spaniards in the bq grind out its own: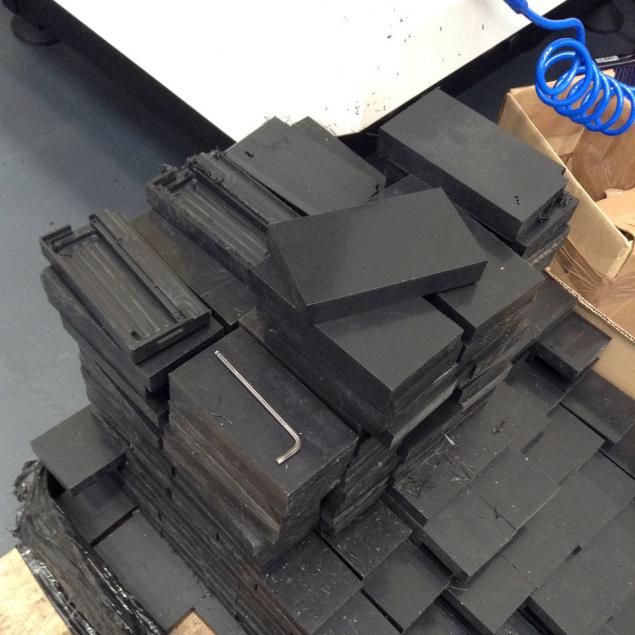 This was followed by a phrase made me think:
«We used to print these cards on our own Witbox 3D-printers, but with the growth of production it was absolutely unjustified costs on temporary» i>

Guys from Russia, manufacturers of 3D-printers, often boasted to me that a lot of things from spare parts to their "gadgets" made on their own printers.
It can be concluded that the number of units produced hardly great in these particular cases and indirectly can talk about a small accumulation of production experience.

FANUC is next to Laser Cutting Plotter , which produces bright exterior panels for future printer.
Maybe I called it wrong, but on me, the office rat, this kind of big machines, in the eyes turn a huge sheets in beautiful shape, ready to install exterior panels with the logo on the board - always produce a fascinating experience.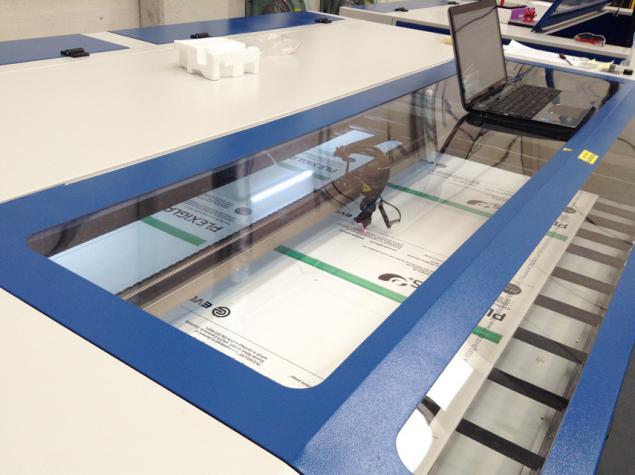 Before installation of panels, each printer starts to print a calibration modelki (below you will see a number of these printers Witbox-s).
If the test is successful - the printer goes into packaging. At the same models, printed on this printer, need to invest in a box.
Does not pass the test - do additional configuration to victory.




Here again, I trembled and looked at the long fascinated bluish backlight print area, peripheral vision appreciating elegant solution for laying PLA-plastic without the standard for most devices of this kind of flipping through the top: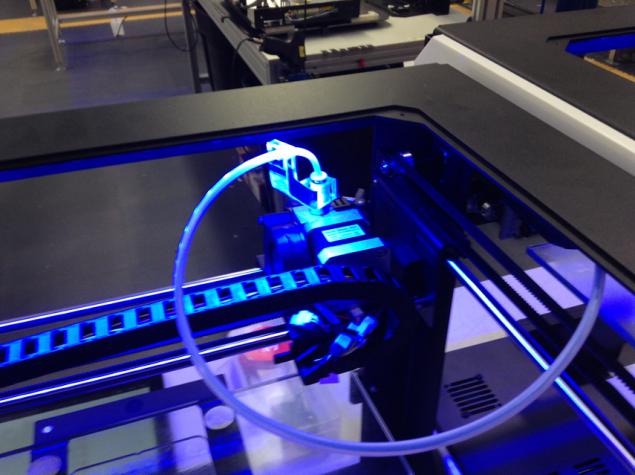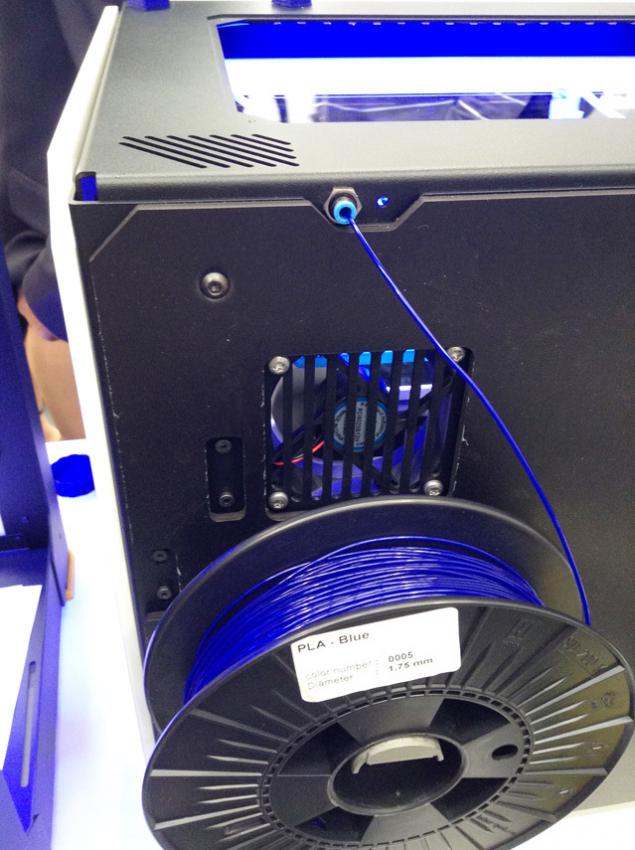 On printers that have passed testirovku printing, put the outer panels (yellow, black or white):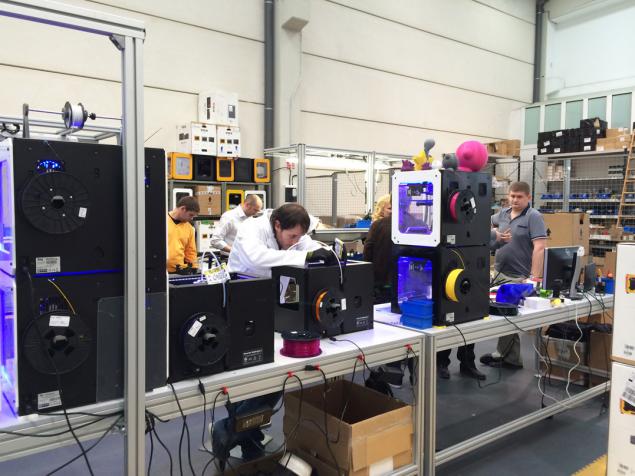 And then, with the help here this here manipulator # ДажеИнеЗнаюКакНазватьТолком reconnected to finish packing table (photo manipulator given "play" our engineer, who became friendly with much congenial Spanish engineer for a short time of our visit):



At the finish the package I liked everything.

1. Double box - beautiful inside and outside the conveying: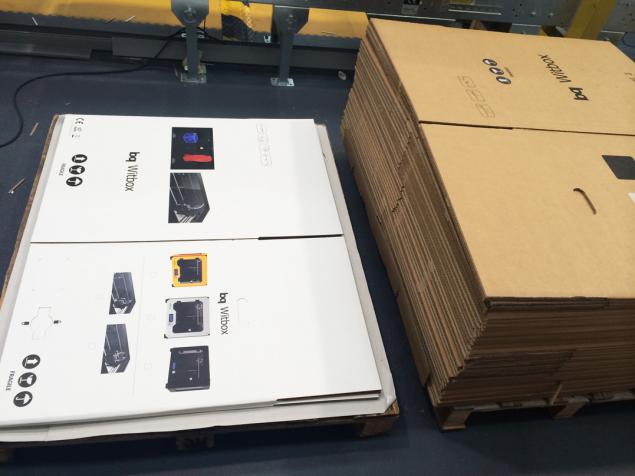 Guys from bq told that the printer in this package can withstand a fall from a height of 1 meter:




2. On the packing table, in addition to the printer in the box fit:

- Coil PLA -Plastic (two printer Witbox with two extruders)
- 4GB SD -kartochka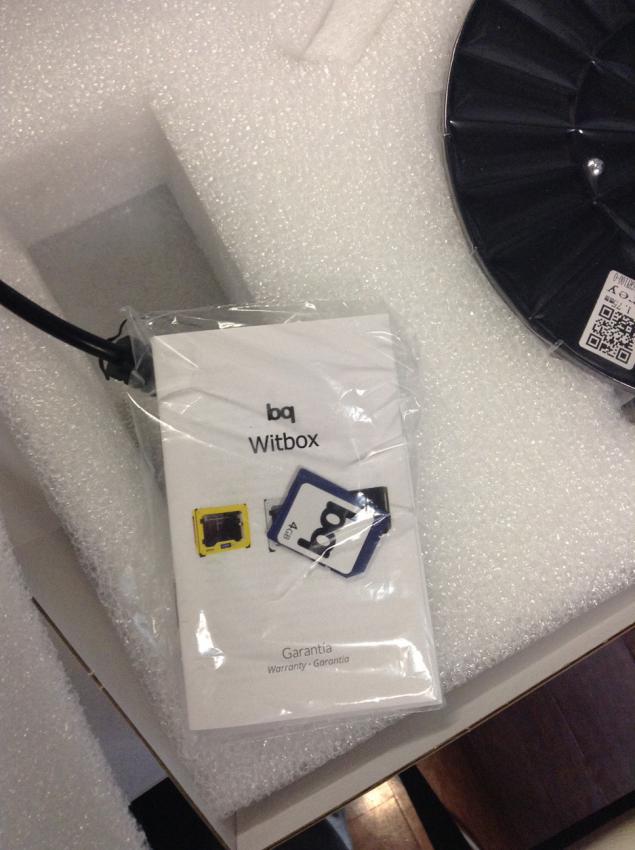 - Optional HOT END - the extruder nozzle (I almost burst into tears when he saw and girlish issued photo with a frame in a sign of sincere gratitude for such attention to customers):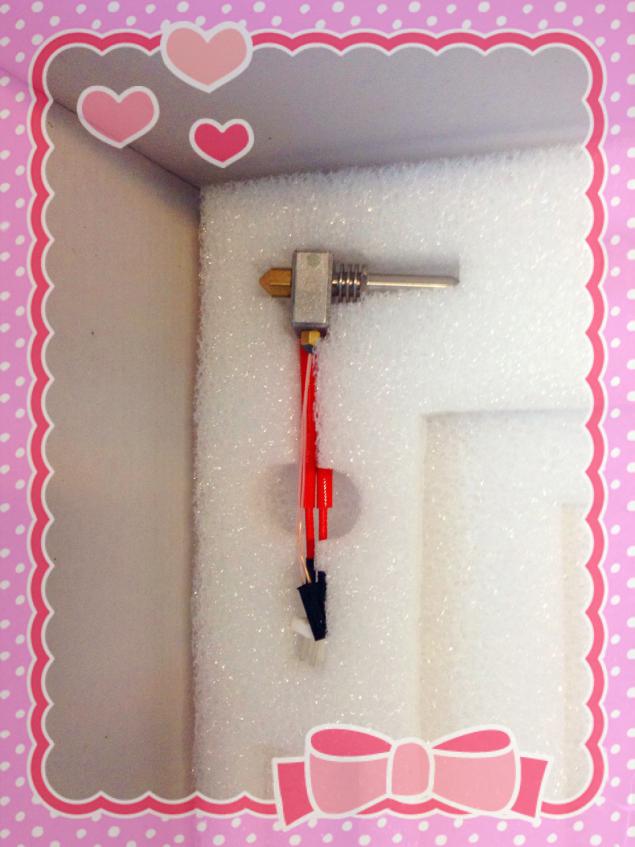 - Instructions and warranty card for 2 years Operating

3. As a result, printers are packed in a box that I showed you in the photo above: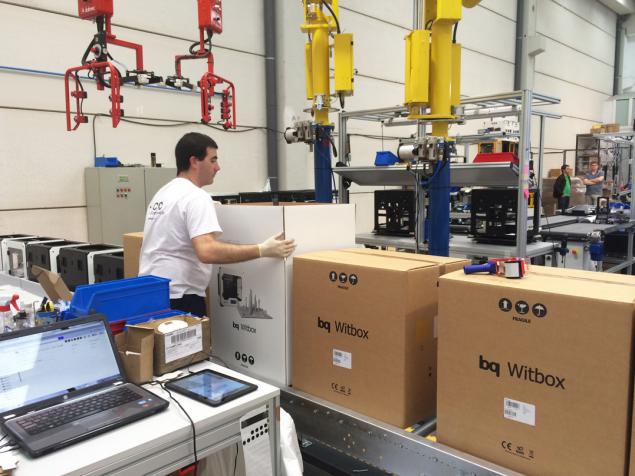 Fixed with adhesive tape: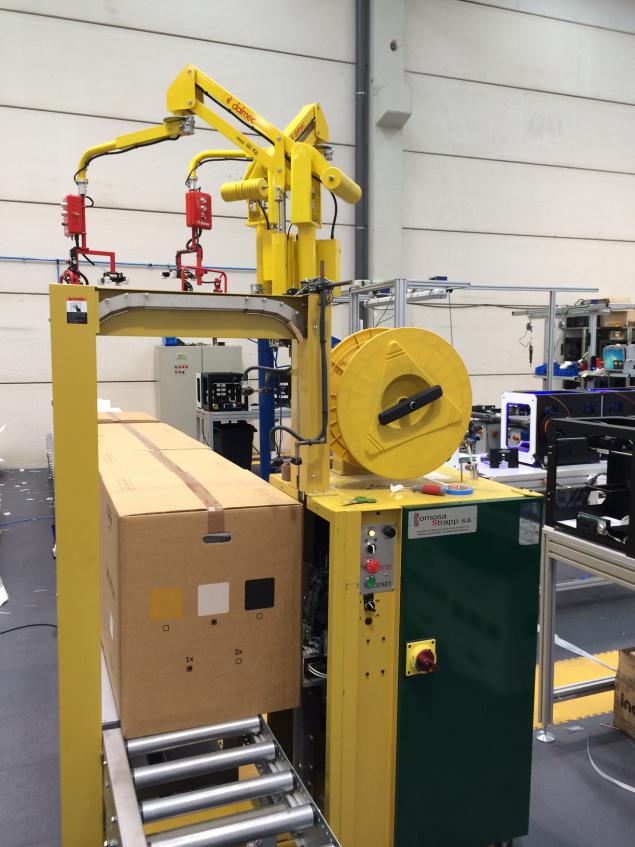 ... And gotovenkoe stockpiled for shipment in Madrid, the main warehouse bq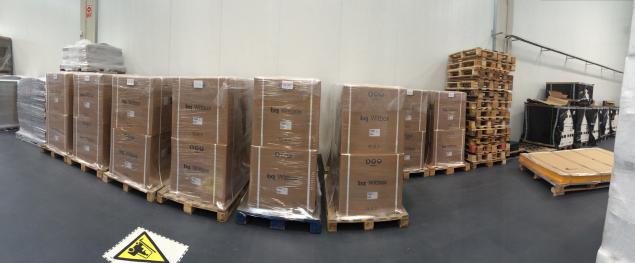 after the compulsory procedure palletizing:



Morning - this (printed on the 3D-printer Witbox, as evidenced by the inscription on the board) loader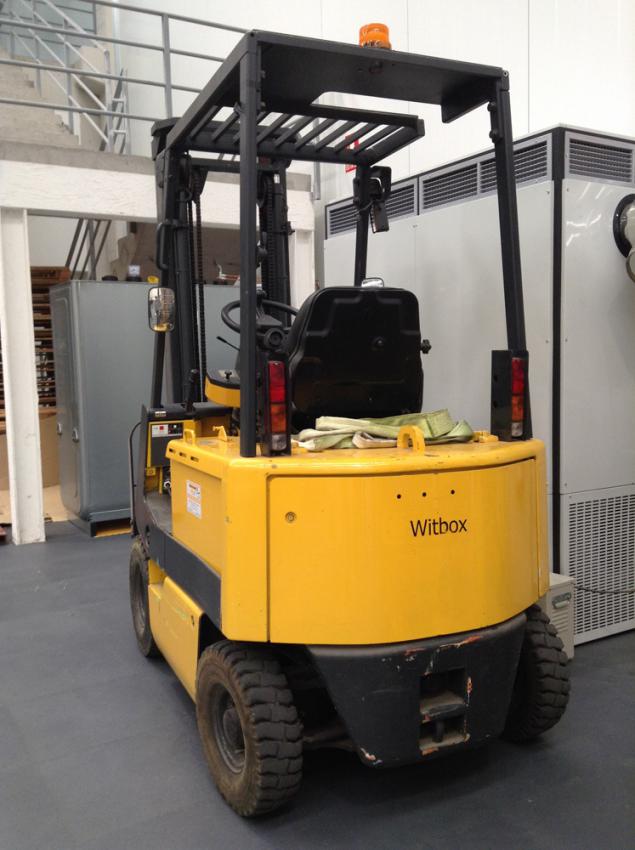 ... Load them into the truck, head to sunny Madrid, then to "swallow" scattered around the world ...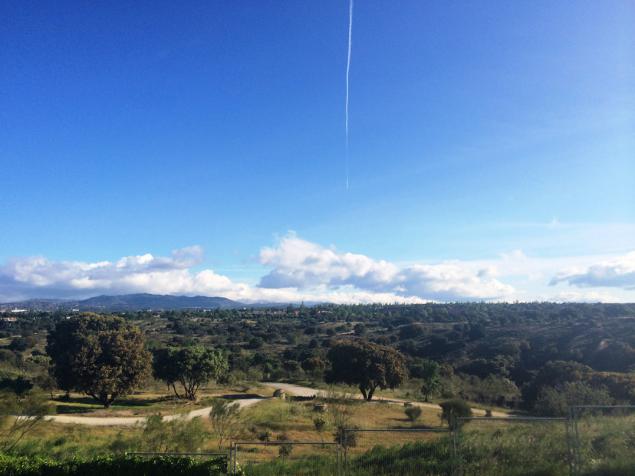 Code. Curtain.


Cherry h5> (about which promised above):

Why own posts placed in the hub Open Source ?

At the end of our trip we asked the Europeans:

Why You absolutely successful IT-company, the second on the market in Spain, sales of smartphones and tablets, are investing money in the production of 3D-printers?
Why are you so actively share information with us, invest your time, effort, money including in Russian market?
Are not you afraid that # PridutKitaytsy and you will eat? Are not you afraid that the producers in Russia will be able to clear all Europeans, Americans from the market of 3D-printers?
You believe in the long term their strategy? Blockquote> A Mario and Antonio from bq threw me into complete disarray:



We are not afraid of the Chinese. B>
exact layout 3D printer WitBox all parts laid out on our website :



Download, do yourself.

We strongly believe that these data should be available to be able to hot-all engineering community to bring the printer to the ideal, a culture of production, its level of trust us, it is extremely difficult to repeat. B>
There is nothing to fear. Blockquote>
 In this connection - an inquisitive inhabitants Habra INTERVIEW Is it possible, do you think that in Russia to repeat the level of production, and thus the quality of manufacture of 3D-printers, which have foreign companies? Patience and a little effort No chance With proper funding - yes < / Chinese will win victorious Western companies The market is divided Google, Apple and HP Own answer Only registered users can vote in polls. Sign , please. 1050 people have voted. Excused 184 people.

Source: habrahabr.ru/post/223687/