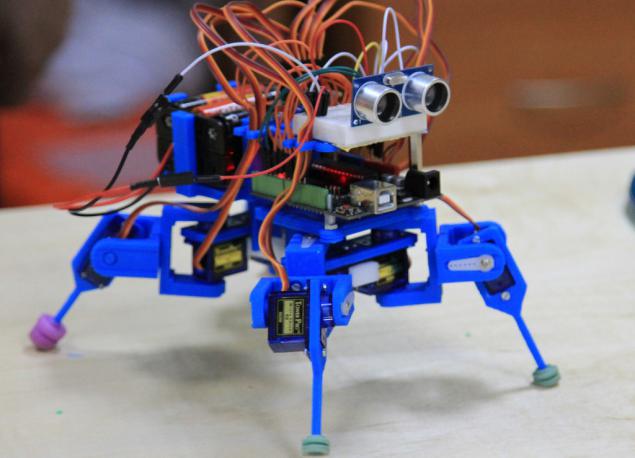 On the eve of February 23 seasons (and sometimes unexpected) question the choice of gift.
In this publication, it would be desirable to provide a list of the possible - not just gifts, but educational and useful, related to electronics or robotics.
Electronics h5> capacitors Tester



If the gift recipient likes to do with a soldering iron, knows what a capacitor and solder. You can give him ECR-meter on chip and dip. This tester-meter capacitors. In electronic equipment - a common cause of failure is the electrolytic capacitor. That is to search for the "bug" and is this device.


Present i>: The tester-meter capacitors
Price i>: 5600 rubles
Age i>: holding a soldering iron
Blockquote> Svetokub



For people who are dreaming that pyaet - can be recommended as a gift - 8x8 cube light assembly with SMD LEDs. A set can be found here , a trowel.



Present i>: Luminous cube
Price i>: 6959 rubles
Age i>: solder with eyes closed blockquote> The educational kit for micro-electronics



Arduino - this is probably the best gift for those who want to learn microcontrollers and program the "blinking LED", 10 minutes after unpacking. There is a good starter kit from the company Amperka, Matryoshka X .

Comprises a microcontroller Arduino, a basic set of components, development board, a book with lessons (program scheme). The soldering iron is required - for the installation of a sufficiently provided breadboard.



Present i>: the educational kit for Arduino "Matryoshka X»
Price i>: 3000 rubles
Age i>: is interested in programming and electronics blockquote>

Robotics h5>


If a candidate for gifts to show love for robotics, and always wanted to assemble a robot, you can see the Spanish set of robotics - KIT De Robotica, from the company WitBox. About him recently was a good post Habré . Official Russian-language page set.



Present i>: robo-set KIT De Robotica
Price i>: 8500 rubles
Age i>: wants to build robots blockquote>


School Enrollment on Robotics h5>

Interesting gift for a young geek - would record in school robotics. Where he trained to design and programming of robots (and the older group - working with microelectronics). For example, in Yekaterinburg, it could be a robotics club RoboKod - students who recently won prizes at the All-Russian Festival of Robotics Robofest.



Present i>: Enrollment robotics
Price i>: from 300 rubles / occupation
Age i>: a thirst for knowledge blockquote>

3D printing h5>

3D printing - this is certainly one of the most "geek" so - but buy a 3D printer, of course not everyone will be affordable. But there is a portable 3D printers - namely 3d pen.

The principle of its action is identical to "Big Brother" - it is distributed as plastic threads, and at the tip - extruder which heats the plastic, and cooling - created the figure. In 3D handle all done safely and heating elements are protected from direct contact.

View this handle can be hakspeyse in Moscow, in the lab 3d printing - 3D Funtastique One pen with OLED-display . This pen can work with PLA plastic - which is odorless and environmentally friendly.



Present i>: 3D pen Funtastique One
Price i>: 6900 rubles
Age i>: can hold in their hands the handle blockquote>

Book h5>

There was a time when the book was considered the best gift.

People who want to do something with their hands, and to understand how the electronics and microelectronics will be useful books "Entertaining electronics. 3rd ed. (Revich Yu)
page book

Content can be viewed here

Quote from there:

As you know, everyone is going crazy in their own way. There are people shifted to match labels or collecting coins, there are those who skydive, climbs down the city sewer or rafting down the mountain rivers of Northern Urals and Siberia. One of the most common varieties of these mental changes - amateur radio. Blockquote> More formally about the book: Hidden Text

Practical examples talked about how to design, debug and manufacture electronic devices in the home. From the physical bases of electronics, device description and principles of the various radio-electronic components, equipment tips for home lab author proceeds to specific analog and digital circuits, including devices based on microcontrollers. Given basic information on metrology and theoretical foundations of electronics. Given a set of practical recommendations from the principles of proper organization the power to obtain information about the devices and components in relation to the acquisition of Russian conditions. The third edition includes information on popular platform Arduino, which are made available to any ham-the-art electronic warfare. Blockquote>



Present i>: the book "Entertaining Electronics" (Revich Yu)
Price i>: 459 rubles.
Age i>: wants to make something of electronics blockquote>

Board Games h5> Sometimes it is useful to play in something offline, come together at the table and board games from the company Mosigra - will be very useful.



For example game Nefarius


«Nefarius" - this is a game about mad scientists made a bet on who will become the most famous in the world blockquote>

Present i>: A board game "Nefarius"
Price i>: 1490 rubles
Age i>: any blockquote>


Summary table gifts for geeks h5>

Present th> Price th> Age th> < / Tester-meter capacitors 5600 rubles td > holding a soldering iron light cube 6959 rubles solder with eyes closed The educational kit for Arduino" Matryoshka X " 3000 rubles is interested in programming and electronics < Robonabor KIT De Robotica 8500 rubles wants to build robots < / School Enrollment robotics 300 rubles / activity < thirst for knowledge 3D pen Funtastique One < / 6900 rubles can hold in their hands the handle Kniga "Entertaining Electronics" Yu Revich 459 rubles wants to make something of electronics < / boardgame "Nefarius" 1490 rubles any

Conclusion h5> Of course, this is not a complete set of interesting gifts. If you know what gift will be in demand among geeks (including you) and did not get into this list - will be glad to see in the comments.

Source: geektimes.ru/company/makeitlab/blog/246166/