Since its introduction in the early 1980s, 3-D printers have come a long way. Like most of the other devices in the last few decades, they have become smaller, cheaper and more modern.
As soon as the devices themselves have evolved, the same thing happened with the methods of their use. The prospect of using the computer to print the entire row -nachinaya with shoes on the feet and ending at the dinner table recently seemed like science fiction, but it is quite affordable 3-D printers have made it a reality.
Such platforms as the company Thingiverse Makerbot, which offers an extensive library of ideas and models for 3-D printing technology has helped to evolve from a device for the production of otkryvashek and trinkets to the car, to a device capable of producing medical equipment and clothing. Here are some common items that today can be printed with a 3-D printer:
Pizza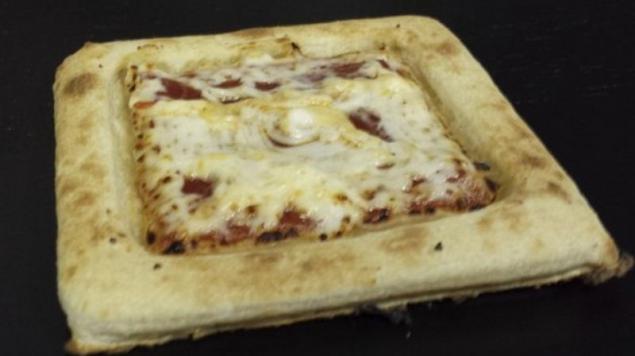 Mechanical engineer Anjan Kontrektor received 125 thousand dollars from NASA for the creation of a printer capable of printing a pizza. The goal was to find the most effective way to ensure the astronauts during long power space missions. A report issued in late 2013 video Kontrektor told that the pizza dough is obtained by laying out cheese and protein separate layers. Cosmetics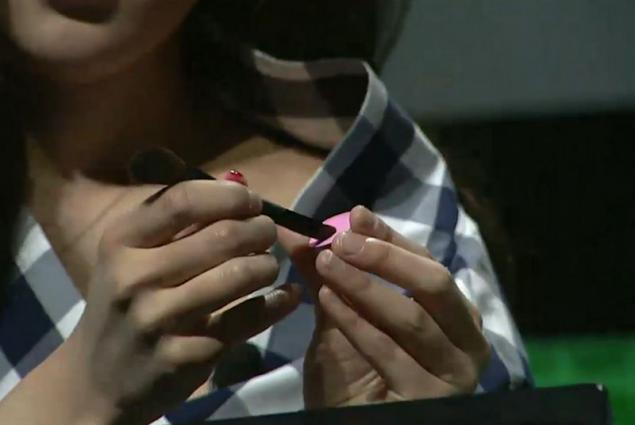 A graduate of Harvard Business School, Grace Choi has created its own mini 3-D printer, called «the Mink», which is able to print true cosmetics. He made his debut at the conference of TechCrunch unit price of $ 300 is connected to a computer and allows you to choose different colors by copying the color code of any textbook on makeup online. With some help from Microsoft Paint, you can print, such as eye shadow, with the same ease as any document from your computer.
Guitars
Using a 3-D printer Cubify, members of ODD Guitars built a business for 3-D printing quality guitars. Their housings are printed using the production process, called selective laser sintering. The design shown here was inspired by the model of guitar Les Paul, and the prices for these guitars start at $ 3,500. It may seem that it is expensive, but in reality, it is much cheaper than the cost of this high-end electric guitars Gibson Les Paul, which can cost up to 10 thousand dollars.
"Dinosaur fossils"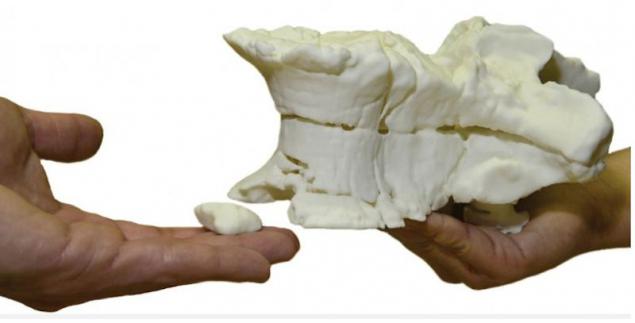 The electronic edition Gizmag last year it was reported that researchers at Berlin's Charite clinical complex found a way to accurately reproduce a copy of fossil dinosaur with 3-D printer. Scientists have combined technology 3-D printing data computed tomography method for investigating the body's organs by scanning them with X-rays and produce a series of cross pictures using your computer. With this method, researchers were able to create accurate reproductions without damaging the real fossil.
Meat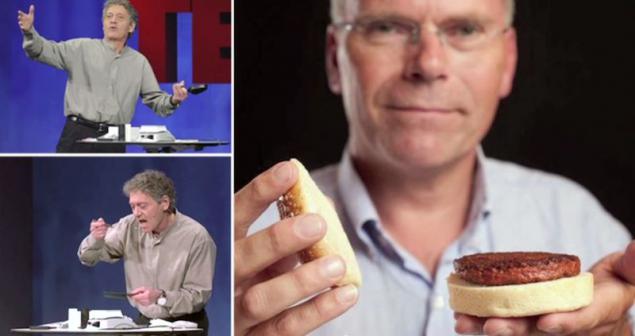 The idea of ​​3-D printing meat may conjure up images of unattractive mass production of semi-finished products, but the company Modern Meadow presents its technology as a more environmentally friendly alternative to the meat industry. The company claims that its method of meat production does not require killing animals, and needs less investment of resources such as land, water, energy and chemicals.
Weapons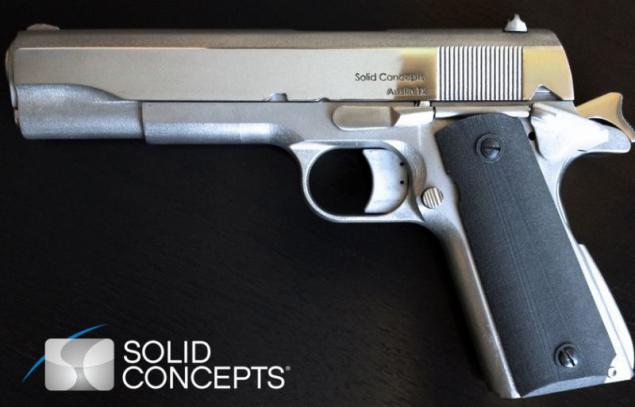 Last year, the firm Solid Concepts was established, at their request, the world's first metal weapons, printed on 3-D printer. Unlike his predecessor, printed on 3-D printer gun Liberator, weapons of Solid Concepts much more like a conventional firearm. During the first demonstration they had successfully produced 50 shots.
House
Those who are interested in 3-D printing, are usually interested in small household items, while this technology has already been successfully used to create a full-sized homes around the world. For example, in China, the company WinSun Decoration Design Engineering used a 3-D printer that can print per night 10 houses out of recycled materials.
Gold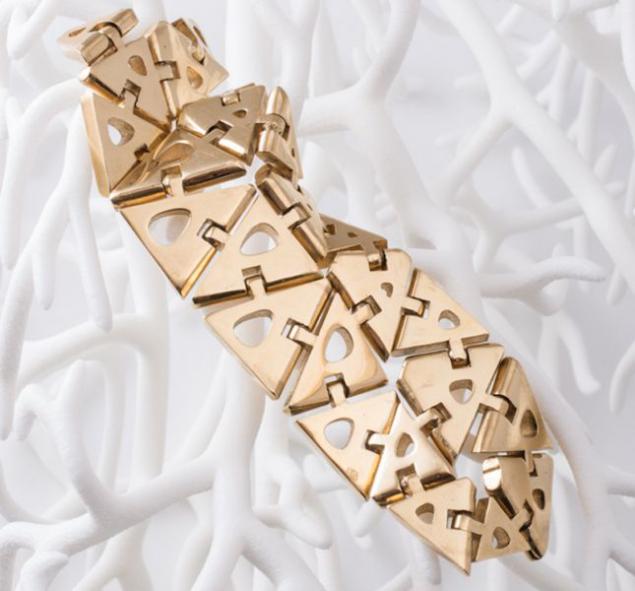 The news blog about 3D printing industry stated that the design studio Nervous System has found a way to produce gold products with the help of 3-D printer. The company uses direct metal laser sintering, specifically adapted to create objects with precise examples, such as jewelry.
Trainers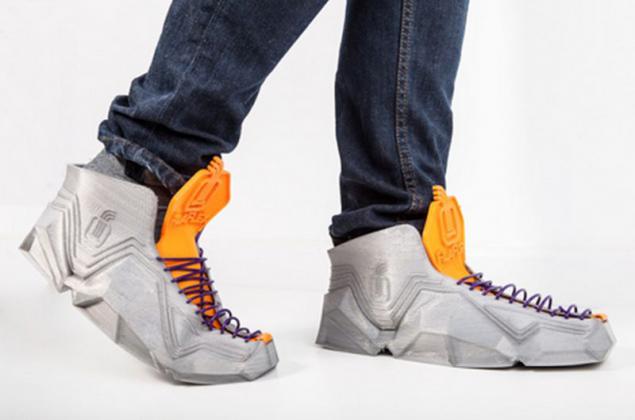 The representative of the Spanish company's 3-D printing Recreus Ignacio Garcia developed a 3-D footwear known as Sneakerbot II, according to the architectural and design magazine Dezeen. Sneakers are made using the material of Filaflex, which forms an elastic waterproof thread capable to retain its shape after it crushes. This means that you can stack them up and cram in your pocket or purse when you need to save space. This shoe can be printed using a 3-D printer Makerbot.
Chocolate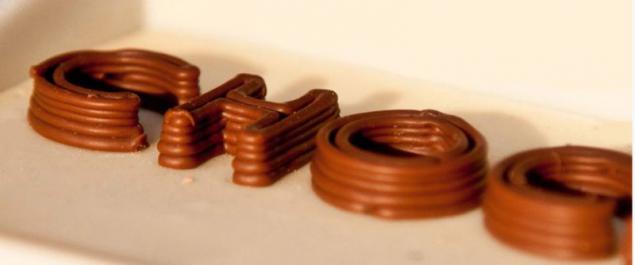 As pizza and meat, chocolate is one of several products that can be produced through a 3-D printer. By the way, in January, Hershey's Chocolate Company announced that it is developing a 3-D printer for the production of chocolate. There are many companies that now specialize in 3-D printing of chocolate such as Choc Edge, which sells printers directly for this purpose.