The cries of this child echoed through the house ... 12-year-old boy with a rare skin disease goes through the familiar process of dressing changes, which occurs every week. Bandages peeled off together with the skin, the boy asks his mother to stop. He knows what will happen next, but this time the pain is too unbearable ... He is pleased every free breath. But we must continue. When the process began dressing changes, it can not be interrupted.
Garrett was born with a rare hereditary disease epidermolysis bullosa, which most people have not even heard. Children born with this disease fail to produce collagen-7, which acts as an adhesive that glues together the inner and outer layers of the skin. These children live long, and a large part of their lives in constant pain and bandages ...
Very sorry for the boy, his family - but they are great! They do not give up and fight for every minute of life!
16 photos, which may seem to some trouble, so - under the cut
[next]
© Andre Hermann / zReportage.com / ZUMA
1. Garrett Spaulding grip on the tub while bathing. Garrett is afraid of water, so it is always bathed in the care of my mother.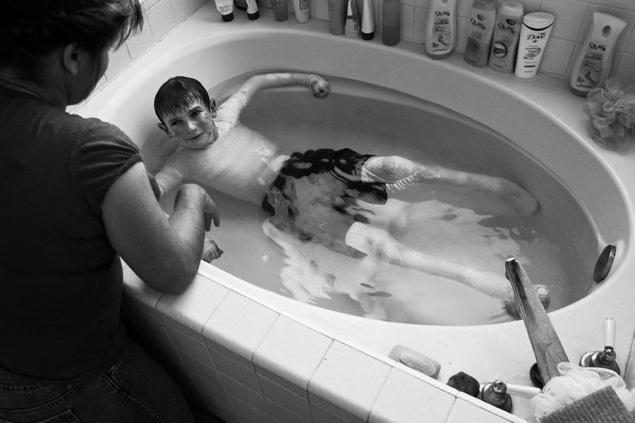 2. The 12-year-old Garrett Spaulding born with epidermolysis bullous always relied on my mother when changing dressings. Recently, he began to change his bandages under the careful guidance of her mother.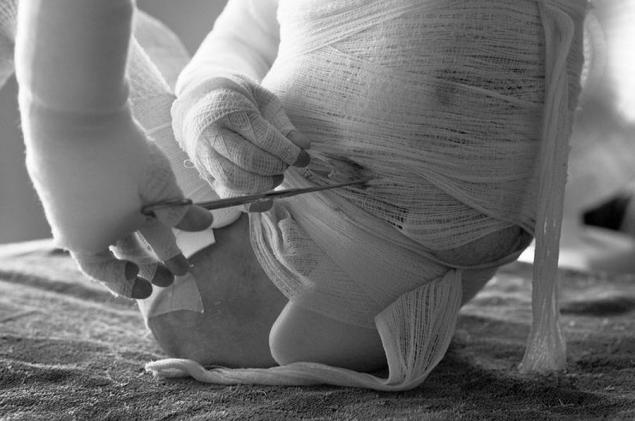 3. Garrett skin is very sensitive, but his older brother, David knows how to tickle him without having to hurt.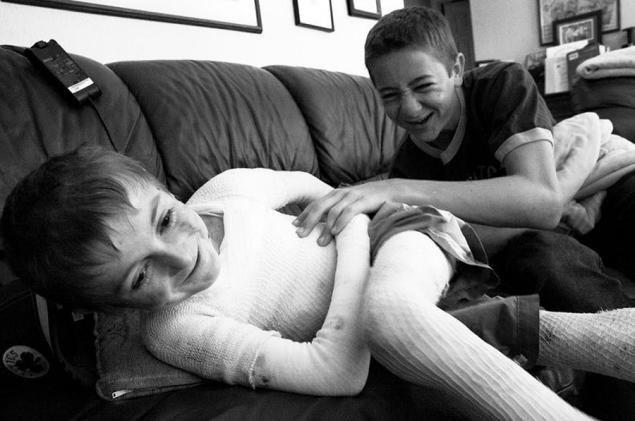 4. rare moments during the school holidays. Garrett felt well enough to go out and play basketball with his brother. His mother wrapped his fingers a few times, so that he could take the rough ball without damaging the skin.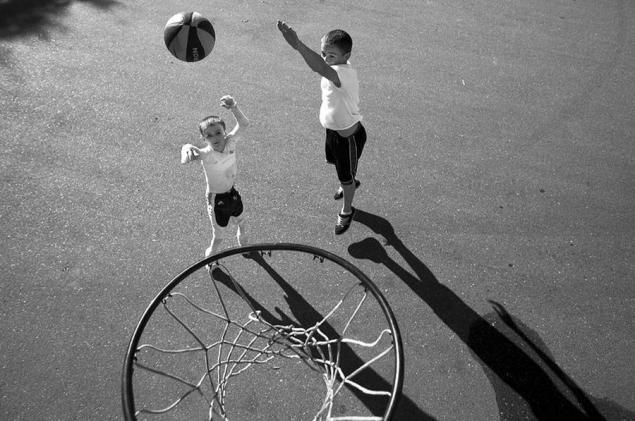 5. Garrett - a big fan of «Boston Celtics» - experiencing their favorite team in the match against «Chicago Bulls». Garrett and his dad Jay love to watch basketball together. Games - one of those things that can really bring together the family.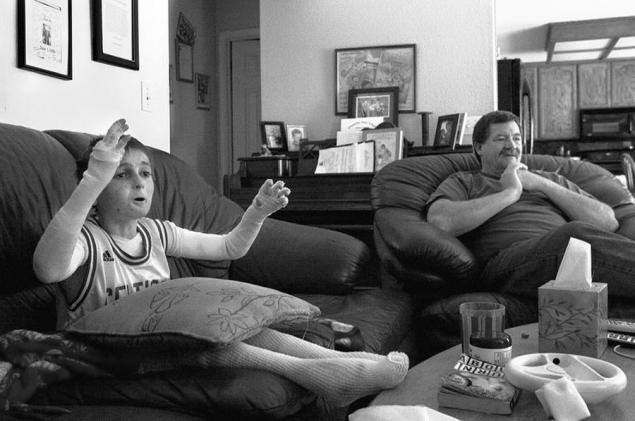 6. Garrett did not go to school, but do your homework and try to keep up with his class.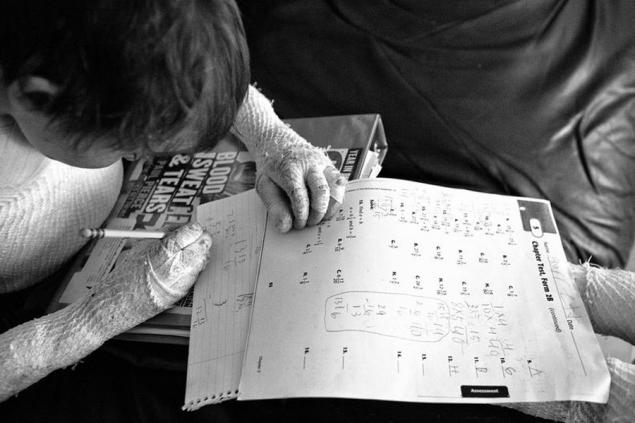 7. Lorraine Garrett and watching as nurse prepares a needle and a drip for one of the many blood tests. He hates it when he bled. The injections cause him more pain than usual for children, because of the particularly sensitive skin.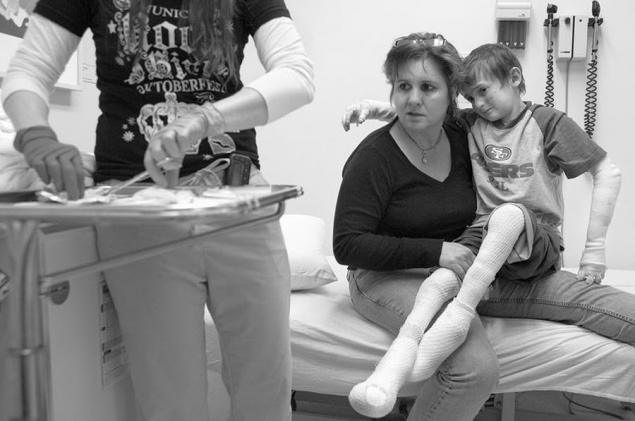 8. During one of many visits to the clinic. My mother only briefly left him to talk to a nurse.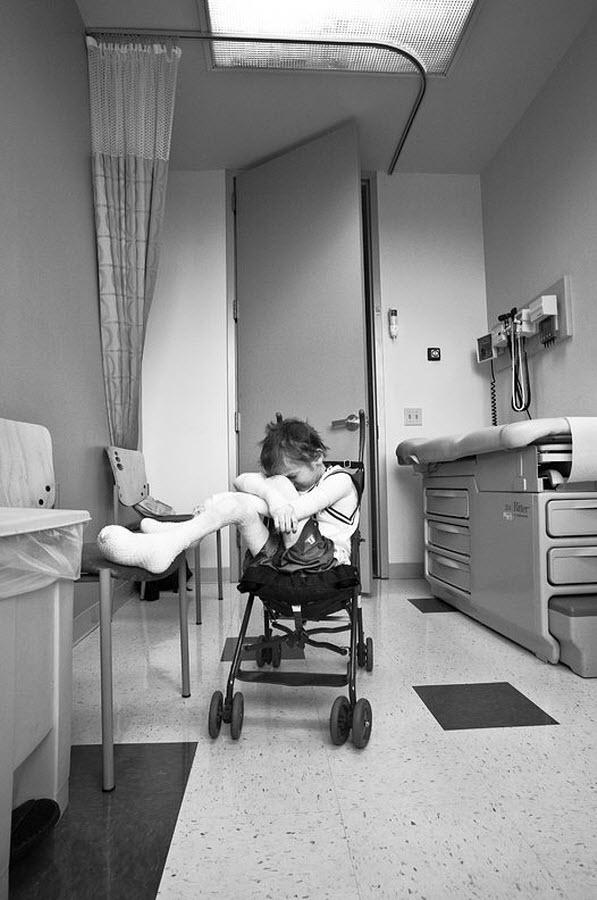 9. Garrett looks from his wheelchair, his older brother David is launching a kite. Garrett Do not have enough power to control the kite, and a sense of the thread in his hand he dislikes.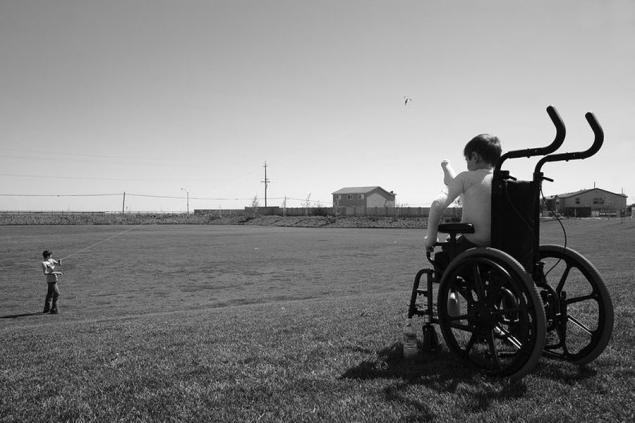 10. During a quick trip to the store. Lorraine have not had time to take a wheelchair, and she put Garrett directly to the cart. After the birth of Garrett she had to change a lot in his life, and often it is simply not enough time for everything.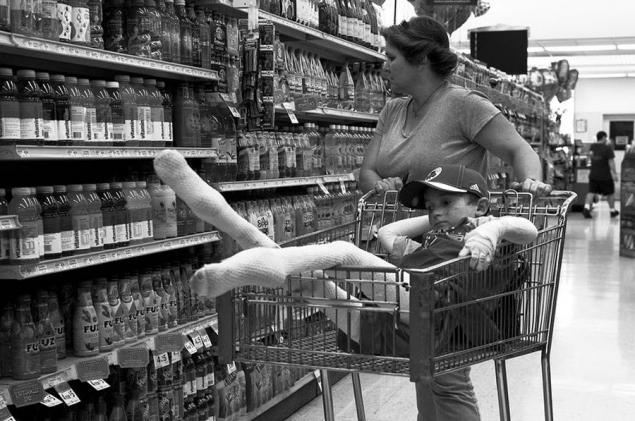 11. Garrett carves a face on a pumpkin with his sister Sarah and brother David. Mother repeatedly wrapped his fingers, so he did not feel any discomfort or pain.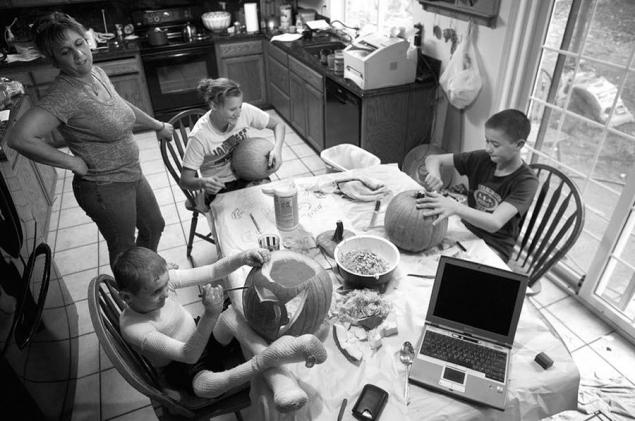 12. Friends came to play basketball in the house of Garrett. This is a great alternative to the game in the fresh air - the boys took off their shoes and play a little ball.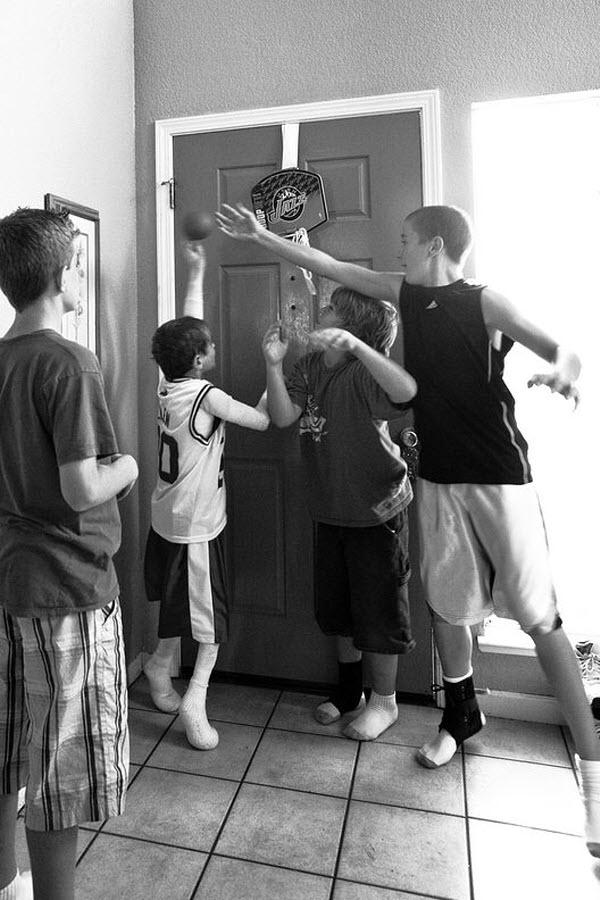 13. Following a special otmokaniya in the Jacuzzi before changing bandages Garrett stands with the help of parents to a little dry. Additional bandages on his legs have been removed, leaving the delicate skin on the sole of the unprotected. Should Garrett come to the slightest bump, it will cause unbearable pain.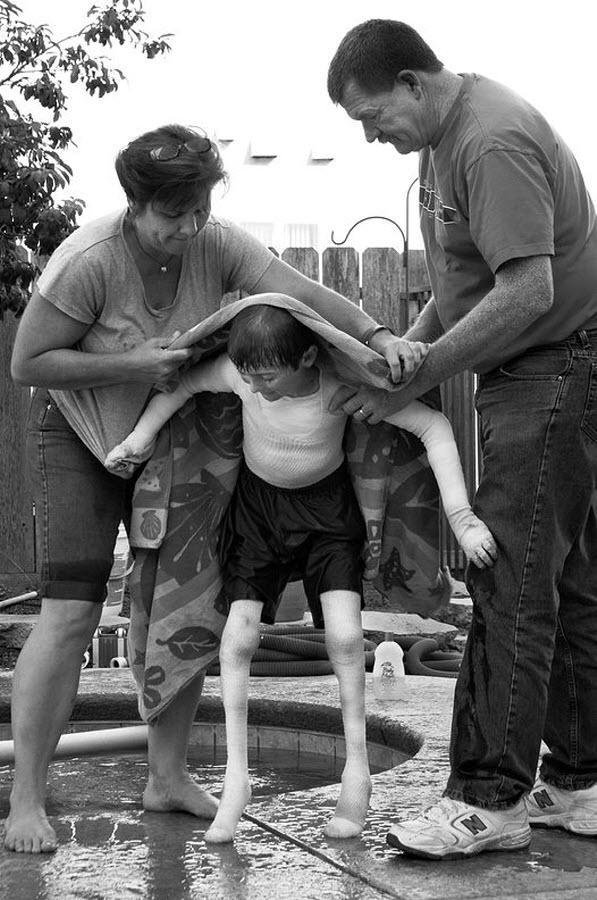 14. Lorraine Garrett driven by the hot sand in a wheelchair at a meeting with the class during the general campaign to the beach.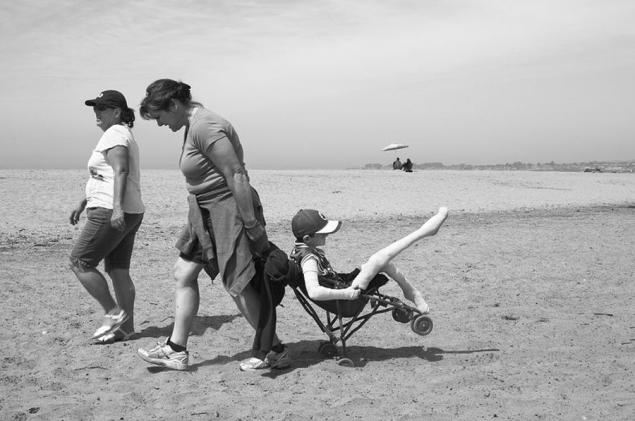 15. Change the bandage Garrett need three times a week. Often bandages stick to exposed skin, causing excruciating pain. Because this process dressing changes can take up to 5 hours.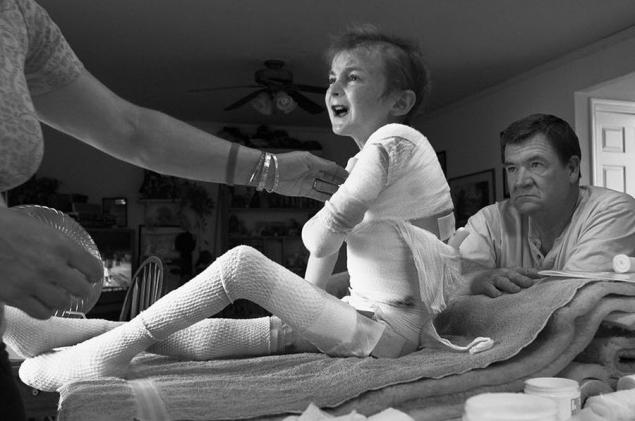 16. Garrett Spaulding soak in the hot tub before changing the dressing.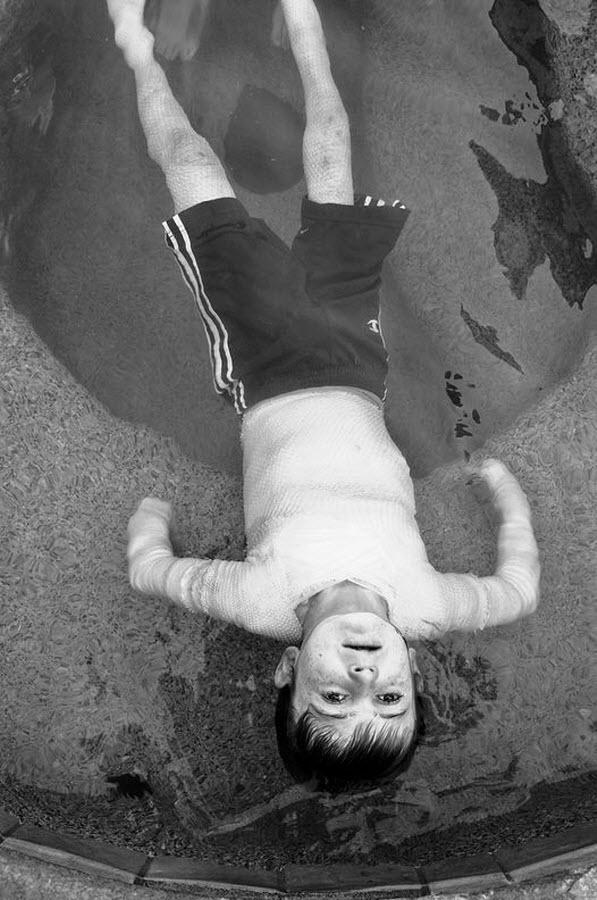 Source: