We decided this year to break all stereotypes nafig not thump all the Christmas holidays black heavily, and had fallen to spend an extraordinary vacation usefully. Body. Well in general the benefit.
In Europe ehot proved expensive, and we were there in the summer, as China is already commonplace in Turkey and Egypt cold ...
In general, we have come to a travel agency and said - we wish shamelessly spend a certain amount on a day not good deeds, and not even on the contrary, to indulge in gluttony and moral fornication. In Thailand, they say probably want there sea, Thai massage and a transvestite show, mind me.
And we are told - a tambourine you uncouth, nichrome not sense in political geography, but we will now show on the globe paradise called Vietnam.
I've been kicking, screaming - the scoop, Fu Cong there any, and nothing to do. But under pressure from the public (my wife), I went limp and lost control of the situation.
And did not regret. Vietnam, I tell you, this is a topic.
Little help. Vietnam is located on the coast of the East, do not look at the map, will not find the sea. You will find the South China there, but it's the same thing as to say that we do not have Black and Georgian Sea.
60 photos
Here: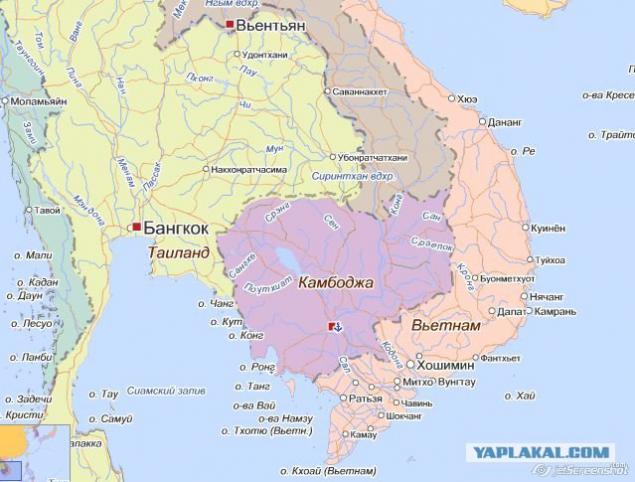 Now, if anyone remembers the sad story about our Russian Knights, who crashed in Vietnam ...
This is the airport, which was converted from a military base of the Russian Air Force. Sorry for our pilots, there really is around the mountain and jungle.
In general it is now a straight road to the resort of Nha Trang.
Written in Latin letters NHA NRANG, there is generally better not to try to speak Vietnamese, but it later.
So. Previously, there were Americans, they built this band - Cam Ranh. Well there chudil Rimbaud and other golivudskih evil ... It's funny.
Then our there something mutili. And the cast, did not pay rent.
And now the Vietnamese took, and built there an international airport. Opening worldwide Cote d'Azur Vietnam and interesting and very hospitable inhabitants. At least in South Vietnam so.
Well the truth is there are some nuances ... We are there like Gulliver in Lilliput. They are all small and very cute.
Welcome to the disgrace, but canny.
(I will not only their pictures to show for there our faces everywhere, and they are not interesting. Yes, and I have no photographer)
But give the impression. This is not advertising the bounty. It is there really so. True, we were in the rainy season (there was no rain, but it was cloudy).
So. The first thing we began to teach that here though and socialism, but want to eat everything, and all at the leading and guiding nichrome not enough. Therefore, if you are a fucking tourist, do not you dare to wear a suitcase itself, press the button in the elevator and generally fuck shut up, came to rest - rest. The maximum that you can (and should) do is occasionally open purse (which there wallets of crocodile) and to tip. Otherwise you people stupid selects bread.
At tea there, you can give any amount without a difference. There theirs dongs with zeros - millions. Can you give our five rubles, you can five hundred, one reaction - THANK YOU,
They all have something straight nezaduryayuschiesya. They all do not care. Glad to have you, simply because you are. Amazing country.
But there is little nuance. We were immediately alerted. If the Vietnamese with a smile tells you «YES», it means nothing. Nothing at all. An empty phrase. Neither yes nor no, just noise. He still will do everything in its.
Although sincere. I said in the name of the hotel taxi, the taxi driver gave me a map, I showed. He flipped her long thought, then said, «YES» and took us to the right side pootivopolozhnuyu. When I began to make a fuss, they say do not go there, he again «YES» Poper and back. With a sweet smile on her face.
They can not be offended, they are so small and cute, it pipets)))
Taxis have almost all public and large. But there are also masenkaya and prilipuchie. But from this, we had to make excuses dooolgo.
He chased us right, waited near Hotels ... Taxis there at issue. Worth a penny and considers only miles. You can go for a walk 2:00 shopping or eat at a restaurant, he will stand and wait for free. But if such a small stick, otobeshsya FIG. Book will show otzyov walking behind you moan ...
And other vehicles they simply do not. There are rickshaws, but they are only suitable for the exotic.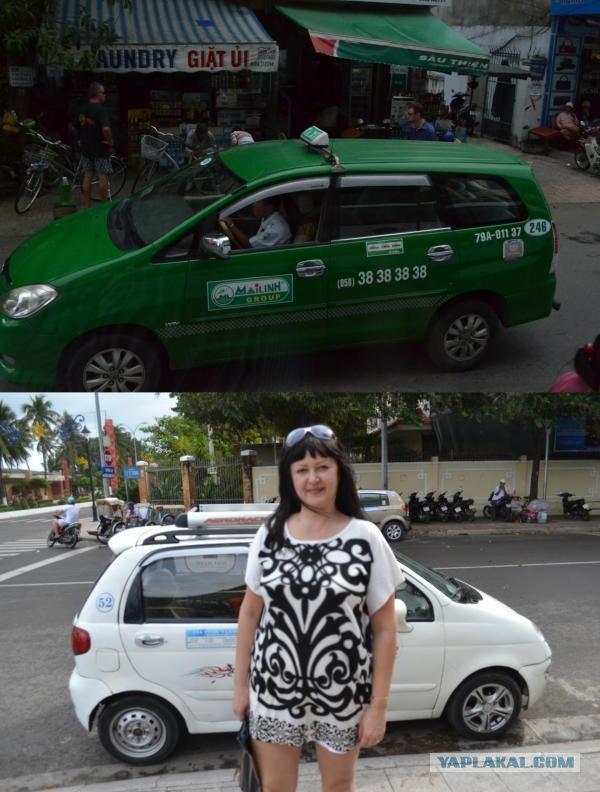 If someone is going to rest on the full program, yelling "Tagil" and his ilk, this is definitely not there. There are no policemen (passport in the hotel we chose, and said - will tselee) Nobody makes all rovnenko so ... I was before in Europe, as there is not so comfortable. Th Hosh doing here. But here's be honest, no I did not see Russian blue and inadequate.
Where does this belief ... Maybe ... Or from Turkey EgiBta ... He was not. And then I met with a bunch of interesting people who are not that TAGIL !!! would not dare to shout, hands women kissing at the meeting. Often this occurs at home?
New year we celebrated at a Russian restaurant. Here is another story. We actually promised in the hotel program. Well, not only cheated ... they have different concepts of the new year. We warmed shorter at 9 pm asked to vacate the premises.
They're all after 10 all fall sleep. Get up at 5. And run to the beach to do exercises. Cool, the whole town, well done. But we welcome (((
And we went by taxi to seek adventure. And it found)))
Russian restaurant "Block post»
This is something with something. Who will inadvertently in Nha Trang, be sure to go. Simply super. Well, there are no words.
I have then separately on this topic write on other resources to the guy had more customers guests, he strongly urged that we did not consider themselves customers, and felt a guest. And it is very successful.
There was all the dragons, Santa Claus, swallowers of swords, the Snow Maiden, belly dancing, contests ... In general was complete detachment head.

Well, in general notably walked. The next day - the sea, palm trees, sun and sand.
In Nha Trang almost no hotel beaches. All municipal. And there on the front line forbidden to build something. There are a couple of snack bars, but they are kind of like being prepared for demolition. In general, there is a park, trees of all sorts, sand and sea. They say that this lagoon is one of the ten most beautiful coastal landscape may lie, stuffed the price ... But still there are very nice.
As I have already said - was the rainy season. This does not mean that is constantly rain: it depends. We were lucky, there was virtually no rain. Just constantly clouds in the sky. Temperature 25, 24 in the sea, very comfortable weather, given their stories about 60 in the shade in the summer)))
The sun there at all evil, affects the proximity of the equator. Even in cloudy weather, we would not recommend going to the beach from 11 to 15. burns instantly.
Even where there is "no Soviet power." Rather she's just there, but about how we in Europe yet. And therefore you can prespokoynenko to hire a scooter to anyone you do not care. There are usually no rights. Pay Dong forward.
Tourism in general there is very young, the hotel in which we lived, built just six years ago. Therefore, there is not much else in terms of ustakanilos all sorts of prohibitions, every whim for your dongs. All clean, lots of street cleaners, always something to clean, sweep, wash ...
And we are fortunate that in this period there is generally little people. The truth is a little sea storm, quite a bit. But you could go to the island of Vinpearl, there beach back to the sea, no waves at all. Grace.
About Vinpearl separate issue. It begins with a cable car. And can be reached by boat, where they ply. But kanatka special glamor. It is the longest cable car in the world above the sea (2300m). They are very proud of her. In general, Vietnam began to slowly come in order, as China. Although there too dominated by the Communist Party, have district, city and even the Komsomol. But socialism is little left - a market economy, no pensions, education and medicine are paid, and so on. They why they call it "pseudo».
So, one crafty Vietnamese decided - and what it is I have to tear the throat at Party meetings to no avail, and not whether I earn dough.
I have no idea how he arranged everything, he lives in Ukraine by the way, and hohlushechke married, they say. But here's how it could.
Vinpearl - the island of entertainment. There's all sorts of roundabouts, water park, aquarium, beach chic, all sorts of cafes, shops and other components unscrupulous burning life. There is even a hotel. There's pretty expensive, so when boarding the cable car they select foods and beverages. Fold in the luggage on the way back they give.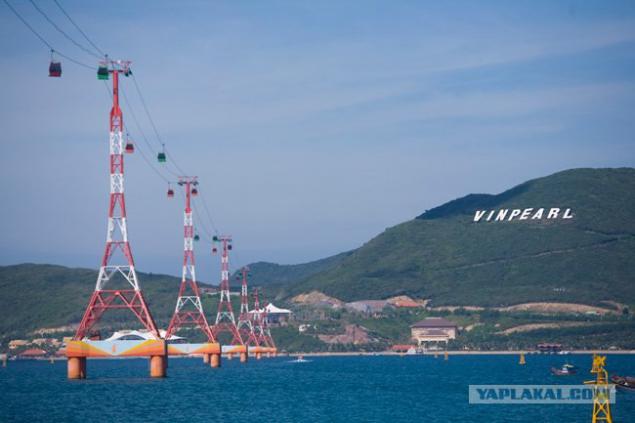 Cableway itself is quite high, if the wind is blowing (and he, an infection, blowing), cabinet and swinging from it sypyatsya bricks.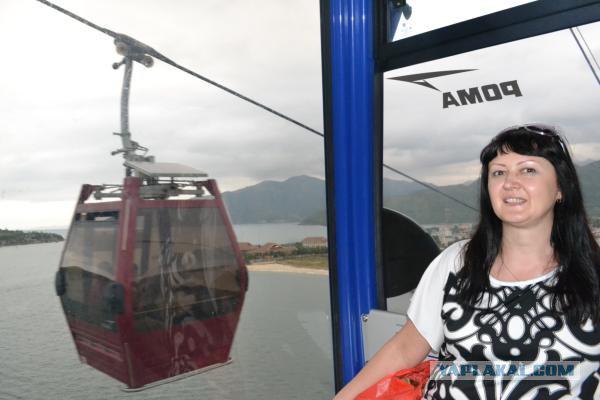 Photos are not all mine - once again I must confess. I have, but they are cloudy and gloomy. And there is even a drizzle of warm rain, it is still a festive mood and bright impressions.
So. Here's a beach there. The sand is white and white, fine as flour. But the sea is not sickened and not dusty ... amazing. In general kayfische indescribable.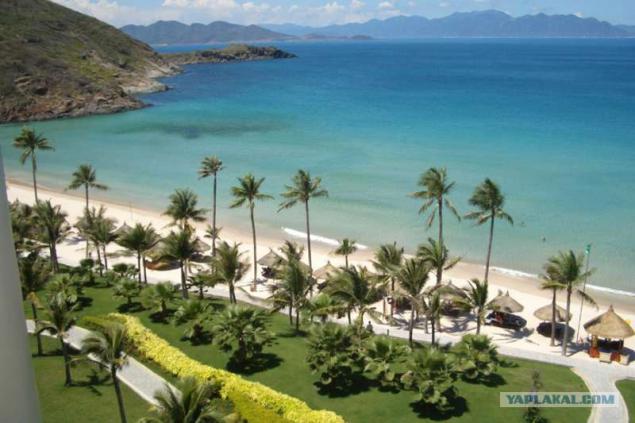 Still very much enjoyed the show fountains. This is something. In the photos can not convey the delight ktotry they caused by water, light, lasers, burning gas and music. Well it is very beautiful.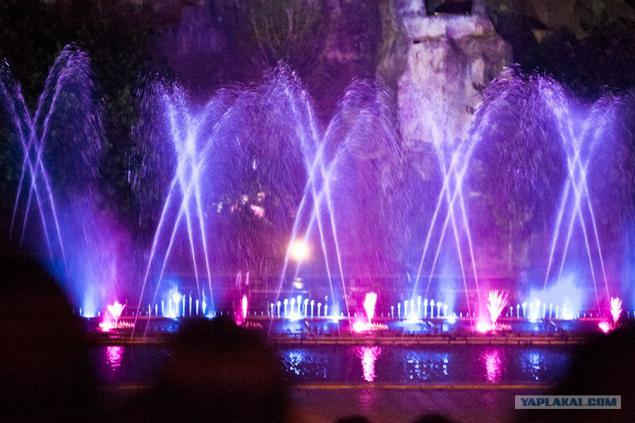 We warmed up, lie down, the residual effects of a stormy night soak in the sea, and went to Dalat.
It is already on the following day. Dalat - a city which is located in the mountains. 2500m above sea level. The story is - when it was a French colony, the French just hung there in the heat. And then one researcher (Alexander Yersin, he even has a monument there, he bequeathed to bury him in the stomach with arms outstretched, that's how he loved the land, even after the death wanted to hug) found one amazing place. There's a mountain formed an interesting microclimate temperature never drops below 18, and does not rise above 26. In general paradise. It's a pity there is no sea.
And the French began to build himself there villas, villas and so on. In general a city beautiful and rich. And it's very romantic.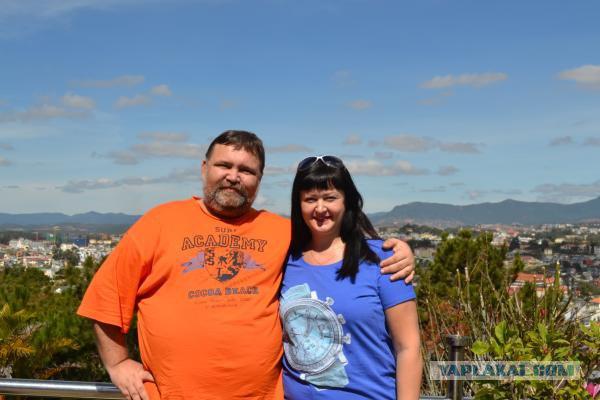 Houses there, as igrushechki. There's even a mock Eiffel Tower, this is true only for the cellular tower))

Is there own cable car is not as long and not as high, but still cool. Since it opened vistas. But this is not the most interesting thing there. There is something like a nature reserve, beautiful waterfalls, jungle sorts ... So there you need to go down to the elektrosanyah, so they call this truck.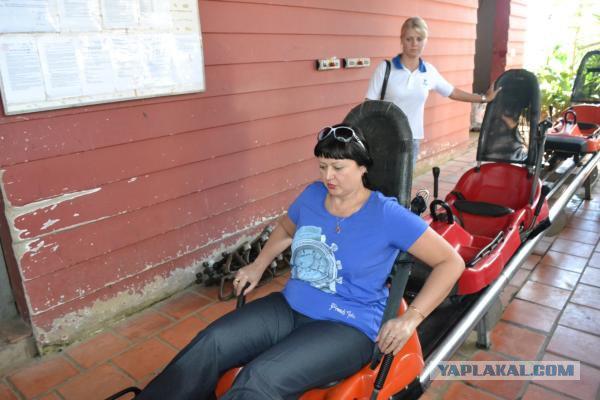 The catch is that you can not see where you go. Chain, pushing the corner and adieu. And there is! Russian slides through the jungle.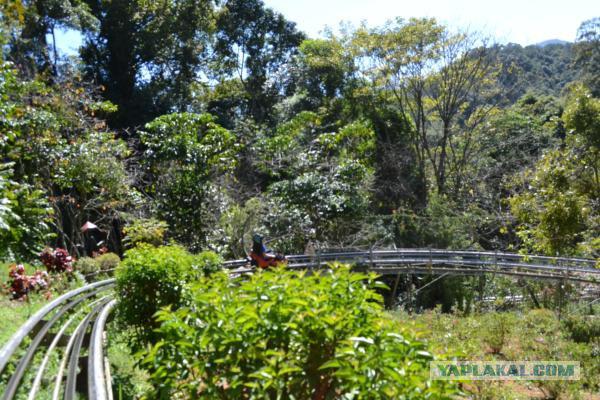 Vietnamese builders gleefully rubbing their hands. Press materials there. It is quite long, this road.
At the bottom sits uncle, who helps out ohrenevshy passengers with square eyes and hair standing on end. He learned a few words in Russian. "Little" and "More»)))
There are beautiful, I bought a pipe there. Bamboo. Mememe.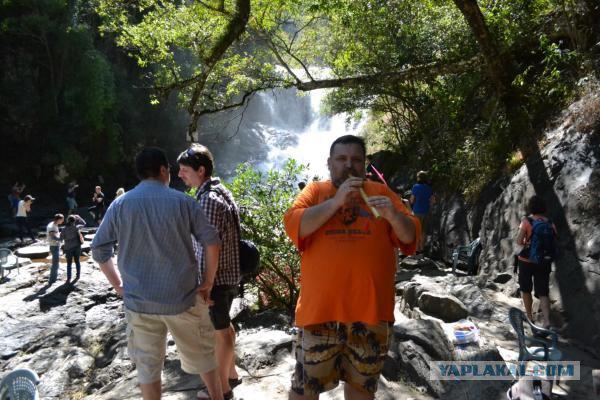 Yet there is another place, too, some park. There you can rent a funny costumes and pofotatsya: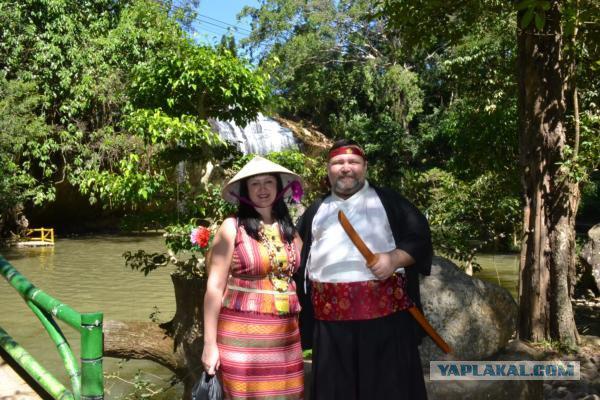 Yet they sell orchids. Bulbs. Generally speaking, there is a ban on the export of plants from Vietnam, but they are bought and driven home, no one chooses. Worth 50,000 VND bulb on Russian - about 70 rubles. We are now forced by the house all the pots))) Here flourish beauty will.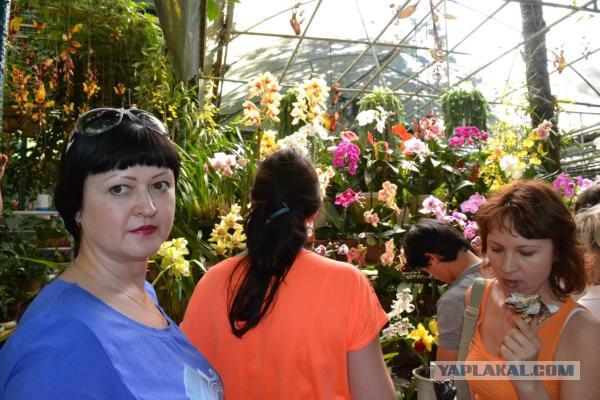 But Vietnamese cat sprawled there, where do without seals on Yap. Dohlenkih though some ...
Generally about cats there wondering. According to Vietnamese "NNIs" means poverty. Therefore, they never give birth at home cats. While on the street, he will not stay hungry, be sure to feed. But the dog says "Go," which in their language on the contrary - good luck and success. But they love dogs peculiar. My dog ​​- a friend, neighbor's dog - tasty.
True sobachatiny they considered a delicacy, they eat only red shorthair dogs, which are grown on a special farm. It is said to taste like beef tongue, I certainly did not try.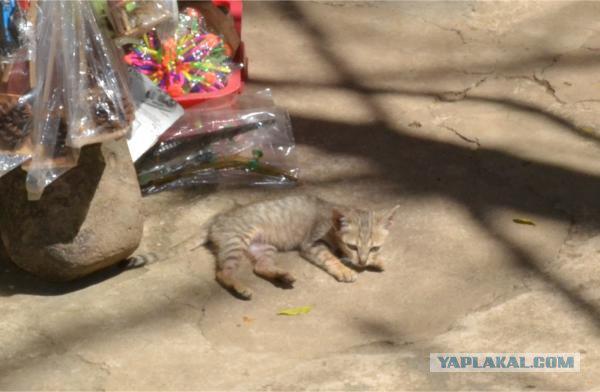 Kitchen them all interesting and unique. They are like the Chinese eat everything that moves. Dishes not to say that would be sharp, but a lot of fragrant spices. The truth is I have not seen the insects, but this is unlikely to mean that they do not eat them.
The most famous dish - soup Pho. This rice noodles in bulene. There are meat, chicken, seafood and even mushrooms.
There is now also an interesting point - Vietnamese tone. 6 intonations. The same word spoken in different keys, oboznochaet completely different things. Let's say "hello" sounds like "sintyau." You need to go down. If up, will "give porridge." That they have long known and old trick. And second, this FD, spoken in a different tone, means not soup. A very prostitute.
As well as guiding and directing people to let go of the free bread, escape Earn who as you can, then you can order a girl almost any cafe. So, who considers himself a polyglot and wants to show off knowledge of the Vietnamese, instead of soup can easily get a completely different yum-yum.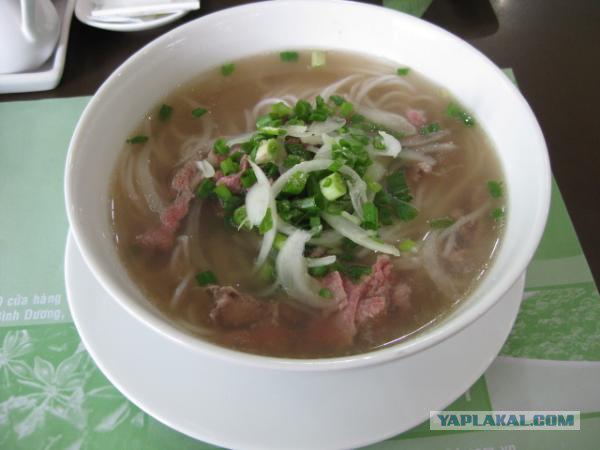 Another very popular pancakes Nam. Also made from rice flour stuffed with all that arm horrible. Meat, shrimp, bananas ... Pretty tasty.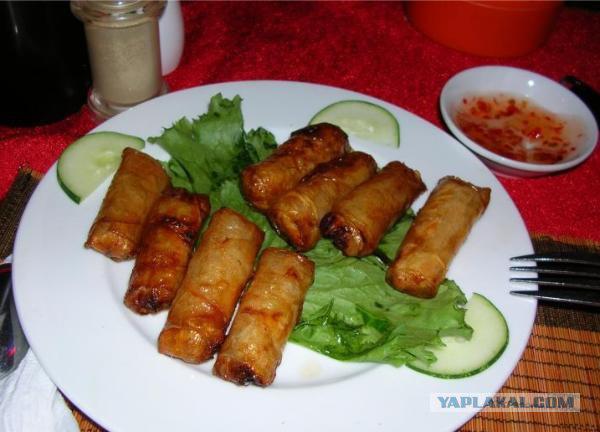 And another feature. They do not add salt. Well, maybe just a little bit. But all watered sauce: soy (nothing interesting) and fish. This is a separate issue.
Fish sauce in Vietnam popular than ketchup in America. Is just insane. Take small fish, filled with water, poured salt and placed in vats for six months in the sun. Go out. Then they decant it and bottled. In.
I tried an amateur. They love to dip into it for all sorts of rubbish beer. Moldy stuff he does not smell, the smell of raw fish. Many people like to buy a home even.
They've got an island where huge plantations of these tanks. Imagine scent ...
Yet they love fried sparrows. I have not tried, but they fry them everywhere on the grill. They do not eat at home, is not accepted. They even do not have kitchens, not what a refrigerator and stove.
They eat a variety of eateries, cafes, where the hell is unclear. Worth what that canopy underneath BBQ, which then pots ... Here they all are washed, cleaned, roasted and eaten by. Not zadurit in terms of cleanliness and hygiene. But on the street does not stink, it's strange. Apparently still clean often.
They are generally people are very public, everyone is doing in sight. Wash, wash, eat ... the sidewalks to walk hard, they always something overwhelmed. Well, they do not go, they go on motorbikes. A sidewalk is used as the courts, as courts are not, as I understand it.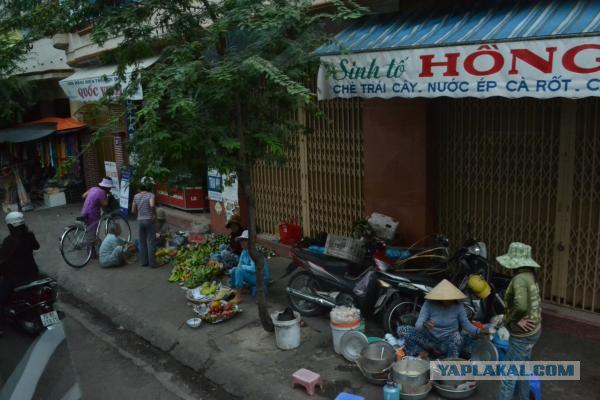 Motorbike - a separate issue, I will tell you. But I digress from the topic - Dalat.
There we also visited the embroidery factory. And on the wall there hangs our favorite ladies.
Hey spit, just think for - this embroidery. Or take such pictures. I even something like a magnifying glass could see the stitches, how hard work. Well, just ooh and ah.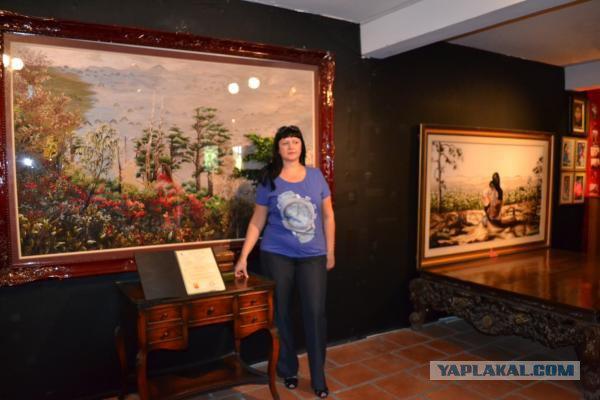 Yet there is another attraction - a mad house. Among the ten most extravagant buildings of the world, as they say. This hotel.
He is still under construction, started by his daughter Hoshemina successor, Secretary General, I do not remember John Doe, in general, is not a simple aunt. She studied at the Moscow architect who long worked in the civil service, and under old age otchebuchit such a house.

At the very top of the mountain was built golden Buddha. Considered to be the highest pagoda in Vietnam. There is a view over the sea level.
Actually, I had a revelation that the Vietnamese are not Buddhists. There Buddhists only about 15 percent. The rest by our standards at all atheist))) They have no religion, they worship their ancestors. Worshiped their spirits. Know all their ancestry to 7 knee, highly respected elders, all great. Just no religion - not places of worship. And hang out hunting, so they rod in the pagoda. And all consider them Buddhists.
Talk a little about their superstitions. interesting.
As I said, they worship their ancestors. Know all their ancestry to 7 knee and highly respected elders. Interestingly they held burial rites.
If someone suddenly died, they buried him in zadurit land and adieu. No monument or grave at all, nothing. It is believed that the deceased definitely go to hell. Mol, what's to understand, organize councils, loved somewhere nakosyachil. So please come to bathe in the pan.
And after three years with a clear conscience to freedom - ie to eternal bliss. In paradise.
Now, three years later they dig corpse washed his bones, dressed in a neat and elegant and buried back. Dreskot. And that face control will not work.
Doing this should eldest son. Therefore, they are very important to have a boy.
And then the graves and memorials put such cheerful, glamorous, just a holiday, but not a cemetery.
Yet they are afraid of evil spirits. Often hung over the entrance to the distorting mirror, the evil spirit sees himself, scared and run away. They never make the windows in the bedrooms, if there is, in the inner corridor. What would an evil spirit has not penetrated.
In general they are funny.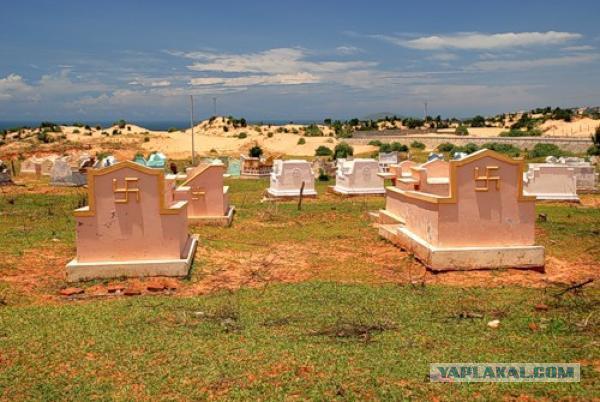 They have a fine way for the third child. 300 bucks. Kind of like a little money, but considering the average sn in the country ($ 150) is quite noticeable. Especially in rural areas where rice is grown.
Today. But yesterday.
So.
Opa!
I have everything.
Source: