Being drunk behind the wheel, it seems to be the rule for the Ukrainian police, but rather for the employees of Interior Ministry units that should fight against such phenomena in the doroge- read, watch
At night, November 3 2013. residents Alupka Yalta detained by traffic police officer, who in a state of extreme intoxication to drive. At the same time, local people do not stand on ceremony with the traffic police and quickly showed that its ksivy and regalia will not help, so much so that he had to wipe his face from the blood. his boss just came and talked with a staff member and the intruder left.
Arrived on the scene the deputy company commander of the traffic police of Yalta did not take any public action, for that would delay the drunk driver and remove it from the transport management and just talked and left, said a video to youtube,
Drunken Policeman, seeing that his colleagues withdrew, took a desperate attempt to escape from the place where he was detained by angry people got back behind the wheel and knocking a few people left.
Following a drunken inspector walked leisurely patrol officers, as well as gave chase residents that a few minutes ago, tried to keep the drunk policeman and did not give him to drive.
Policeman caught within a few hundred meters. He walked in front of his car and someone is constantly ringing. Soon we arrived, and angry locals, from which a drunk state inspector hastened to hide in the police car.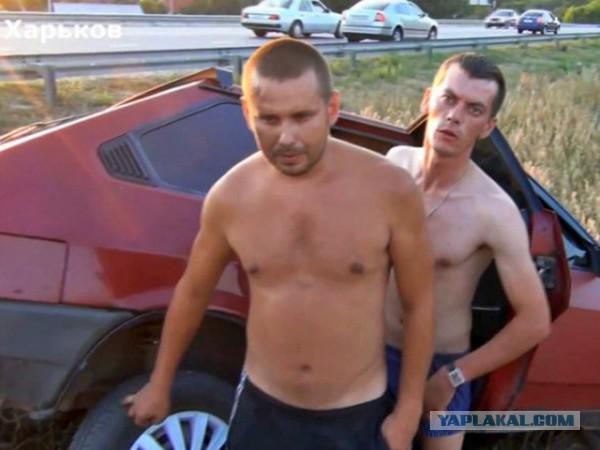 And lo! Because of the rotation appears again patrol car traffic police, which is still half an hour ago, I left the place where drunk as they say "vhlam" Policeman pressed people.
In the end, drunk Yalta inspector GAI, driving a car was arrested and taken to a drug dispensary Yalta, where he passed the test for the presence of alcohol in the urine.
The results of the survey narcologist did not want to voice, explaining that without the permission of the chief physician, she is not entitled to do.
We'll see that this time the authorities will respond gaishnaya Yalta, to which I recently went increasingly complaining of subordinates who are engaged in lawlessness! Apparently once again declare that the actions of the employee was not illegal actions!
Source: