Today, on my work came two officers in civilian clothing. Needless to say, it did not identify themselves. Reported that came constitute the administrative record upon placing me on the Internet extremist materials. The case concerns posted on my page repost record Navalny that old - 2011 - The movie "Let us recall the crooks and thieves of the Manifesto 2002" recognized the Kirov district court of Novosibirsk extremist.
Of course, comrades, as it turned out, the police, before drawing up the protocol does not explain to me the rights provided for in Article 51 of the Constitution of the Russian Federation and 25.1 of the Administrative Code. But as I 51 th article remember the "Our Father", it did not fail to take advantage of it and refused to have been given an explanation of what I was told, that in this case they "employ all available administrative arrangements" and promised to send me to day in the bullpen in the company "drunks and homeless people." The camera that I do not really like, so I wrote to tell, however, pointed out in the report that the explanations taken from me illegally, under pressure.
Court tomorrow Novoaltaisk City Court (Krasnoarmeyskaya Str., 20 - 150 meters from my house, comfortable). Time do not know, I have promised to report by telephone.
If someone decides to make my free trial lawyers - Wellcome, although the court's decision presence of a lawyer, I am sure, I would have no impact, but a professional lawyer could be better potrollit "respected the court».
But, in fact, the text of report CPE security officer State MFD Russia's Altai Territory police captain Gordienko Alexei Vasilievich:
Referring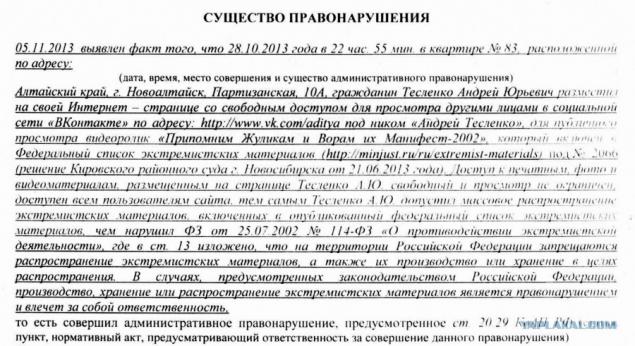 Source: