Once the warning documenting my words do not. Believe it or toss me pissing rags.
Yesterday morning it occurred, that the work is not a wolf in the forest will not run away, because gathered backpack, ice screws, loaded it all into the car and took off on a fishing trip. On the way we stopped for the same lover of ice fishing together and have moved in the direction of a small regional town Suzun.
The weather of course merzost- snow and rain, wind and humidity. But pike caught both before Armageddon - already by 12 o'clock on the rocker caught three dozen "laces" of 500 grams each. The fact that there are meadows and in February-March, when the ice reaches its thickness more than a meter, this pike all perish. So catch it is not poaching, and even the good.
So, we sit with a friend and this skirduem shurogayku bags. Snowstorm such that 10 meters is almost nothing can be seen, the sound is too bogged down in the snow flying from the sky in the pudding. I turn my head and I can hear my partner yells to me:
 - We have a fish pussy!
A closer look and really see through the veil of a snowstorm, as someone in a black coat dragging a bag of fish toward the bush!
Ahtyzh Suco! I grab and run the drill to protect the catch, but after a couple of steps encounter with a friend, who is running in the opposite direction ...
Bear!
Bear turned, instead, to get into the den and sleep drooling until spring, rummaged on the ice and selects fish from fishermen.
We ran to the car to sprint speed ... On the ice were backpacks, fish and fishing rods, grabbed only borax. Naturally the photos did not, went out with a roar of the engine, blindly.
Weather was hit by a biological clock bears - in December the temperature drops below minus 1 degree. It remains to hope that the future will drive cooling bear for the winter in the next few days.
Oh, and we PODEM fishing next Saturday. Who is with us?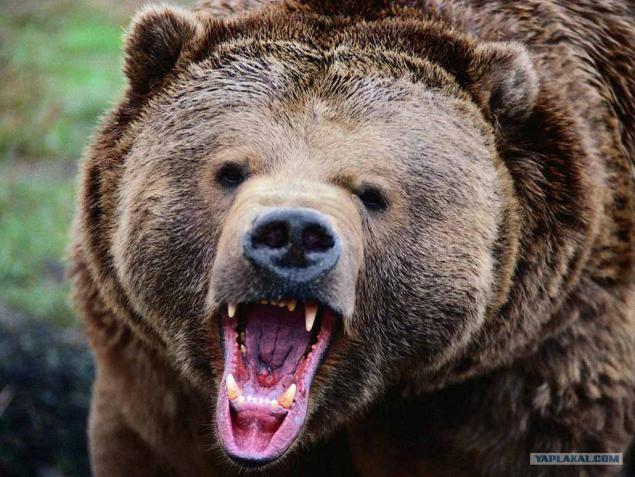 Source: