The idea about the holiday is ripe for a long time - about since we got back from the last ... Well somewhere in a week. And it was quite a while.
Acute problems, but where in fact go to the end of October, beginning of November for 3 weeks with the family of his wife and two daughters, 5 and 8 years old.
Europe examined more than good in the past where some 12 years, and the sea warm and tender is not already at that time. Egypt has ostopizdil order, and the rest with the Arabs full does not work - at every step naebyvayut or trying to, and this is how unpleasant. Turkey - but in principle I do not. Greece - the season is closed at this time.
In general, the same strong-willed decision was made in favor of Cyprus. Besides, I was here in the last 10 or 12 years ago for three days, I remember bad.
About Cyprus and its independence, as well as Ramsey Turks can be found in Wikipedia, I'm going to give some facts that concern me here.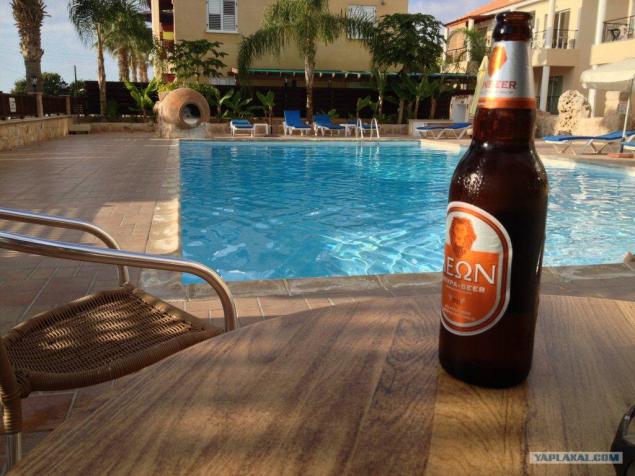 Yes, a little remark.
I have been long ago ceased to feed the travel agency and other agencies and travel independently, facts and figures given at the end. Fans of the great and mighty Ollinklyuziva dedicated.
To make it clearer and easier to take, I will share my post on certain topics:
Road
Accommodation
Food
Transport
Attractions
Interesting facts eyes light brown-turysto
People
Total
There will be a few photos because I photograph a bit better than I dance ballet
Ask not break, the end tell end. Just a few photos will be piecemeal, because I write this post (its origin) and the window 28 and is still summer, and 4 days ahead
The photo Olives, then they grow everywhere. ON THE TREES!!! THEMSELVES !!!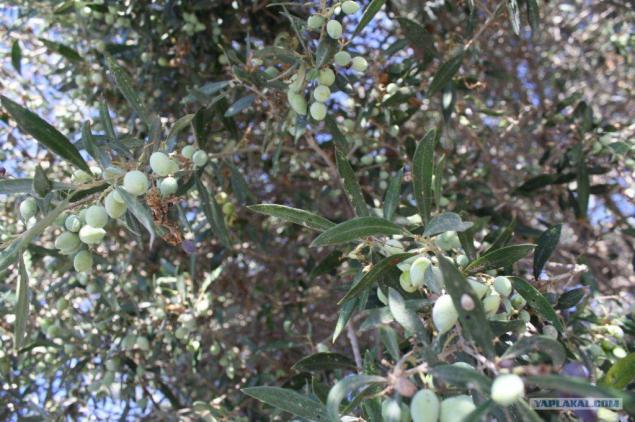 Road.
Before Cyprus can be reached by boat, submarine, aircraft carrier at a strategic and an airplane. In whose favor we bowed.
Somewhere at the beginning of September, I began to catch tickets eniveyenidey under the ridicule of friends, relatives and other condolers. (at this time there sooo cold, all sooo expensive, and there is nothing at all to do! Let's us in Egypt, I know a good hotel, five stars OLLLINKLYUZIV)
Tickets for 4 people back there - 57,000 rubles (could Lufthansa 3,000 cheaper but two transplants)
Tickets are a couple of three days picking his nose had been bought from Larnaca to St. Petersburg via Moscow, printed and placed in the far distant box. Question searches for accommodations, rental cars and other things was put there too.
Somewhere in a month I zasverbilo and then I remembered - fucking father, and where will you live?
Later will come back to this issue.
Medical insurance is not required in order to show it at the border when entering the country, and then, if that happens to have someone for you to pay for treatment. Moreover, Cyprus is almost impossible to buy some medicines without a prescription. A piece of paper is worth a penny. Buy. Will be calmer.
Visa - is a funny sort of thing, you have to go to the website of the Consulate of Cyprus, download vordovsky a file, fill in there for three - five lines and send them to the address. Half an hour later comes pedeef which are printed and shown on arrival at the airport and fly to Cyprus.
If you have an open multishengen is nothing else to do. Fly with Schengen.
Tickets are best purchased in advance and the housing can be determined at any time, it's just the whole of Cyprus 200 km from end to end and choose the airport which fly cheaply.
In the photo - Fly!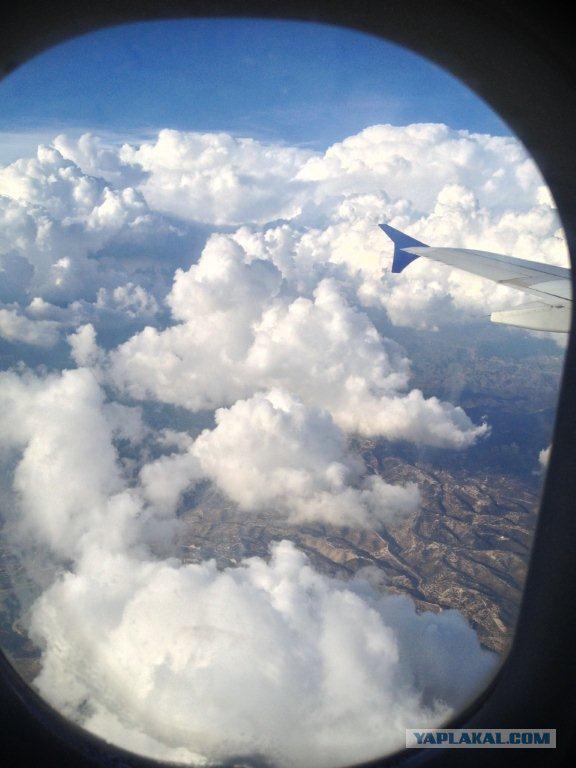 So about housing.
Buking.kom good site, plus there are specialized forums and other social networks - in general, offers poured in abundance hotcakes.
After some choice questions, we stopped at a house in Larnaca, close to the sea, with its swimming pool, two bedrooms upstairs, a large living room and dining room downstairs, two bathrooms, and so forth for 250 euros per week (total of 750), but a few days before departure host House stopped ringing, and said that he was going to the funeral of the Ukraine, and nothing happens. Puzzled, I asked the question to his friend, who spends much time in Cyprus. As a result, in my hands was the phone number of a man named Otar (and nothing did not bother me). Well, it was said that everything has been decided, and the type, call, everything will be chiki-bunches, accommodation found and everything rovnyachkom. I called, say, Hello, its Stan from StPetersburg, and bla bla bla, and I answered "Daraga, zachem rugaishse, let narmalno razgavariuay." Then I sat down a few, it turned out that many Greeks from Russia, in particular Georgia, lives in Cyprus, and in general the Georgian Otar name and correct spelling Otari.
We talked and one day I found a house.
In the photo of the townhouse and apartment complex where the apartment is located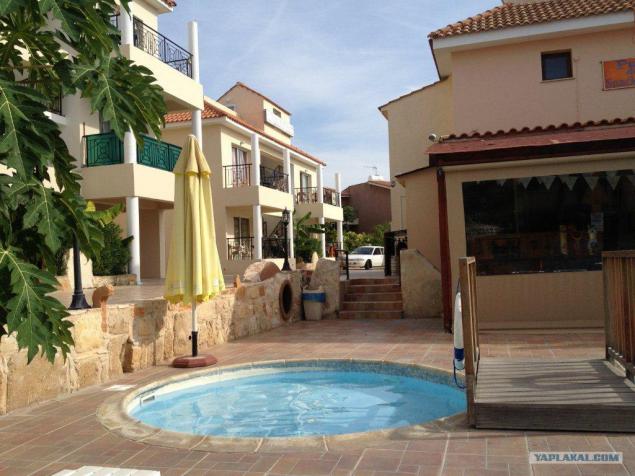 It dvuhspalennaya apartment with living room, kitchen, bathroom, two balconies, fully furnished and appliances, overlooking the sea. Walk to the sea, if not leisurely minutes 7. The apartment is located in Paphos (which I did not regret, because they are the main attractions here) and is three weeks 700 euros. For a month but also 700 euros. Located in a residential housing complex - a 6 townhouses 4-6 apartments, with its bar and swimming pool downstairs. Very convenient and close. In principle, substantially all live in such residential complexes. If you wish, you can agree on a residential complex inhabited by British, of which the island is not less than the Russian and Russian to remember in stores, and the rest of the praktikrovat English (which I did very well all three weeks)
In the photo, one of the bedrooms (children)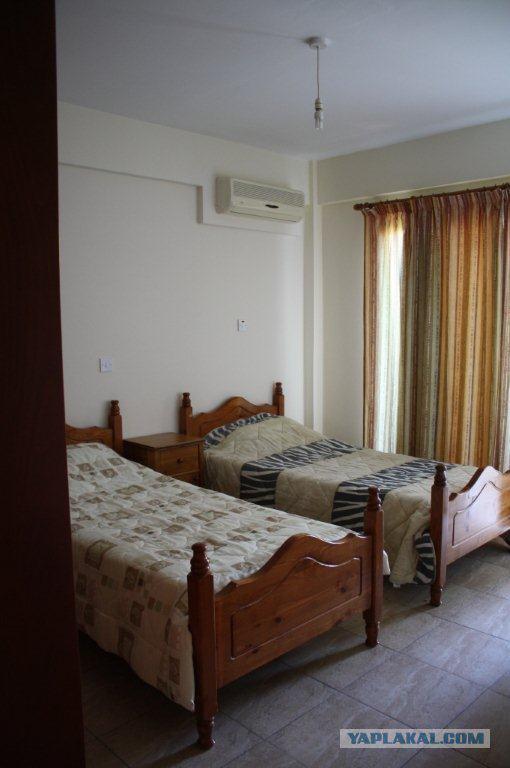 In the photo room with a balcony overlooking the sea and pool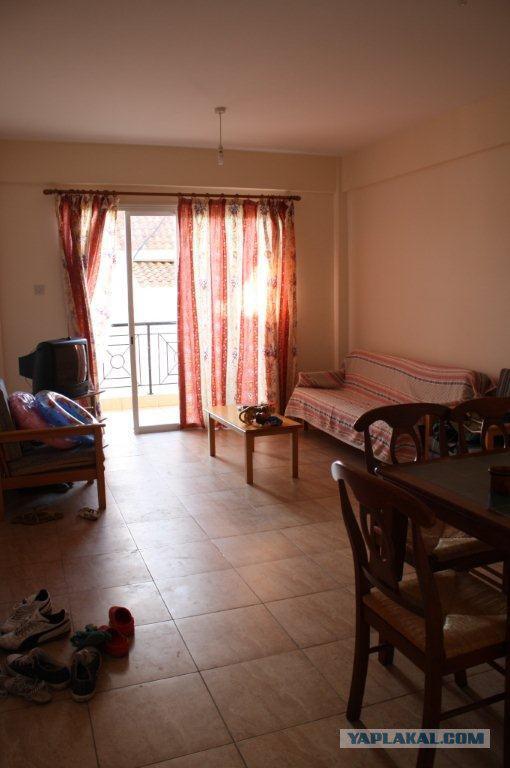 Kitchen. small but comfortable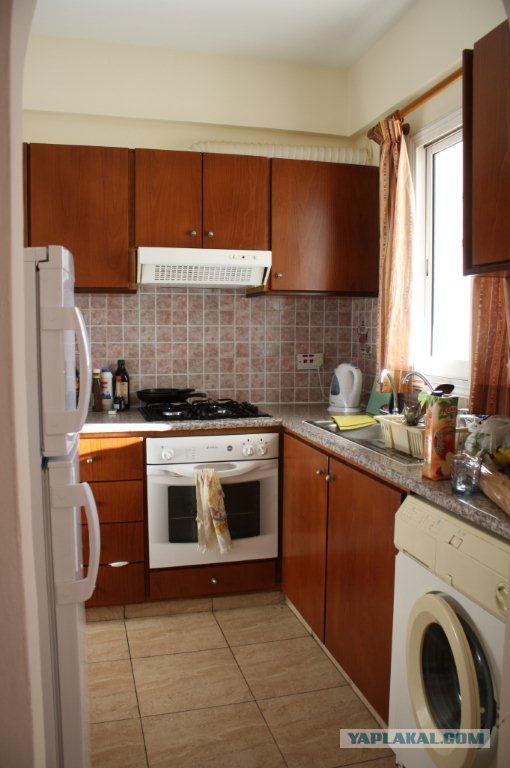 The view from the windows on the pool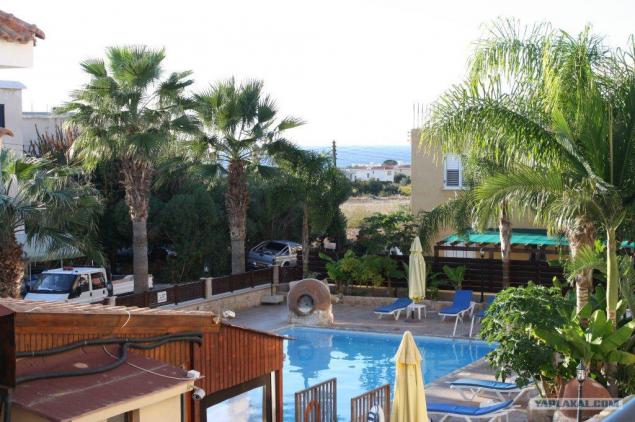 View from the balcony
Posted in [mergetime] 1353479780 [/ mergetime]
Yes, yes ... there is 300 meters SEA !!!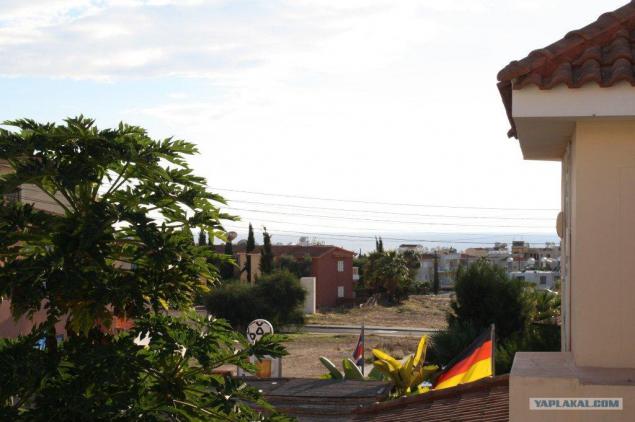 In principle, a house can be found on arrival to Cyprus, but it is better to have their man here local. Practice shows that everything can be done in half to two times cheaper than offered so. Who should I give the coordinates of the local children.
IMPORTANT: immediately clarify the payment of electricity and air conditioning. It is very very very expensive electricity, it is necessary to search for options enabled payment. Well for water.
Second. Ants are everywhere. If you do not want your bun with jam bun has become the meat in the morning - all packed tightly!
It is also used to the fact that the sand is always on the floor. Clean the floor is useless, just sweep. So the price does not affect the quality of housing, and fans of the Hermitage and the gold toilet seats broken off. And for 1,500 euros and 500 euros a difference to feel hard. I know whereof I speak, because looked a lot of properties for sale and rent. First, the summer family send, and secondly there is the idea of ​​something to buy. Imputed loans and good conditions too painful, and I quite liked the country.
In addition, you can rent a house, maisonette, well, just put up the tent, I even already know where mozhno
A few words about the domestic issues.
Towels, bedding and other crap will be at your disposal, along with a washing machine. On the first day other than buying zhrachki Stump soap, napkins purchase and etc. And yes, buy once litter on the beach for 2-4 euros for a joke, I'll explain why later.
And once again - damn ants. They are everywhere. Refrigerator - your food safe. Well, or packages.
Hmm ... One of the most difficult points. Food.
Eating a lot and tasty. We prepared ourselves, but made several visits to restaurants to eat what the local, national. In addition, this section will be closely intertwined with the section of people and dealing with them.
In the photo the standard lunch - Dorada weighing about 500 grams. vegetables. wine.
For a family of four dinner with wine and juice costs 15 Euros, which I wrote, but it's a great report ... Search laziness. It is a fish - 12 Euro, 2 Euro wine, 1 Euro vegetables. Children drink tea%)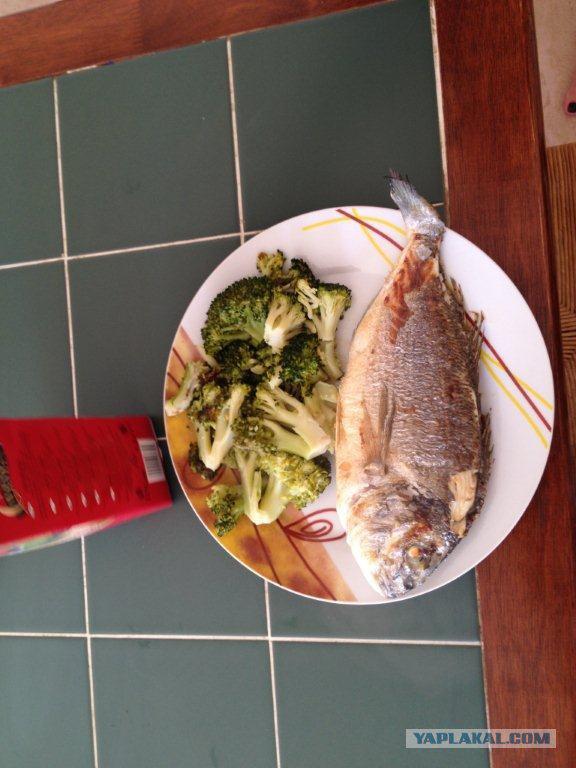 On the first day we threw the bags in the apartment, drank a glass and went to the store.
Shops, which I used were either known in Europe Lidl with correct prices, or those shops that showed me Otar. The products are the same as ours, many products purely British, very much, I would say, humane prices below St. Petersburg or Moscow.
Vegetables and herbs are overtly cheap, and all natural as we say now, "organic", meat and fish are usually sold in individual departments hmm ... or in specialty stores.
For the price of vegetables I did not say anything, because once looked rates, laughed and forgot (well, I do not like to consider a penny) meat and poultry from 5 to 20 euros per kilogram (20 euros are correct beef steaks). By seafood separate song.
The photo Pizza, fotkal shaking hands on the iPhone :)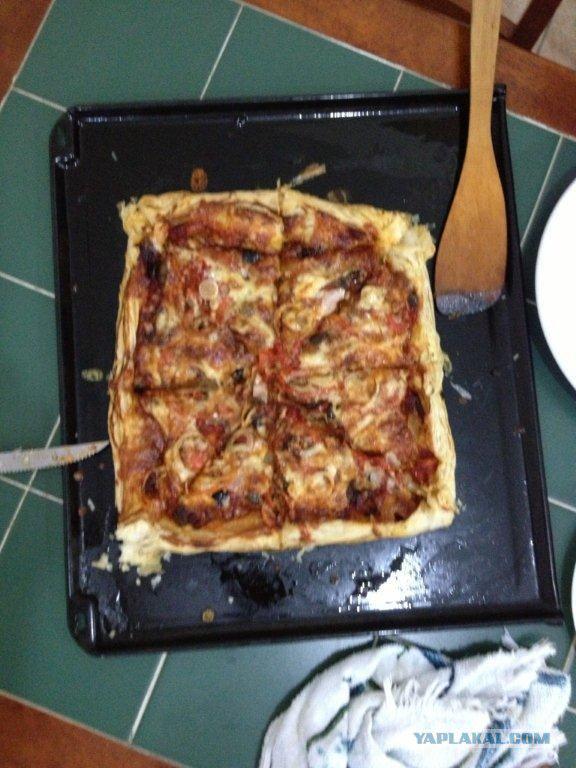 I went to the fish market near the center of Paphos is pavilions on the ground floor of a residential building with glass walls, half of the room is designed for customers, there is a showcase filled with ice, which are fish-reptiles inside - sink and counters, and people in white halatah
There are varieties of fish 5-7, 2-3 varieties of shrimp, octopus, squid. Fish from 5 to 15 euros per kilo, 3 dorado I paid 12 euros, it was a full dinner for a family of 4 people (even 1 euro for vegetables and wine for 2) seafood from 10 to 15. By the way kilogram of shrimp is very difficult umyat four mouth ... all freshly caught and turned into industrial rubber products by decoction, freeze-thaw, and so on. And in the shop does not smell of fish, indicating that its freshness. In general, choose whatever you want, you weigh it, clean in front of you and, if desired, can tell you a couple of three recipes how to cook what you bought.
In prinitspe, the food is not different from that which I cook in Russia, the products differ only in quality and taste a little bit.
It was mostly vegetables and meat cooked in various ways, as soups, such as Borsch, Solyanka, soup and etc.
With soups way it was connected one point.
On arrival in the early days, I met a neighbor in taynhauzu, Theodoros and his wife, Jenny. Theodoros Cypriot Jenny from Liverpool, they have two daughters, the elder of whom are my children immediately found a common language. In general, the children pull together, and the guys are funny, well, everything flowed into good neighborly relations. One day I cooked soup, which invited them to visit. With an air of importance, I said that it Veri speyshl End Traditional, Feodor listened and ate. The next morning in the kitchen I found a pot of soup and was surprised - soup, we like all ate yesterday. I Tried - tasty, good soup. But something is different. It's simple - Fedor prepared a soup and send us a sample of your choice. It turns out they have the same soup, and for me it was ... hmm. Opening something. Because I have a lot of friends in Europe and to have our soup is exotic. Like the porridge. In general, since that time we were preparing the soup in turn, changing recipes and grilled meats - together.
In the photo is my version of borscht, for orthodox - red soup with beet :)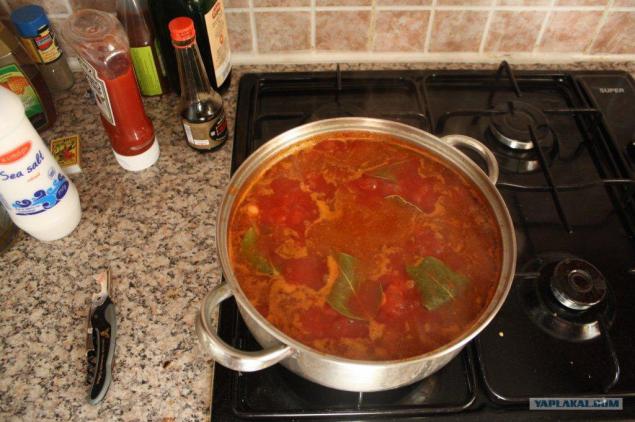 In addition, Fedor prepared local specialties. I tried estessno.
One of them I captured on a mobile phone where the photo hanging there.
Thus, the method of preparation is simple. Take a cow's head and cut away all the meat. The meat is then a traditional soup made from meat from the head of a cow (very nazhoristy and specific tastes) and the skull with sad eyes is sent to the oven for 4-5 hours. Further, together with lemon and salt is put on the table, and do not cut the head eats meat. The most delicious considered eye. Here we sit, nibbling at the head of three, my wife included, see the picture and retching bullet flies away. I'm kind of OK, myasko chew, drink traditional Ouzo diluted with water, tasty, but the taste of the meat specific. Fyodor gave me a piece of meat and says, try to type, very tasty. I take, chew, taste strange and different from the meat that I ate. After Fedor responded to my question about it carefully, I began to breathe and drink plenty of cold drink. The stomach is strong but there are cow eyes, I still was not gotov Next cow skull is broken and there is eaten away Mosk. In general, specifically ...
In the photo she is the head of a cow.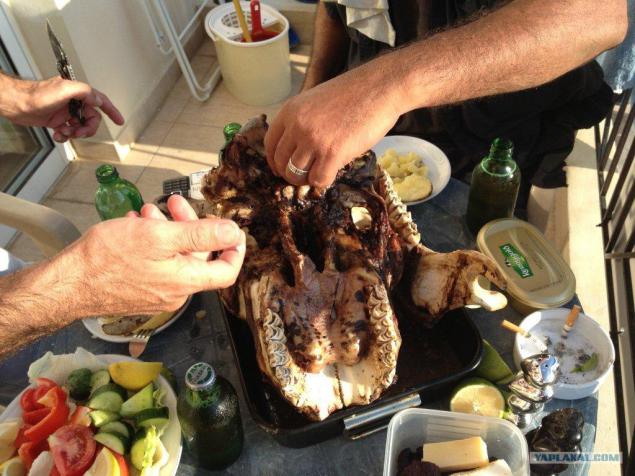 Mainly in general we are prepared at home but were chosen and restaurants.
From the local traditional dishes to try BAPTISM PET.
In fact it is one dish that should be taken at two or three. It is of two types - fish and meat. It represents a 15 different miniblyud submitted to you one by one in sequence as eating.
Another sure Tzatziki. This dish is based on yogurt, garlic, cucumber, lemon juice, olive oil.
You can also try to pay. This is a set of meat or seafood. We took one to four. More than enough. Prices for these courses from 20 to 50 euros. Wine - 5-10 EUR per bottle. On the food in general of all time took about 25,000 rubles (three weeks) without any restrictions, including napitki
In the photo fee. For four barely mastered%)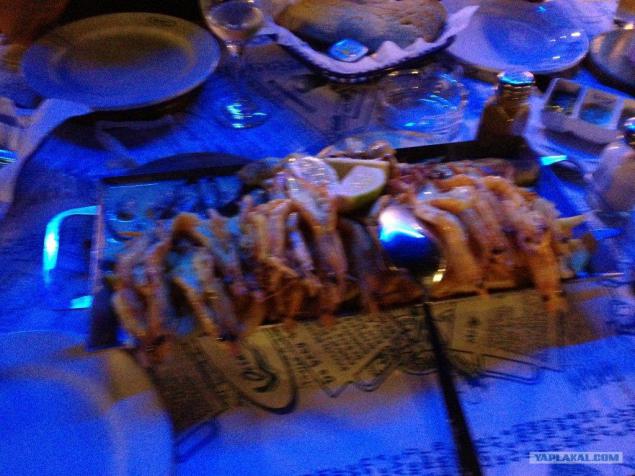 And about the drinks.
A pint of beer at the bar is 2-2, 5 Euro. Excellent, tasty beer. Cans of beer in the store (or KEO Leone) about 1 Euro. But there is a cheaper, where the photo hanging in the post.
About wine - by the end of the first week, I deliberately looked for the most expensive wine. In a paper bag. For 2 Euro / liter. Bl ... Th! It is no worse and sometimes better than that which is 5-7 Euros. In general, do not hesitate to take it and try any wine despite the price. Take the wine that is drunk local. It's all delicious and very high quality. It does not refinement of France, but it is a good natural product.
Spirits - traditional - zivania (grape moonshine, to 70 degrees, the way it tasted homemade, quite good) and Ouzo. 2-5 Euro per bottle. And other rums, gin and scotch - 5.10 Euro per bottle. Jack Daniels - 12 Euro 0, 7.
Juices, water, soft drinks - to your taste, the price for a pack of juice from 50 cents to 2 euros.
24 bottles of beer (each 250 ml) costs 7 Euro. It is very convenient - no time to warm up. And decorate the interior of the refrigerator to its presence :)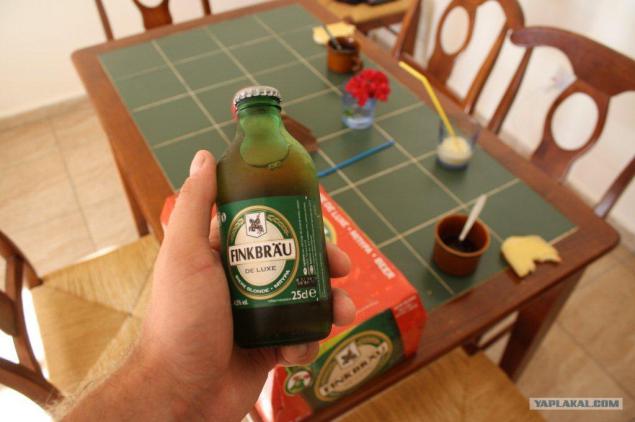 Transportation.
If you do not have rights and you are afraid to drive the car with the steering wheel on the right and on the left side of the road, you will approach the bus. Bus service is developed within the city very well not to lose bring a navigator and forth. Tickets cost 1 Euro for an adult 1 day, per child 50 cents. All sights in the city and the main beaches can be reached by bus. Buses kayfovye.
But such views are you if you ride in a wheelbarrow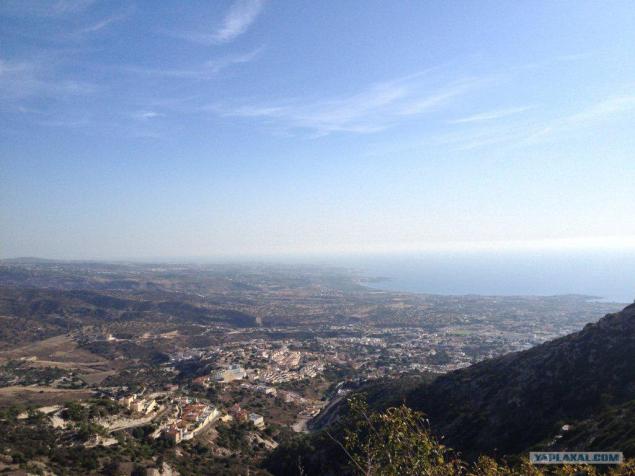 If you have a law, it is very easy to rent a wheelbarrow.
The process of taking a car rental is very simple, went to any agency (but it is better on the recommendation of the local), 3 minutes, and drove off. I had a Mazda (which is her photo should be here), but on the third day I smashed her mirror and me for it was nothing, but in return gave toyotku wagon (analogue Corolla, but with the right wheel, estessno) All machines have to Automatic price - 25 Euro per night including all. Well, it is more convenient and versatile in terms of trips to the store and the beach. It is advisable to take the car even if not very new but with a more powerful engine, because once you go into the mountains and 1.3 liters is enough. And in the mountains very well, plus a bunch of wineries, but more on that later.
The first day it is desirable to go on their own, without passengers get used to. Then neatly and quietly with their families, friends. The city limit 50 km.ch. but it can be 70, 100 on the track but can be 120. I do not recommend chasing the mountains and advise to follow the signs. Roads in general is not bad, but to many interesting places it is necessary to get the compass and primers. Better to take a jeep. There are formal rules and is only clause speeding. Local Gaer also hide from radar as ours, but do not take bribes. The solid, too, especially anyone do not care, so that if the part will call the oncoming not worry, everything is so go and no one should be particularly for this. Three weeks have seen Gaer only radar (but many). Just 2-3 cups of beer or a bottle of wine can not be an obstacle for the driver in Cyprus. Under your responsibility naturally. The car close to the castle, close to her window and etc, too, in principle, not necessary. You can park wherever you want. Also banned parking signs and crosswalks. For it can be evacuated quickly.
And advice - bring your navigator with a map of Cyprus.
In the photo is my first car, which took in rent.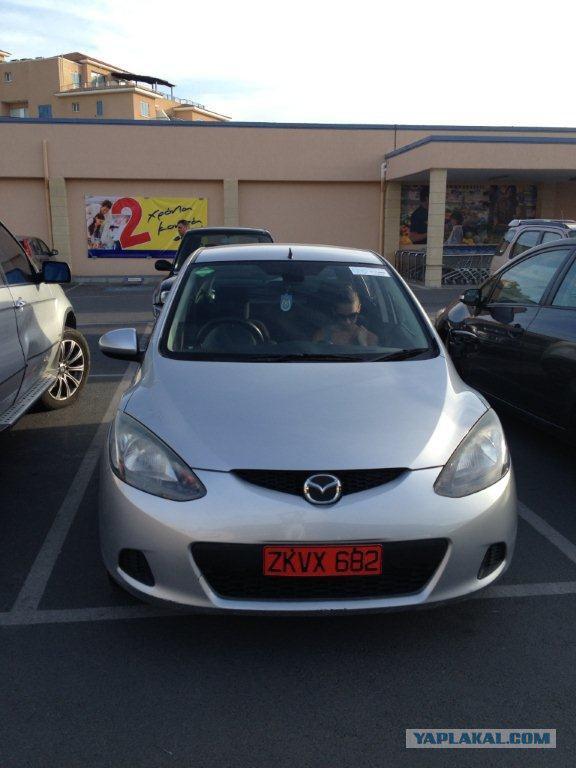 Contact
Included in the megaphone - 6 rubles a minute. To recommend the budget to buy a local sim card. Package - 15 euros (5 euros on the account). Outbox Russia 3 rubles / minute. Three rubles MINUTE !!!
Internet cafes are in free or € 10 200 minutes card.
I absolutely do not bother about the connection and used a megaphone absolutely not limiting themselves in conversation 3 weeks said about 5,000 rubles. And 20 euros spent on the Internet. (had to work remotely)
The photo bananas. It grows everywhere. Many plantations. Wild can tear. Green PPC but what delicious!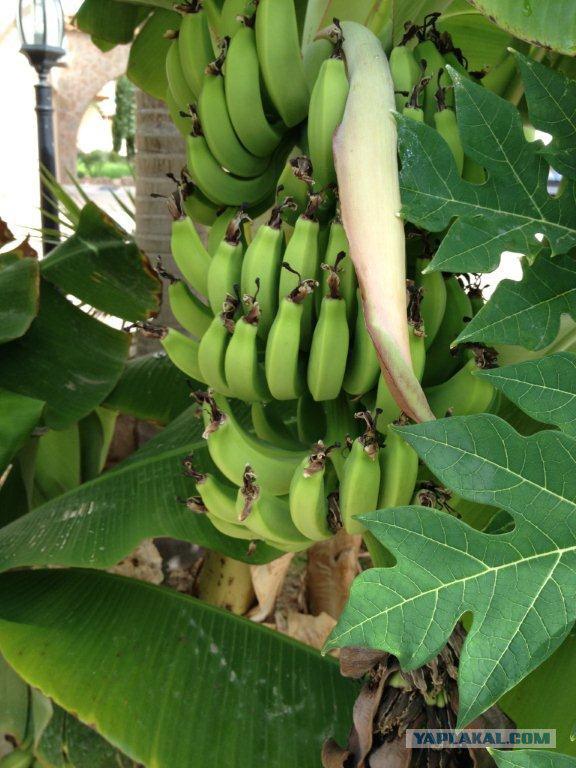 Sights.
List attractions of me was promptly inserted in advance, as it was pre-marked on the map, but even if you come unprepared just follow the signs or map that you will be given at the box office machines.
First and foremost - is plyazhi
ALL!
Interior
Interior
Interior

Eh ...
All.
Source: