More recently, with the big-very big fanfare in Moscow hosted an investment forum "Russia Calling", organized by VTB Group.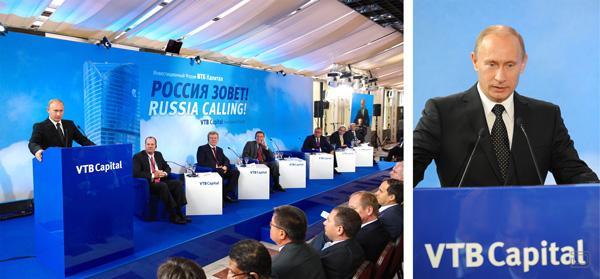 The remarkable event was. The highlight of the program was made by Vladimir Putin, who described the colors as true and correct: to invest in Russia.
And what is very important - investment is protected, and business professionals who will become your trusted partners.
Big beautiful banner behind Vladimir Putin reminded us about the success of one of these partners. The flagship of the domestic economy: VTB Group.
This is an excellent, reliable and responsible company! No wonder the supervisory board of VTB Bank is headed by Finance Minister Alexei Kudrin, and to invest in the shares of the bank called the same Vladimir Putin.
85% state-owned bank VTB, which is an additional guarantee. It turns out that the main achievement of recent years - the vertical of power - also works for VTB.
We decided once Effektinye Managers (hereinafter - EM) from VTB to do business. Means a lot, successfully conducted a "people's IPO». It should be money well place to work. For the benefit of shareholders.
-And Why do not stir up the leasing business? - EM exclaimed. They cried and drank immediately established a subsidiary VTB Leasing.
The point is faster than the fairy tale.
We decided to do an EM leasing drilling rigs. The thing is expensive, demanded. Buy drilling rigs - hand over rent Petroleum-gas workers - get the money. Beauty.
We chose rigs from Chinese manufacturer - Sichuan Honghua Petroleum Equipment Co.Ltd. With romantic name ZJ50DBS. 30 pieces.
To make it clear: 30 pieces a lot. This four and a half thousand cars with the equipment. I've seen them myself - makes an impression, but more on that later.
When the decision was made on the transaction, EM suffered for a long time. They did not sleep nights.
They wanted to make some improvements in the deal. That it was not just buying and selling, and buying and selling in the best traditions of VTB and gosbiznesa. The solution was found.
A graphical (do not judge strictly, he painted in Painter):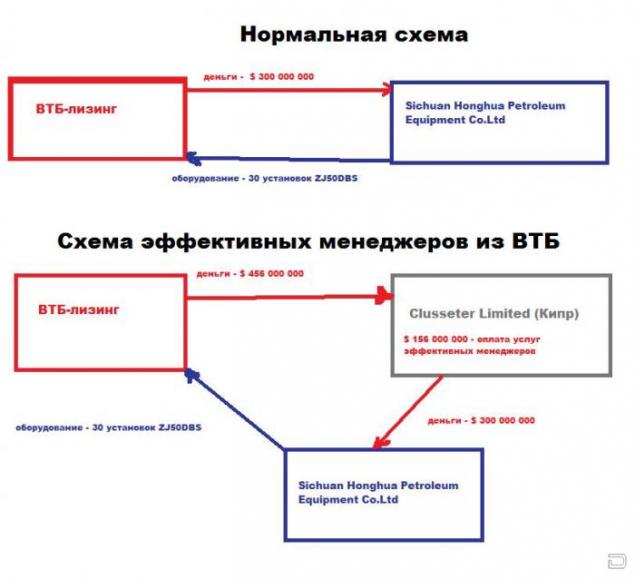 That is, when the value of units from the manufacturer $ 10 million each, they buy from the Cypriot intermediary of $ 15 million.!
Total fat one transaction - 156 million dollars.
Is not that brilliant?!?!
Well, admit that you yourself would never have guessed this will not! After all, where Cyprus and where China?
Therefore, 150 lemon green - it is the small and modest in what it is necessary to reward the EM of JSC "VTB Bank».
I should add that 456 million - the price of the contract. Taking into account the customs duty on the transaction VTB spent $ 650 million cash shareholders.
If you think this is all, you probably people without entrepreneurial spirit.
But VTB all this vein there. And it pulsates.
Laundered $ 156 million was not enough. After all, there is a second part of the leasing transaction.
Drilling rigs would be logical to rent someone?
 - Drilling Company - timidly imagine you thin voice.
 - HAHAHA - the echo reply back to you from the bank VTB.
Two months before the deal was set up OOO "Well Drilling Corporation". Who did not have any-thing. But it is to lease equipment worth $ 650 million. To pass in the sublease.
Again graphic illustration.