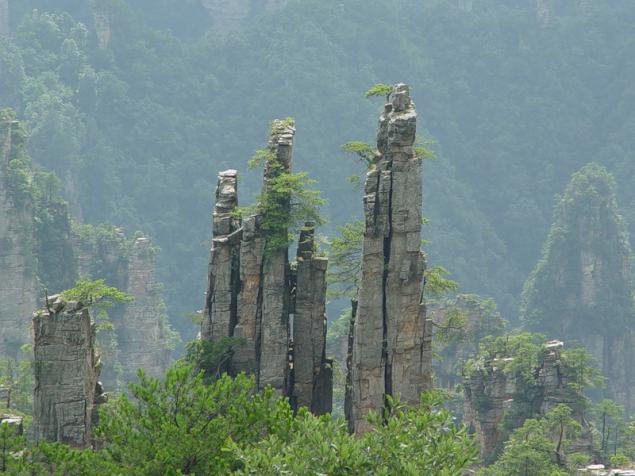 Today we went to China, and we talk about Wulingyuan (Wulingyuan), which is a picturesque area, located in the Chinese province of Hunan. This place is famous for its natural pillars of sandstone, the height of which sometimes reaches 800 meters. In total, the Wulingyuan experts counted 3,100 such natural columns. This scenic area belongs to the city of Zhangjiajie, and is divided into 4 zones: Zhangjiajie Forest National Park, as well as 3 national geopark Zhangjiajie -Tyantszyshan, Sosiyuy and Yantszyatsze. The total area of ​​this natural wonder is 391 square meters. km, of which 250 square meters. km are amazingly beautiful places that are always ready to take the next tourist.
Wulingyuan is famous not only for its legendary columns, in addition, you can see the rapid waterfalls, caves and pristine and piercingly beautiful forest areas.
Quartz sandstone that forms these amazing columns, also deserves attention, the fact that he unusually clean, in particular it contains quartz from 75% to 95%. So pure mineral in nature practically does not occur.
Scientists report that Wulingyuan formed long ago, on the structure of the local geological structure significantly affected by the movement of tectonic plates that created the legendary Himalayas. Once nature has laid the foundation of this beautiful area, and it happened in the period of the ancient Paleozoic it with the help of erosion processes caused by wind and water elaborately carved all this beauty.
Soft, gentle climate can say, difficult terrain, as well as heavy rainfall contributed to the emergence of a powerful Wulingyuan forests, by the way, the growth rate of forest cover is several times higher than in neighboring areas. Experts were able to count 770 species of various plants. It is noteworthy that it is in Wulingyuan found a number of rare plants.
This wonderful area can boldly show off its fauna, as here, at least 28 species of creatures, which are rare species and are under the care of the law. Among these animals - and the usual smoky leopards, giant salamanders, as well as a number of large predators.
With regard to the Zhangjiajie National Park, it is the first Chinese national forest park, with an area of ​​130 square kilometers, it is located in the mountains near the Wulingyuan Wulin. Chzhantszyatszeansky landscape is so varied that there is also dense forests and high mountains. It is in Zhangjiajie are the most famous attractions Wulingyuan (Wulingyuan), and the climate here is humid and warm.
Tourists always arouses interest other no less picturesque area called Tyantszyshan. This natural wonder is located in the northern part of Wulingyuan, with an area of ​​67 square kilometers. The area is covered with beautiful mountains - the highest mark - Kunlun, whose height is 1262 meters, and the lowest - 534 meters.
Relatively recently, namely in 1992, opened another area of ​​the park, which was named Yantszyatsze. The area of ​​this natural gift of 3,400 hectares. I must say that enveloped Yantszyatsze amazing legends and stories. The history of this area is associated with the legends of the Northern Sung Dynasty, as well as the bloody wars. Some people believe that it is from this place to begin the revival of the ancient empire. Moreover, there are rumors that the creation of alien landscapes on the planet Pandora, namely flying rocks ("floating mountains Hallelujah") blockbuster "Avatar", James Cameron (filmmaker) drew inspiration, as well as some of the details used it with landscapes Wulingyuan. < br />
A taste of the power of the natural imagination and extraordinary craftsmanship difficult using articles and photographs, all of this even 1 percent can not convey that beauty and grandeur that is present everywhere in Wulingyuan.
It is a place at the earliest opportunity to visit for every inhabitant of the Earth, which we will and wish.