The highest price for diamonds
The most expensive diamond in the world was the "D". Flawless, pear-shaped, 100, 10 carats, was sold at Sotheby's in Geneva on May 17, 1995 for 16,548,750 dollars. Sheikh Ahmed Fitayhi.
The highest price for a rough diamond was 5, 8 million. F. Art. It was paid in March 1989 for the stone from Guinea to 255, 10 carat diamond corporation "William Goldberg" with the participation of Hong Kong jewelery company "Chow Tai Fok».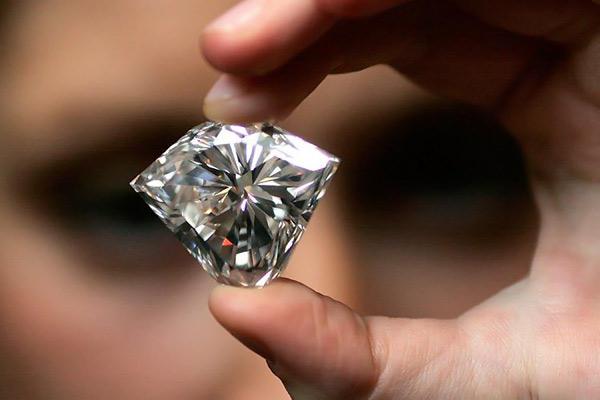 The largest diamonds
The world's largest diamond was the "Cullinan" - 3106 carats. It was produced on Jan. 26, 1905 in the diamond mine "Premier" near Pretoria, South Africa. Stone carved and polished diamonds 106 and manufactured the world's largest colorless diamonds of the highest quality 530 weight, 2 carats.
The largest of the still existing specimens of rough diamonds weighing 1,462 carats and is kept company "De Beers" in London.
The largest faceted allmaz
Almaz "Golden Jubilee" was bought by the company "De Beers" syndicate of Thai businessmen and presented to the King of Thailand in honor of his 50th birthday. It weighs 545 carats and 67 are now built into the Thai royal scepter.
The smallest diamond
57 brilliant-cut diamond weighing-sided 0 0,000,743 carats were made by hand between 1991 and 1994. Pauline Willems in Amsterdam (Netherlands). The size of the stone was smaller than the average grain of sand. - The most expensive rubies
The record price per carat for ruby ​​is 227 $ 300. It has been rated a ring with a ruby ​​in the 15, 97-carat, sold at Sotheby's in New York on October 18, 1988 of $ 227,300.
The largest star-shaped ruby ​​
Kailash Rawat of the New York company "Eminent Dzhemz" USA, owned by Ruby "Famous Star" in 6465 carats originating apparently from India. He has the size 109h90, 5h58 mm faceted oval cabochon in form.
The most expensive emeralds
Emerald diamond necklace (containing 12 stones of 108, 74 carats), made in 1937, the company "Cartier", was sold for 3.08 million dollars. October 26th, 1989 at Sotheby's in New York.
The most expensive single crystal emerald cost of $ 2,126,646. Or 107,569 dollars. Per carat. For this price April 2, 1987 at Sotheby's in Geneva sold emerald ring in 19 carat and 77 diamonds, made a "map" in 1958
The largest faceted emerald
In August 1974 Carnaíba, Brazil, was found in natural beryl 86,136 carats. He was treated in Hong Kong Chen and Richard in 1982 is estimated at £ 718,000. Art.
The largest single crystal
The largest gem-quality emerald crystals was an instance in 7025 carats, was found in 1969 at the mine "Cruces" near Gachaly, Colombia. It is owned by a private mining company.
The most expensive sapphire
Ring with a sapphire 62 02 karat (shoulder cut) and the diamond was sold to 20 February 1988 at Sotheby's in St. Moritz for 2,791,723 dollars.
The largest star sapphire
Stone in 9719, 50 carats was cut in November 1989 in London. He got the name "Lone Star" and is owned by Harold Roper.
The largest instance of opal
White opal gem quality in the 20,350 carats was found in July 1989 in Australia. He is called "Jupiter-5" and is in private hands.
The largest black opal instance
From a sample of black opal in 1520 carats found February 4, 1972 near Lightning Ridge, NY. New South Wales, Australia, was a real gem, which was called "mistress of Glengarry».
The largest jade
In July 1992, the Yukon Territory, Canada, Max Rouzkvist found a single lens jade weighing 577 tons. She is currently the property of the company, "Yukon Jade».
The largest amber
The Natural History Museum in London is kept Burma (Burmese amber) weighing 15 to 25 kg.
The most expensive jewel
Egg-shaped pearl "Regent" weighing 15, '13 (302, 68 faces) was sold May 12, 1988 at Christie's auction in Geneva for 864,280 dollars.
The largest pearl
The huge clam shell on about. Palawan, Philippines, May 7, 1934 has been found so-called "Pearl of Lao-tzu" (also known as the "Pearl of Allah") She weighs 6, 37 kg, its length of 24 cm and a diameter of 14 cm.
The largest pearl Abalon
In May 1990, the reserve "Salt Point" piece. California, USA, was found baroque pearl Abalon (sometimes also called "abalone") weight 469, 13 carats with dimensions 7h5h2, 8 cm, dubbed "Big Pink jewel».
The largest gold bullion
A large block of slate weighing 235, 14 kg - so-called "Holterman Stove" - ​​was found October 19, 1872 at the mine "Star of Hope", the company "Beyers Holterman End" in the area of ​​Hill End, pcs. New South Wales, Australia. It contained about 82, 11 kg of pure gold.
The biggest nugget of pure gold
Found in 1869 near Moliagul, pcs. Victoria, Australia, nugget "I wish Wanderer" weighing 70, 92 kg containing 69, 92 kg of pure gold.
The largest platinum nugget existing
The largest of the existing platinum nugget weighing 7 kg 860 g and 5 called "Ural giant." Stored in the Diamond Fund of the Kremlin.
Gold stock
The biggest gold reserve has the US Treasury Department. In April 2005, it amounted to 8136.2 tons, which in monetary terms is equal to 110.43 bln. Dollars. In prices in January 2005, $ 422.15 per troy ounce. The main store is located at Fort Knox, NY. Kentucky, United States. In 1949, Fort Knox was kept 21,800 tons of gold. 110.43 bln. Dollars.
The largest theft
jewelry August 11, 1994 of a jewelry shop in the hotel "Carlton", Cannes, France, 3 attackers stole gems worth a total of 30 million. f. Art. 30000000 f. Art.
The largest ransom
In the 1532-33 biennium. in Cajamarca, Peru, the Spanish conquistador Francisco Pizarro forced the Indians to fill a room with gold and silver for the liberation of the last Inca emperor Atahualpa.
Antiques
Jewelry April 3, 1987 at Sotheby's in Geneva, Switzerland, the collection of the Duchess of Windsor was sold for £ 31,380,197. Art. 31380197 dollars.
The record price for a coin collection
Silver dollar minted in 1804 - one of 15 - was estimated at 1 815 million. Dollars. At an auction in New York on April 8, 1997 This coin was part of the collection Louis Eliasberg Sr. - the only one who had a full collection of American coins. 1815000 dollars.
The most expensive dress with ornaments
Wedding dress by Helen Genvill with jewelry from Alexander Reza estimated at more than 7, 3 million. USD. The dress, embroidered with diamonds mounted in platinum, was presented in Paris, France, in 1989 to $ 7.3 million.
The most expensive pen
made of pure gold and decorated with diamonds 4810 are made of pure gold and decorated with 4,810 diamonds, works of Mont Blanc pen company "Maystershtyuk FreeCell Royale" - the most expensive pen in the world. It was made to order for £ 75,000. Art.
The most expensive wallet
studded with diamonds with platinum corners most expensive work of Louis Wallet Kvatorze, Paris, and Mikimoto, Tokyo, is a crocodile leather wallet, with platinum corners, studded with diamonds and sold in September 1984 for £ 56,000. Art.