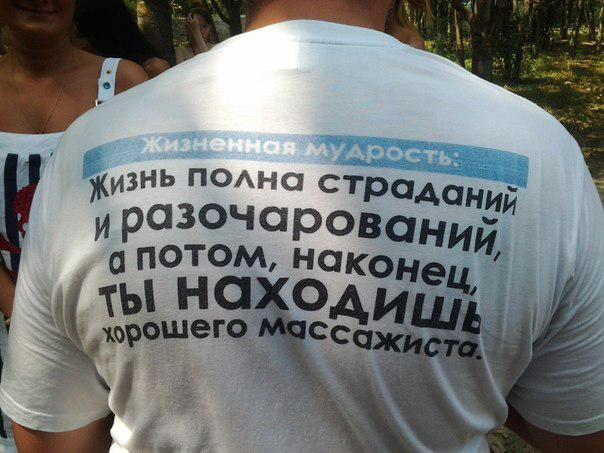 Weaknesses women actually not a whim, but is exactly what gives a woman the true strength of the magnetism and inexplicable.
According to the Vedas, have arisen about 5 thousand years ago, the energy of a woman - is the foundation of the world. Because it is a creative feminine "I" gives man the forces that guide it on the exploits and accomplishments.
Each of us have periods of energy decline. The Vedas offer amazing ways that increase the power of women. Thus, the list of things that give us strength!
1. Massage. According to the Vedas female body just needs a touch. Our bodies need to stir, knead. Otherwise, the energy stagnates. Dawit's body inside. And cause illnesses.
2. Visit to the barber shop - a beautiful hairstyle - this is not just a way to cheer yourself up. Hair for the woman and the woman - it is a reflection of her thoughts. That is why in India, which is very popular Vedic knowledge, gives a value of women's hairstyle.
3. manicure - beautiful hands I want to kiss! So do men. This point I tested myself and several of my friends. After a nail with red varnish attention husbands favorite and just men has risen!
4. Talk to other women - mutual exchange of energy is very enhances women. Men need silence to realize themselves. Women better understand their experiences in communicating with friends.
5. Long conversations and interviews - on the same phone - it's not a waste of time. This is the splash of energy that a woman needs. If words are piling up in a woman, it probably splash out of the man. And this is not the best way.
6. Walking - Women just need to at least once a day to go out. Despite the fact that we - homemakers, connection with nature is very important!
7. Music - listen to music should be every day. Meditative, classical. Make it a habit to include music, such as a cup of tea.
8. Refuse to complex topics for reflection and negotiation - yes, a woman is useful to be not serious and think about nothing. The role of "girl" gives invincible youth. Especially this point is important for the business woman. Try to keep things at work and not to bring them into the house.
9. Bath with rose petals, oil - it is not self-indulgence but a necessity! Giving a little to your body, yourself, you will be surprised his own brilliance and high spirits.
10. Meditation - as any relaxing practices raise the level of women's power. Meditation should be at least once a day at bedtime. Very useful meditation in nature.
11. Take singing lessons - singing clears throat chakra. And we do not want to swear, to reproach men. In Sparta in ancient times one of the compliments for women were the words "it is like a song».
12. Shopping - shopping is not just a way to keep an eye on new things. Learn how to shop, even if there is no money. Try on things. Enjoy its beauty. And remember - the female energy is so strong that sometimes it is enough to see, to touch the thing that soon it migrated to your wardrobe. And the money on it are as if from nowhere.
13. A visit to a psychologist - but not necessarily women. Wise, experienced woman can help you look at the situation differently. And to understand it.
www.rasstanovki.su
Wisdom is transmitted from older women. For the same reason it is useful to deal with their own grandmother, great-grandmother.
14. Dancing - in any form - it's a great thing to enhance female power and sexuality. Especially good Arabic dancing, latin.
www.danceclass.su
15. Yoga - yoga practice calms the mind and gives strength. It is advisable to engage a woman. And married. Man coach teaches only load the body. Energy will not be able to share it. Just because he - man.
16. Regular gatherings with her friends - opting instead to a public place, you create a strong background of female power. And share with each other lacking qualities.
17. Take care of flowers - a small garden house and digging in the garden - this is an additional way to stock up on female energy. Flowering growth - it's a reflection of the feminine energy.
18. Dealing with married friends - is very important for those who want to get married. The energy of the family in the Vedas is considered the most beneficial and valuable. So do not rush to abandon the party, where there will be only couples. After this meeting, you will accumulate energy that you attract more men than after a visit to a night club where a lot of single women.
19. Help - have someone help or ask for help. All this reinforces the woman. Learn to give up the principle of "I myself." Because this is a typical male principle.
20. Visit a bookstore - surprising, but walking among the books very inspiring woman. Try to devote to this task at least a few hours a week. Female keeper of knowledge. A book - a source of knowledge.
21. Ask for help from a man - any caring makes us more feminine. Conduct an experiment and ask a stranger to help you bring the bag. The mood will rise 100%!
22. Reading - read a good book, which has long been bought and put on the shelf. Especially useful to read stories about people's lives. Studying the fate better understand themselves.
23. Divide someone chores - the idea that without you all "mold zarastёt" - a way to reduce their feminine energy. Feel free to trust some business friends. And treat yourself to free up your time!
24. Recipes - everything about cooking significantly raises the level of the female energy. A female hostess who knows how to feed and water. Do not know how to cook - learn. You know how - raise their skills. Get to the kitchen of a country.
25. House - is not just an apartment in which we live. With the house of a woman powerful energy relationship. That is why we are so annoying creaking door or a dripping faucet. For a woman, it's not just defects. Through such holes follows the female energy. But it is precisely in such times it is important the little things do not bother the man. Why?
The man thinks big, "That would be unfit whole tile in the bathroom, then the new will. With ten times lubricate the wall! "Sometimes it is easier to hire someone who will correct minor flaws. Just do not forget to tell her husband that you did it, knowing that he is very busy. And not because his hands are growing out of the place. Men's self-esteem is very vulnerable.
26. Planning - any incompleteness and doubt destroy the woman. A clear plan - a way to save their energy. Learn to plan stuff, then go to the planning for several months and even years of life. What will you do tomorrow night?
27. Gala lunch - or dinner with candles, beautiful tablecloth and fine dining. It turns out that all we are doing even more for myself, though, and we want to raise the tone of a loved one. Embody these magical moments in life. Rejoice yourself and loved ones.
28. Education, education of children - dealing with children a woman can raise your energy. For this reason, sometimes it is not necessary to give up the games with the kids. And even better to teach children that know how to: drawing, singing, dancing.
29. acting lessons - woman lives in a world of emotions. Playing different roles on the stage, you can not only better understand themselves, but also to get rid of the accumulated aggression or share the joy. Any art of seduction - this is also a kind of actor's game.
30. Have a picnic in nature - always in the company of friends. It combined a few things that raise the level of women's energy union, stays in nature, cooking.
31. Make-up - and taking care of yourself - that's no way to please a man and pamper yourself. Therefore, being at home, it is important to do hairstyles, clothes to wear and look good.
32. Give yourself flowers - a very simple way to increase energy levels. Flowers adorn not only the woman but also instantly remove the negative, taking it on themselves. Therefore, if you do not rush sad cry in a pillow. Buy a bouquet of flowers.
33. Wear skirts, dresses - such clothing reconnects to the kind of energy through the female line. There is a rule - not to wear trousers in the first 7 (!) Dates. In that case, if you really want to charm a man. In addition, it was found that the constant wearing of trousers negative impact on women's bodies.
34. The Club of young mothers - if you have a small child, be sure to communicate with the same mother. It is not only the exchange of experiences, but also the exchange of energy. Motherhood represents the moon. A lunar energy - the energy of women.
35. Care for children - do not refuse to help a married friend to play with the child. Anyone caring for a woman - is the path to the Force. The main thing is not to be considered as a child her man.