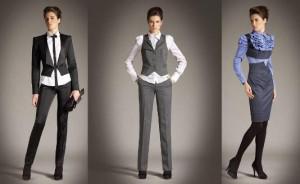 History of women's business style has developed relatively recently. Great Coco Chanel released the first collection of women's suits that created a furor. However, some historians believe that this type of women's clothing was invented in the 18th century by British designers. Bold outfits contrasted with delicate images were not appreciated by the public. Classic English suit back into fashion after a half century. Constant wars and violent emancipation of women forced to leave flirty dresses and skirts in 2014 by the wayside. Thus began the history of the most famous costume.
Overview The model is a set of jacket, decorated with narrow lapels, and a straight skirt knee-length. In addition to it were different in color Shirts cut. Elegant and versatile costume made one of the most popular components of a woman's wardrobe. Different combinations of blouses allowed to look perfect at the lowest cost. So classic suit has become one of the main components of the ideal wardrobe.
Modern business image suffered a lot of transformations since that time. The most relevant addition to classic jacket in 2014 will be a dress with a zipper along the entire length. This option adds femininity while not breaking the rules of the dress code. Hem length selected individually, based on the characteristics of each woman figure. Restrained colors and free cutting perfectly will adjust little flaws. Bright shades of berry and fruit will be perfect for a romantic date or a walk with friends. Interesting accessories to dress or stylish accessories perfectly complement the image.
To remain elegant and stylish at the same time, combining classic suit and blouse bright colors. Do not forget the shoes! Classic pumps or sandals juicy shade 2014 on a stable heel with interesting detail will help to reveal your own style, without breaking the strict rules of office.