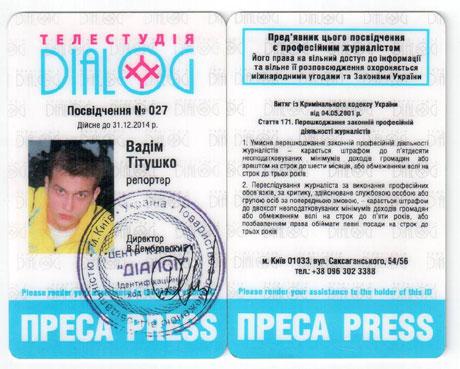 Remember the anecdote ending with "yak country, taki, Qom i terrorist act"? Recalls. Because the shelf journalists arrived. Well, as journalists. What country is, of course ...
"Vadim Titushky decorated for the post-production television studio reporter" Dialogue ", as evidenced by an official certificate №027», - the representative Titushky Oksana Skoda ...
"Do not hide the fact that in this way we have presented a kind of" gift "to the Day of employees of radio and television journalists so that at all times, starting from May 18, made of an athlete monster. Just for the fact that they themselves provoked bullying kids at the Sofia area ", - she said.
"Who Vadim Titushky subject to all the rights and responsibilities of journalists, including, and Art. 171 of the Criminal Code of obstructing the lawful professional activities of journalists. With Olga and Vlad Snitsarchuk Sodelem, for example, they have the same status, "- she added.
Responding to a question about whether Titushky relevant experience or education, Skoda said:
"Naturally, the experience in journalism Vadim not. But based on the fact that in this area people work even with a technical background, Vadim has all chances to grasp the basics of the profession ».
"It will not be the main occupation of his life. Remains a priority sport, plus everything he a law student, "- she added.
"By the way, it is easily trained, as noted genprodyusser studio Armen Martirosyan. So, I think, something out of it "- added Skoda.
She also said that the "Dialogue" - a production studio, which is currently discussing the format of TV programs involving Titushky.
"These are two areas - sports and social sphere. Most likely, will initially be sports-themed, since it is much closer. The project is a series of "Youth and Sports" - she said.
In turn genprodyusser studio "Dialog" Armen Martirosyan in the comment "Ukrainian Truth" confirmed that the reporter will Titushky sotsilno-sprortivnoy program.
"Our studio there for 2 years. Was re-branded studio. Previously, it was called the Starlight & quot ;, - he said.
Responding to a question on that Titushky no journalistic experience, Martirosyan said: "It is prepared».
According to him, the first to be launched a pilot project, then the program will be offered to different channels. However, Martirosyan declined to name those channels with which negotiations are under way.
Martirosyan also said that the studio is already working with "Maxi TV" Eco TV, Tonis and regional channels.
He refused to answer the question of who owns the studio and who is funding. "This is a private matter," - he said
Responding to a question, and well-known journalists who work with television studio, he called the Immortal Ivan and Miroslav Berdnik. Both reporters earlier signed a petition to President Viktor Yanukovych with a request to protect Titushky.
At the same time, the Internet was not a single upominanyaniya a television studio.
Ukrainian Truth