February 28, 2012
This is more rebetёnok, though the nose for 20 years ... Actually there is bad when a whole life ahead? More time to grow up. In Paris, where he filmed a new youth film "Spring Break" with Selena, she ignored the campaign to Disneyland. Hence its image - comfortable hoodie with King Disney - Mickey Mouse, loose jeans, sneakers and a simple beige raincoat, saving the rain. Cloak, by the way, distracting from the overall sporty Gomez, but probably at the very moment it was very necessary and it it is banal someone "adjust". Looks like a teenage girl so years 15-17.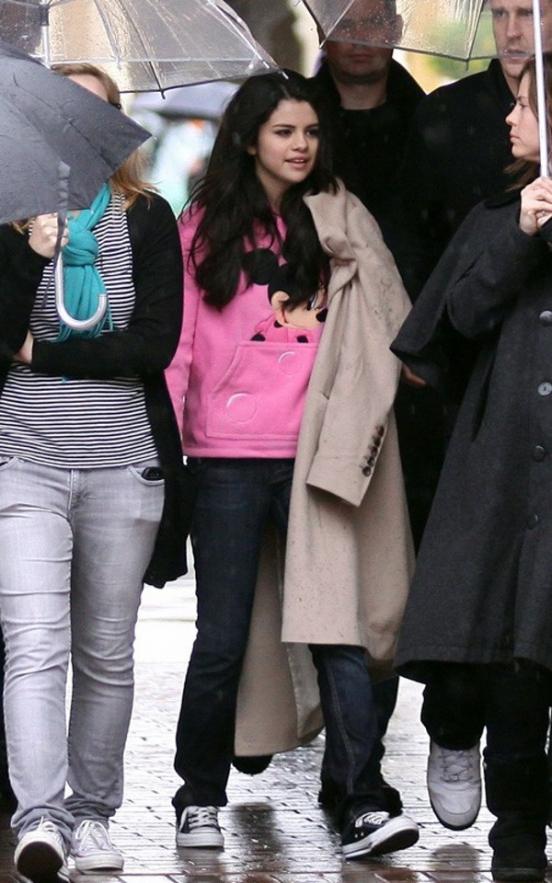 March 1, 2012
In Florida, an actress and singer went to Starbucks coffee and snacks fragrant bun. I do not know whether it is prone to be overweight, but if you still yes, it is very well kept, the hero. Very thin and ladnenko. Figure, pretty face and wild diligence compensate almost complete (in my opinion) a lack of talent. This way I liked. First, she opened the legs that is already playing on her hand, and secondly, she was dressed in age and, thirdly, this country style, and to him I breathe irregularly for several years now. Simple but tasteful.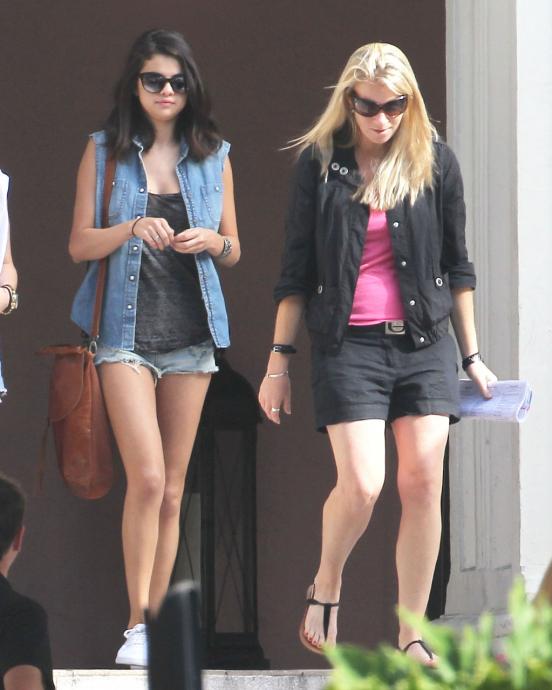 March 2, 2012
Selena at the airport LAX. Paparazzi caught Gomez in absolutely the teen onions: a warm sweater in the American style, tight jeans, comfortable uggah and somehow with two bags. For flight things are good enough, but choosing between the right and left handbags I would choose the one on the left shoulder of Selena. The bright spot in this manner does not hurt.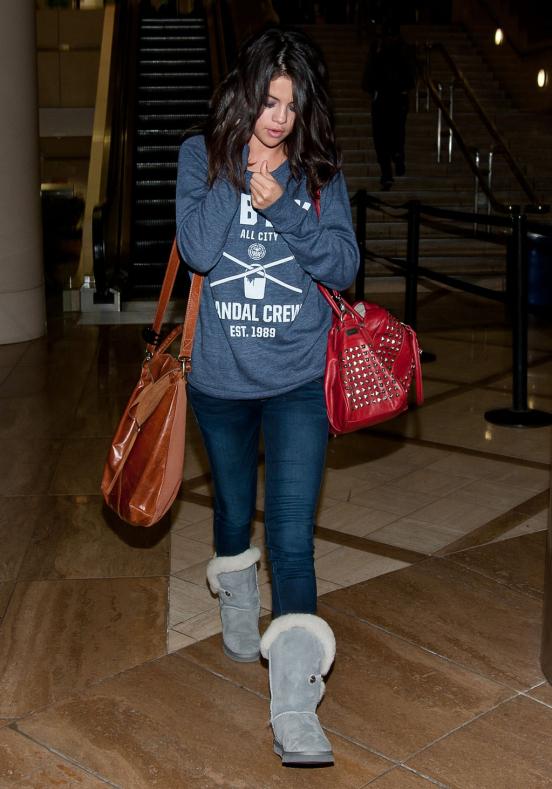 March 5, 2012
It is said that this photo was taken in the early-early morning, when the birds are not yet even started singing. And you know, I believe, because the girl (pictured only know Selena and Vanessa Hudgens), it is very wrinkled and not fully awakened. They are, as you know if you should to your post - shooting the movie "Spring Break". Apparently on the street and cool Gomez chose a warm and cozy bow. Despite these things I involuntarily recall a country house, a fireplace and a nice atmosphere in the circle of family and friends. Compared to other the girls in the picture Selena looks very good.
March 11, 2012
The sports bar "St. Petersburg" (a sonorous name for lush restaurant, could have and respect, still in Russia is the cultural capital) Selena caught in the company of Justin Bieber. The girl was very tender and for my taste beautiful white beach dress and unpretentious shales. And why I loved this dress ???
April 4, 2012
With such a view can be killed only go to the doctor that did Selena earlier this month. And why we again have not informed, but the sight of her true and haggard. Not berezhёsh are you Selena, work wear ... I do not ever be in Los Angeles, but I think it is a typical American bow in such clothes walking most of the girls.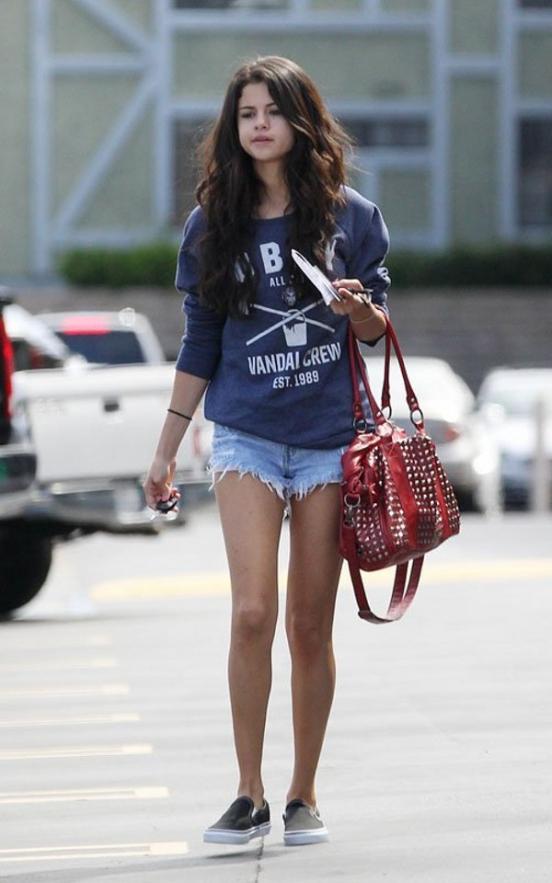 April 5, 2012
Justin and Selena on a romantic date. That's right, the girl must be maintained when it is a little unwell. Bieber picked up the mood of his beloved, which this time looks at his background did not even pale (usually it pereplёvyvaet), and very bright. I like the way I like ripped jeans, but not so ... Still, judging beg skinny jeans matching hoodies Jas.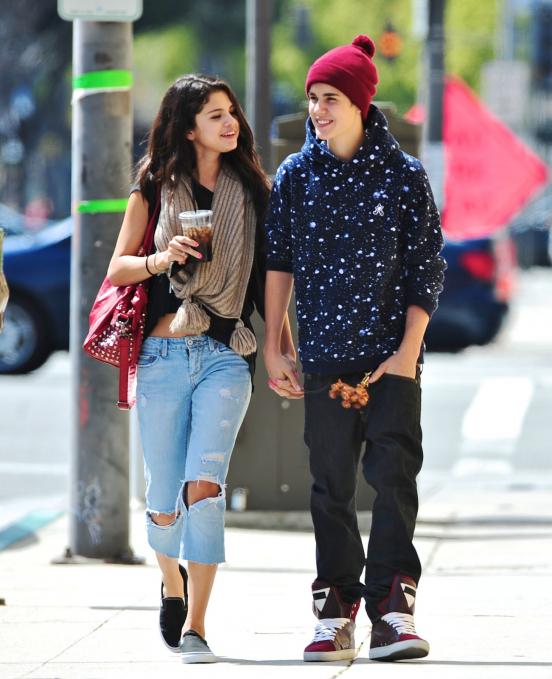 April 17, 2012
More than a year Justin and Selena together and it looks like not going to leave. Recently, they both attended the game and the Lakers looked very happy (not in this picture, but in general). Selena on this occasion straightened his curly hair, wearing jeans jacket, black pants and lace-up shoes. Looks neat and even though I do not like her appearance, she came here very nicely.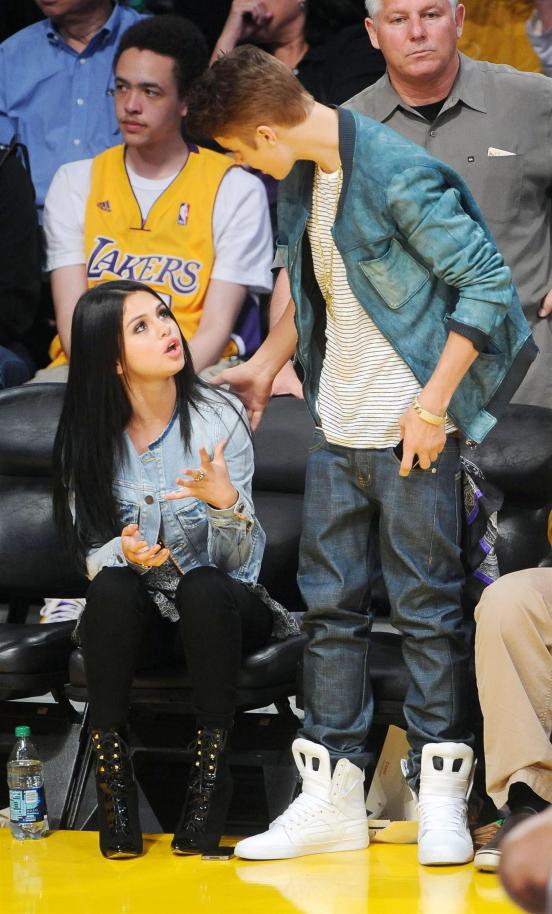 April 18, 2012
With a jar of Red Bull Selena sent to an unknown destination. Things did not quite fit together, but I really like her bag.