Last Sunday in Los Angeles ceremony of awarding the Teen Choice Awards 2012. I think it is no surprise will be that triumphant ceremony were Taylor Swift, Justin Bieber, "Twilight" and "Hunger Games." And in fact, for someone else may cast their votes in the American teenagers aged 13 to 19 ?!
Winners (the more so from year to year is almost the same people), and I (and you, probably, too) are more interested in clothes that famous girl wearing a red and purple track ceremony. How do I love these summer youth activities - a lot of bright mini-dresses, bold accessories and no limits!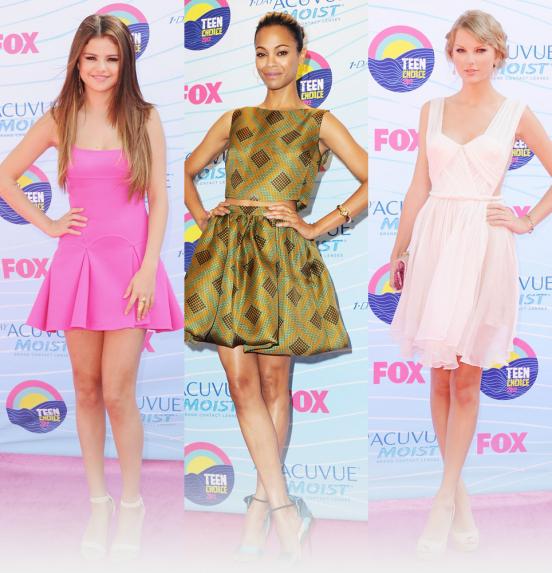 Hayden Paneterri walked the red carpet in a shimmering mini dress rezortnoy collection Zuhair Murad. Color dresses just beautiful, and looks very original style - small cuffs, ruffles at the hem and neckline on the back distinguish it from many other cocktail dresses. As for accessories, there are worthy of special attention to shoes Brian Atwood: animalic prints of different colors convert classic style boat in at the art object.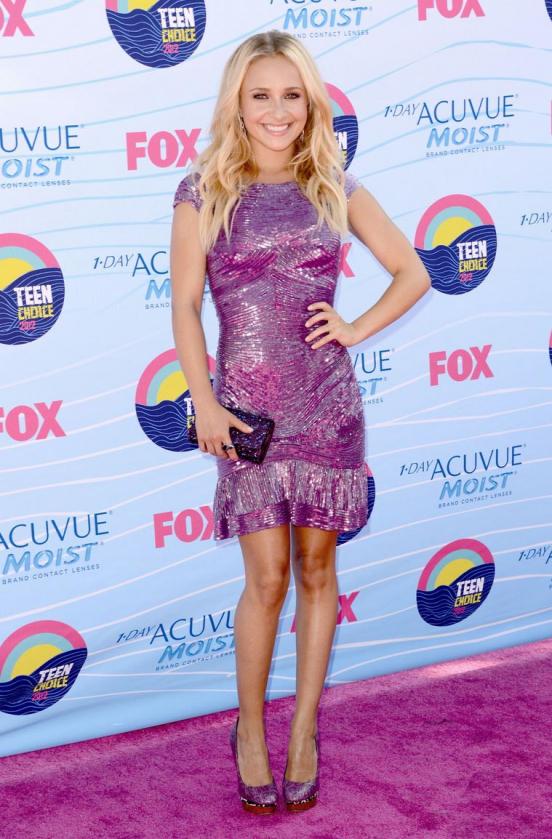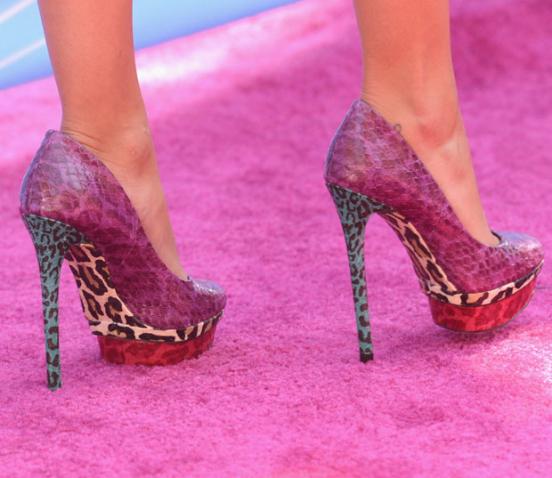 Nikki Reed chose a dress for the ceremony, consisting of a rigid corset with V-neck and a black silk skirt with frill. Not to say that I am delighted with the dress, but I really like the selection of accessories - silver platform sandals and a clutch envelope to match very well complement the image of Nikki.
Selena Gomez opted for a ceremony light girlish figure, dressed in a short dress of pink caramel Dsquared². Easy dress looks great and minimalist sandals ivory and did not let the pearl of the image, but perfectly complement the fresh summer look. Selena did not burden the image of your decorations, opting for thin bracelet with large beads and fancy rings on his fingers. Pink lipstick to match the dress - the perfect finishing touch.
By the way on July 22 and on that day the ceremony took place, it became memorable for Selena not only because it has received as many as two awards ("Best Group" and "Best Single Group"), but because that day the girl knocked 20 years.
Jordin Sparks in black mini-dress by Chagoury Couture. In my opinion, the dress is poor. Suppose this is not the worst outfit that we have been able to see on the red carpet, but the best he did not name - a strange style. Of all the images I only like beautiful purple shoes.
I am glad that Demi Lovato wore a dress by age, but the abundance of finishing (though very beautiful) looking at it very seriously. If we want the singer to wear such clothes, it is worth to bring your body in shape. Incidentally, in the same dress recently appeared on the red carpet model Selita Ebanks - and if you compare the two girls in almost identical outfits (Selita covered her legs transparent chiffon skirt), the comparison is not in favor of Demi.