Famous people often become icons of style: their images are admired, they are discussing, trying to copy. Most often it becomes a real problem, because the stars of your favorite brands and outfits cost a half of our apartment. But there are also surprises many stars as buy things in the shops from budget brands or their line of active wear democratic clothing. So you can buy these clothes and look like Alessandra Ambrosio, Miranda Kerr and Alexa Chung without becoming bankrupt.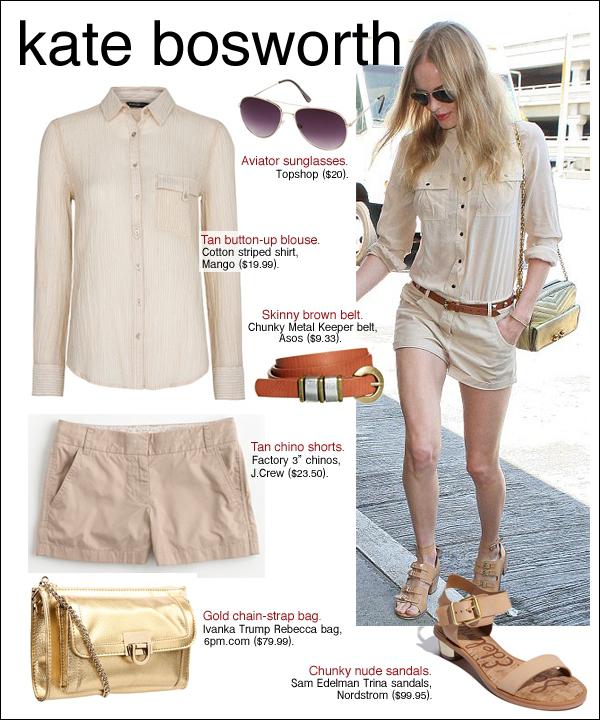 1. Kate Bosworth
Elegant Kate might look like the goddess of anything, so the fact that it can turn an ordinary dress Budget brand in star outfit is not even surprising. Another proof that the ability to dress stylishly does not depend on the price of your clothes and famous brands.
This dress will be organic look everywhere from the beach to the safari. Therefore, this at the same time fashionable and versatile thing - the best companion for this summer vacation! Combine it with the skin on a flat-heeled shoes, jewelry, metal (especially in ethnic style!) And stylish straw hats.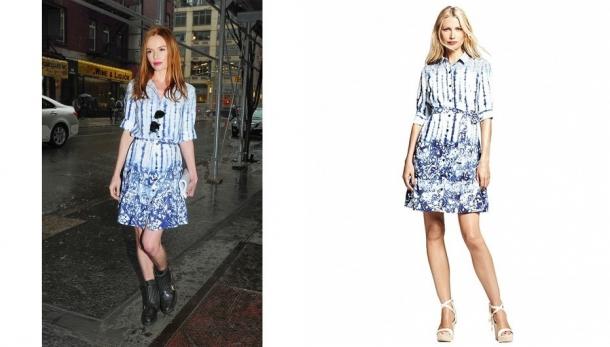 Peter Som for DesigNation Tie-Dye Shirtdress ($ 74)
2. Alessandra Ambrosio
Recently Alessandra was seen walking in the spacious white blouse made from natural materials of their own design. Her line of clothing created with Planet Blue, pleased not only for its affordability but also stylish design. Just right for hot summer days!
Cropped tops at the peak of popularity, as well as flying, light fabrics and a snow-white color. So jacket by Alessandra Ambrossio deserved appearance in your shopping list.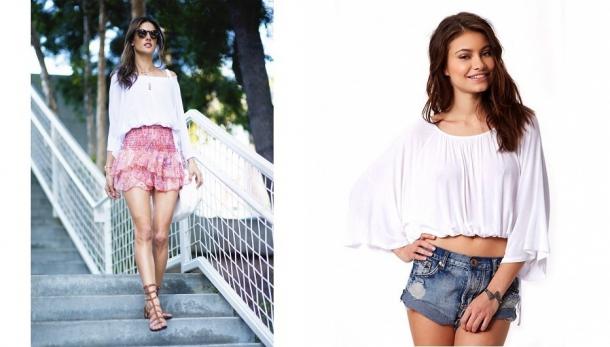 Ale by Alessandra Starlight Tee ($ 82)
3. Miranda Kerr
In the usual casual manner Miranda attracts attention shoes - bright pink sneakers from Reebok. The most suitable choice for travel.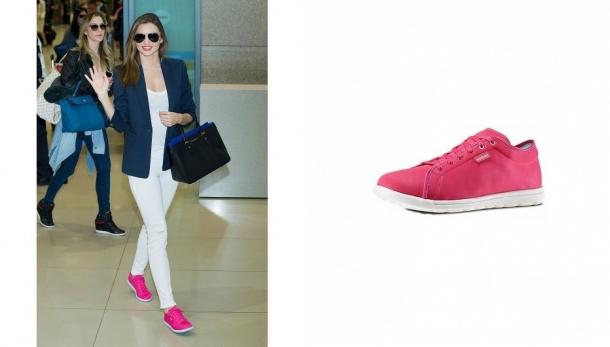 Reebok Skyscape Runaround Sneakers ($ 65)
4. Alexa Chung
Alex is able to always look feminine and elegant, but in this dress she still looks a bit special. And it looks at all the canons of this spring: a suitable length, overestimated waist, short sleeves and stylish checkered print.
Topshop Gingham Cotton Smock Dress ($ 76)
5. Olivia Palermo
We can always expect from Olivia stylish fashion ideas and convenient solutions for every day. Asymmetrical black and white skirt and a plaid shirt - a good solution for all occasions. Bright accents - monochrome pointy-heeled shoes in the middle and a small clutch.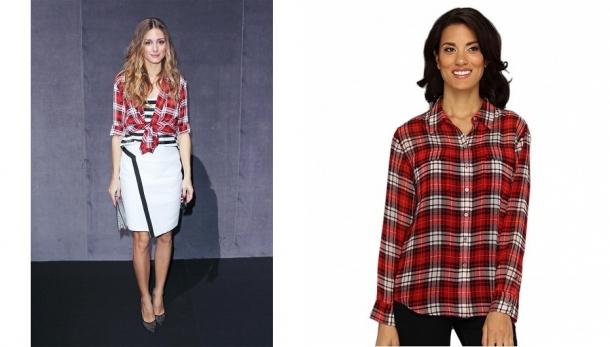 Two By Vince Camuto L / S Plaid Utility Shirt ($ 37)
6. Diana Agron
Agron - another star who gladly tried on fabric flat shoes with soft laces. This spring, comfortable and practical Oxford became a stellar choice №1: they bought as Diane Kruger and Jessica Biel.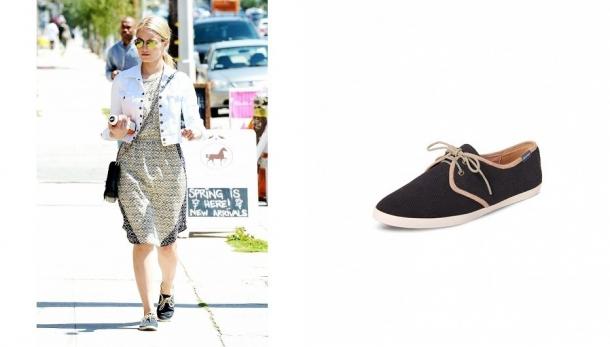 Soludos Woven Lace-Up Shoes ($ 55)
7. Eva Mendes
The glamorous image of the '50s by Eva Mendes has not gone unnoticed. In addition to stylish vintage handbags in pastel tones, Eva chose a light floral dress from the latest collection.
Do not buy this spring, something with a floral print is simply impossible! Why not opt ​​for bright and colorful summer dress?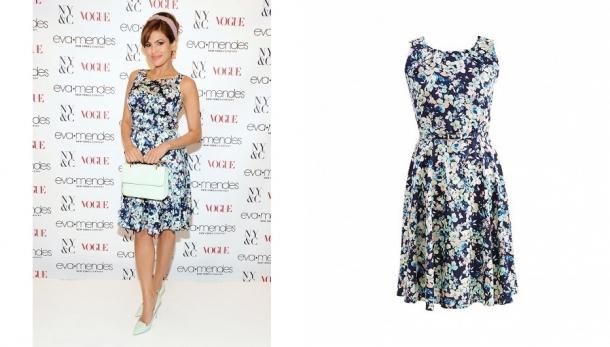 New York & Company Eva Mendes Collection Riviera Dress ($ 80) in Midnight Garden Print
8. Ali Larter
If Eli could easily appear in public in almost pajama pants, then why do not we try?
But seriously, wide trousers with fine design - the thing this summer is very necessary. Just choose the model of natural fabrics and better with 7/8 length trousers. Fashionable will. It is also worth consideration for shoes, what would you have turned a spectacular way in a relaxed style and not look as if you just got out of bed.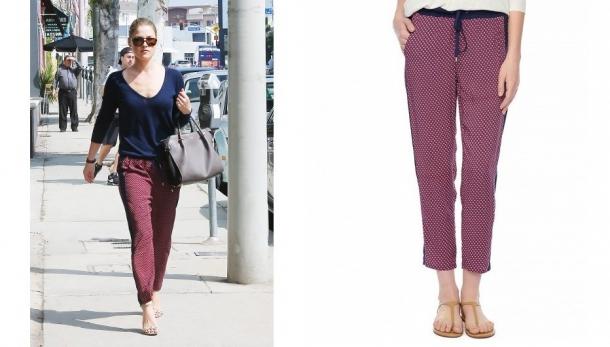 Harbor Geo Print Track Pants ($ 89)
9. Selena Gomez
Oh, those truncated tops, now they are everywhere. The image of Selena's a good example of what can be worn not only as a separate element of the wardrobe, but something combining. For example with a large semi-transparent jacket or denim overalls dimensionless, as did the young singer. Luke turned really very good: a daring combination of pleasing look almost masculine suit several sizes too big, elegant sandals on a thin heel and trendy round glasses.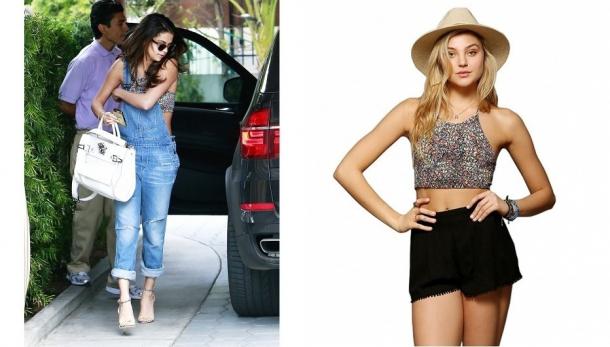 Smocked Cropped Halter Top ($ 39)