July 22 global star Sting was made in Samara. The musician arrived in the framework of a tour Back To Bass Summer.
In honor of this event, we offer you the 10 most popular songs of Sting.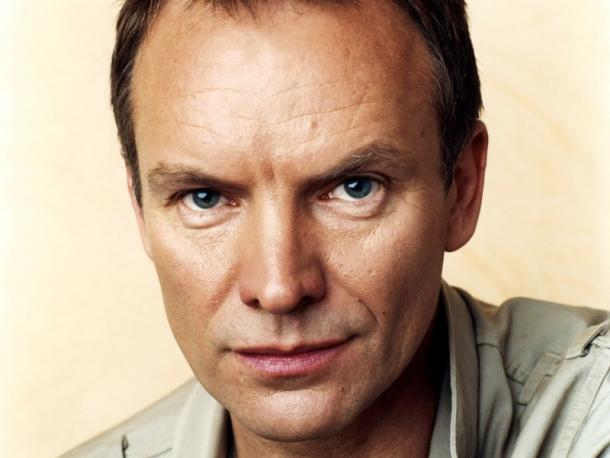 10 took the «Seven Days». The sound is light and airy, simple and native voice of Sting is not the most intricate text. The song is written in the spirit of the singer brings a smile, good to hear.
«Seven Days»
The song, which is close to every Russian man even called, «Russians» ranked ninth. Incredibly beautiful song from the first album of Sting, written after the Cold War. Singer calls not to use nuclear weapons, hoping and believing in a peaceful sky over the ready and very often mentions "Russian love their children too».
«Russians»
Eighth place goes to «When We Dance». Very quiet and lovely song. Throughout melody withstands a certain pace, which can be called peaceful. Singer Sting, who with some others can not be confused, pleasant melody - that's what makes this song memorable.
«When We Dance»
«Mad About You» goes to seventh place. It's a real romance. The hero talks about the eternal problems, and sings of love and its importance in the structure of the world. Gradually rising vocal singer, sometimes appearing violin and measured background - components of success of this song.
«Mad About You»
Sixth place is up «If I Ever Lose My Faith In You». It is written in the spirit of all Sting, the same music, and a very strong text. It's called style. There are musicians who are constantly in search, and it is their style, Sting is currently true, and it is always recognizable, if you know at least one song by Sting, you will not confuse anyone.
If I Ever Lose My Faith In You
«Fragile» - my favorite song from Sting, ranked 5th. Song for all occasions, except it is not necessary to listen to it when you are very good. And if you happened some misfortune, problems at the university, at work, in your personal life, just depressed - include that song, remember that we are all fragile creation, and that is what we have so frustrating not to have the slightest sense. < br />
«Fragile»
Fourth place went to «Desert Rose». Surely, one of the most beloved songs of Sting in many people. Here once again reflected the music of Sting - music International. It unites all. The people of the West and the people of the East, recalling that we are all on the same land. Beautiful song sound interesting and catchy chorus. The video for the song on the Internet looked 36 million people
«Desert Rose»
The top three most popular songs takes «Fields of Gold». Melancholic atmosphere, bagpipes, singing Sting's guitar. Just so little, but how much. This song is very popular, it is pleasant and brilliant. It seems to be nothing much does Sting makes ordinary things, but makes it magical. Great track.
«Fields of Gold»
«Shape Of My Heart» ranked second. A very touching song. It is also a favorite song a lot of people, a lot of people know this song by heart. Evokes nostalgia blyuzovskaya harmonica, guitar, unsurpassed Sting - magic. The song was played the soundtrack for "Leon" (Killer). An amateur video, which is a montage of scenes from the film under the «Shape Of My Heart», looked on the Internet 27.6 million.
«Shape Of My Heart»
Another worth mentioning the excellent and perepevki parody of Sting and the song. This happened in 1997. Performed Alexander Fur. It's incredibly talented and beautiful.
«Shape Of My Heart (cover Alexander Fur)»
And the most popular song of Sting rightly be regarded as «Englishman in New York». It would seem that the entire action is based on a stereotype, and many creators in this topic would remain, but not Sting. No matter where you are, as you look to say - be yourself, and the rest does not matter. I just did what I was singing, doing writing these very lines.
«Englishman in New York»