Women's art-rock band from Los Angeles Warpaint will perform a concert in Russia on November 12.
In honor of this event, we offer you the 7 most interesting songs that push you to meet with the group in Moscow.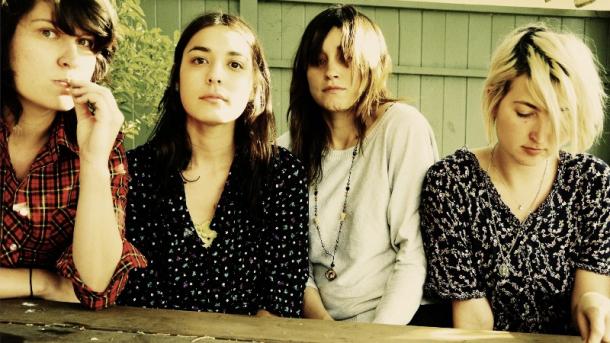 Seventh place is occupied by «Ashes to Ashes». Do the girls get a lovely cover of David Bowie Great. Start the song recalls the soundtrack to some warm Soviet film in combination with a dark sound The XX, and when it starts to sound like the voice of singers and podpevaniya other girls from the group, you know, it's a magical dream.
«Ashes To Ashes (cover Warpaint)»
Sixth place goes to «Elephans». The song mini-album, which is to mix himself John Frusciante of the Red Hot Chili Peppers. The composition meets the electronic component, which separates man from all that surrounds it while listening. It seems that you pulled out of the comfortable environment and offered to look the part. Music is very similar to the group Flunk.
«Elephans»
5 becomes «Shadows». Against the backdrop of guitar playing as if it ukulele, and not as strange as sad ukulele. The voice of vocalist Emily Kokal warms and gives a feeling of lightness and euphoria. Then there is a synthesizer and drums. Change tempo and volume increases the effect of unreality, abstract.
«Shadows»
Very nice and gentle «Baby» 4th place. Calm and measured, filled with warmth, warm and reassuring song. How would sits down and says, "My friend, do not be depressed." The music does not discern anything except a guitar, guitar and vocals - all genius is simple.
«Baby»
3rd place goes to «Set Your Arms Down». Excellent uncomplicated melody, mellow tone and ethereal vocals - these are the components that give you what's called euphoria.
«Set Your Amrs Down»
The second becomes «Billie Holiday». Nice song that reflects the essence of the group. It's such a talented art and music that does not fit some one concept, such a non-format music. It is pleasant to listen to.
«Billie Holiday»
First place is «Undertow». Song, under which brings people together and gives a sense of community, unity, something that is so to us today is not enough. The video for the song, watched by 2, 7 million people.
«Undertow»
P.S
The group certainly deserves attention. She grew up and is able to play on their own, not the opening act, this will be seen in the near future.