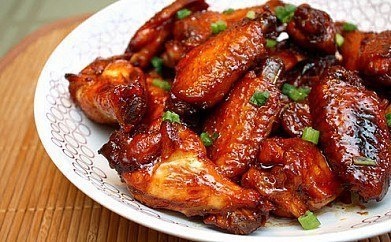 Ingredients:
 - Chicken wings 1.5 kg
 - Vegetable oil 2 tbsp. l.
 - Soy sauce 0.5 cups
 - Ketchup 2 tbsp. l.
 - Honey 1 cup
 - 1 clove garlic
 - Starch 2 tbsp. l.
 - Salt and pepper 1 tsp
Preparation:
Preheat oven to 190 ° C.
In a small saucepan, mix the vegetable oil, soy sauce, ketchup, honey, chopped garlic and cornstarch.
Bring mixture to a boil, then reduce the flame and cook the sauce for 15 minutes.
Chicken wings wash, dry. Cut at phalanx phalanx not need extreme.
Wings put in a deep glass shape, season with salt and pepper. Generously pour sauce.
Bake in preheated oven for 45 minutes.