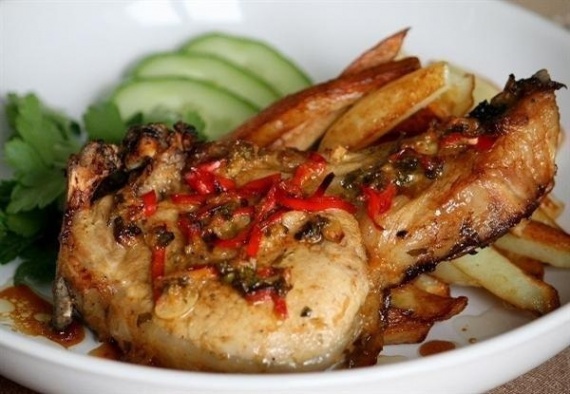 Ingredients:
Lime 2 pcs.
Chili pepper 1 pc.
Parsley 50 g
Garlic cloves 6 pcs.
Fresh ginger 5 cm
Olive oil 100ml
Salt 1 tsp
Ground black pepper ½ tsp
Pork loin 700 g
Lime remove peel, chop the parsley, garlic cut into thin slices crosswise. Ginger rub on a grater, Chili cut in half lengthwise, cut crosswise into strips. You can leave the seeds in the marinade, if someone wants to go for the gusto.
Zest, garlic, ginger, parsley and pepper and imposes a mortar and pestle in a good rub the paste.
Then there squeezing lime juice, add olive oil, salt, black pepper and stir. The marinade is ready.
Loin cut into 4 chops on the bone. Rub the marinade over chops and add them to the pot pomarinovatsya about 40-45 minutes. Dishes better cover with cling film.
Pan heated in a little vegetable oil to a temperature slightly above the average. Chops cleaned from large pieces marinade, so they do not burn, and fry on both sides until golden brown, about 2 minutes on each side.
We put the meat in a baking dish. Pour the remaining marinade and bake in the oven until tender, about 20 minutes.
Bon Appetite!