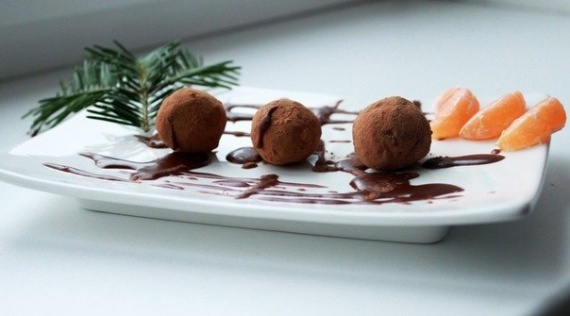 You will need:
Tiles of black chocolate - 2 pcs
Egg yolk
Oil - 25 g
Heavy cream - 1 tablespoon
Ground almonds - 50g
Brandy (rum / liqueur) - 2 tablespoons (in our case liqueur)
Cocoa for dusting (often made with cocoa, and some with chopped dried cherries, the cherry much as for me tastier)
Preparation:
Melt the chocolate in a water bath to a liquid state.
To this, add the cream and butter, all the while slowly stirring.
Next comes the egg yolk and grated almonds, a viscous mass.
At the end, add the rum / brandy / liquor (to your taste), stir pretty and send the resulting mass in the refrigerator for 1, 5-2 hours.
After solidification roll balls. After that, roll the balls in cocoa. Candy ready!