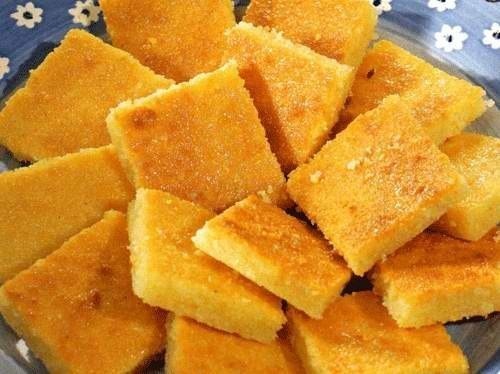 Ingredients:
0, 5 cups flour
1, 25 cups semolina
1, 5 cups of coconut
1 cup sugar
100 g butter
1 hr. L. baking powder
0, 5 cups of milk
For the syrup:
0, 5 cups of sugar
0.5 cups of water
1 tbsp. l. lemon juice
1. Prepare the syrup. Sugar, water and lemon juice mix and bring to a boil. Cook for 7 minutes. Allow to cool.
2. Melt the butter in a bowl Add the flour, semolina, coconut, sugar, baking powder and milk. Mix thoroughly.
3. Put the dough into a shallow baking dish odds mu, smooth. Bake in a preheated 180 ° C oven for 35 minutes. Remove from the oven, pour the syrup. Allow to cool, then cut into slices.