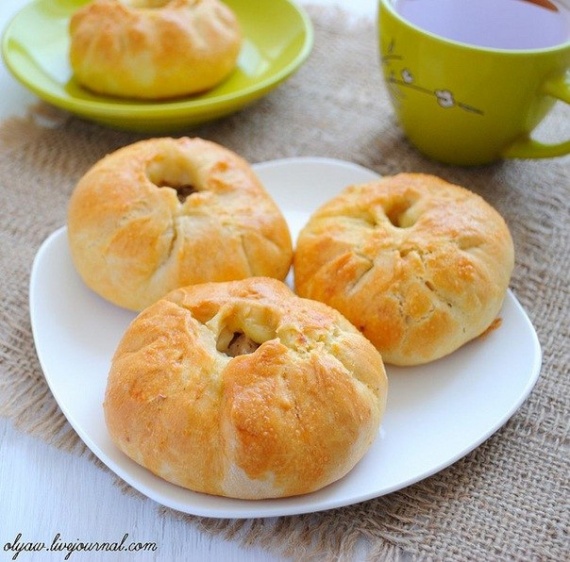 Ingredients:
dough
100 gr. margarine (I used butter)
1 cup (250 ml.), Kefir, yogurt or buttermilk
0.5 tsp. Soda
0.5 tsp. Salt
2.5 cups of flour (cup = 250 ml.)
filling
300 gr. beef (I took one whole leg of chicken and some turkey fillet)
1 onion
2 medium potatoes
100 gr. internal fat (I added 40 g. of butter diced)
salt, ground pepper to taste
150-200 ml. chicken broth (I cooked from the bones of legs)
1 egg for lubrication
Sift 2 cups flour in a bowl, add salt and grated margarine, grind everything to get a crumb, add yogurt mixed with soda, stir, add flour and knead the dough is smooth, cover it with a bowl, give a little "rest" for 20 minutes < br /> Meat, onions, potatoes and internal fat (if using) to cut very small cubes, add salt, pepper, mix well.
Heat oven to 200 degrees, the pan to lay oiled parchment.
The dough is divided into 9 parts, roll each piece of a circle the size of a saucer, put a little in the middle of the stuffing, zaschipnut edges so that the top of the left a small hole, put patties on baking, brush with beaten egg and bake in the oven for 20 minutes.
Then reduce the temperature to 180 degrees, pour into holes pies hot broth and bake another 30-35 minutes, if the top is strongly brown you can cover them with foil.