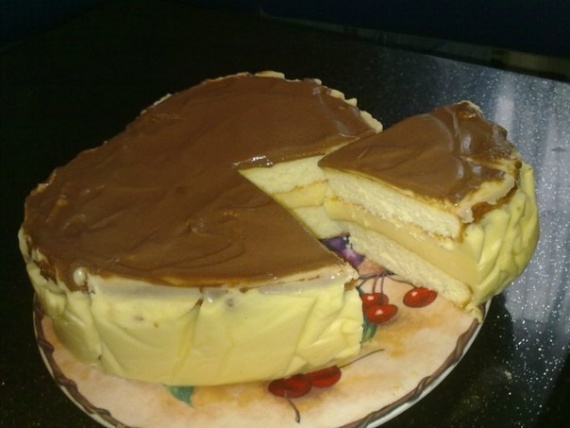 Ingredients:
egg - 4 pcs.
sugar - 1 cup
flour - 1 cup
sugar 1 tsp vanilla
butter for greasing
For the cream:
milk - 1 cup
butter 300g
egg - 10 pcs.
sugar - 2 cups
gelatin beads - 40g
potato starch - 1 tablespoon
3 tsp vanilla sugar
For the glaze:
dark chocolate (60% cocoa) - 150-200 g
butter - 50 g
For the dough whisk the eggs with the sugar and vanilla sugar until white, add the sifted flour and whisk until smooth.
Grease a deep baking tray with oil, sprinkle with flour and pour the batter into it a layer of about 1 cm. Smooth the top with a knife and bake in a preheated 180 ° C oven until golden, 7-10 minutes. Sponge cake is ready when a toothpick will come out of it dry. Ready cake cool and cut horizontally into 2 halves.
Cream Separate the whites from the yolks. Starch dissolve in 1 tbsp. l. water. In a deep bowl, mash the yolks heat resistant with 1 cup sugar and vanilla sugar, add the milk, stir, add the starch, whisk until smooth, set the bowl in a water bath over a saucepan of boiling water and cook until thick. Cool, add the softened butter and beat with a mixer until splendor.
Gelatin pour 150 ml of water for 20 min., Then warm water bath or minimal heat, stirring, until dissolved; strain. Proteins with whisk 1 cup of sugar. In the beaten egg whites quickly pour gelatin in a thin stream with constant stirring. Add the cooked cream and mix thoroughly.
One half of the sponge cake lay in a deep form, pour the cream, cover with a second Korzh and leave to harden for 4-5 hours in the refrigerator.
For glaze, melt the chocolate and butter in a water bath or in the microwave, remove the frozen cake from the mold and drench its top and sides. Let stand in refrigerator for 1 hour and serve.
Tip:
Drizzle sponge cakes for the cake a small amount of any cream liqueur ("Beyliz", "Thale Amaretto Cream").