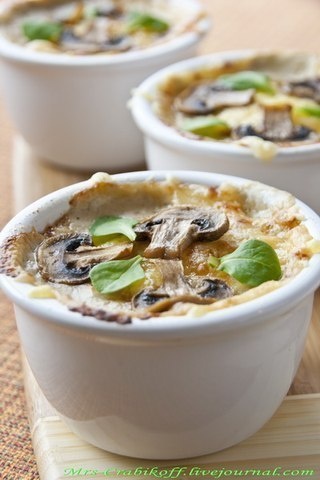 Ingredients:
250 grams of mushrooms
1 onion
250 grams of fat sour cream
cheese
salt
black pepper
Preparation:
Mushrooms cut into thin slices, chop the onion.
Sliced ​​mushrooms to fry in vegetable oil or butter, 5 minutes, add the onion and fry for another 5 minutes.
In a skillet, not boiling, heat the cream, add the mushrooms and onions, salt, pepper and a little warm up together. If sour liquid, then it is first necessary to connect the (still cold) with 1 tbsp. spoon flour, dried on a dry frying pan.
The hot mixture of mushrooms and onions in sour cream, put in a stewpan or small molds for baking, sprinkle with grated cheese.
Place in preheated oven until completely dissolved and cheese browned.
Ready Julien decorate thin slices of roasted mushrooms and leaves any greenery.