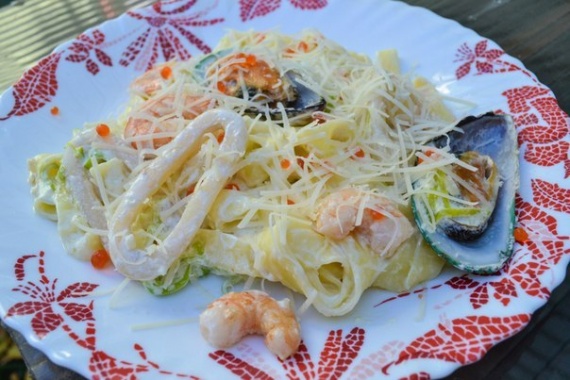 Ingredients (1 serving)
Fettuccine - 60 g (wet)
Cream 25% - 80-100 ml.
Garlic - 1 tooth.
Leek - '20
Frozen squids peeled - 30g.
Mussels on the leaf - 2 pcs.
Shrimp 31-40 - 30g.
Grana padano cheese - '15
Put cook fettuccine. Squid cut into rings, pour boiling water. Meanwhile, the hot pan pour oil, throw back prawns, mussels (meat down), and squid. Add the leek, sliced ​​rings, and finely chopped garlic. Fry onion until soft. Next, we obtain a special spoon fettuccini of boiling water and move them to the pan with seafood, add cream, salt. Laid in a bowl, decorate with red caviar, sprinkle. Bon Appetite!