Sometimes after a long day at all for a long time do not want to stand at the stove and compose sophisticated dinner for the family, and so want to lie on the couch with a good book
«Website» offers a win-win situation: satisfying , flavorful, tender paste with garlic and parmesan cream sauce And most importantly, that this yummy prepares directly in the pan one process.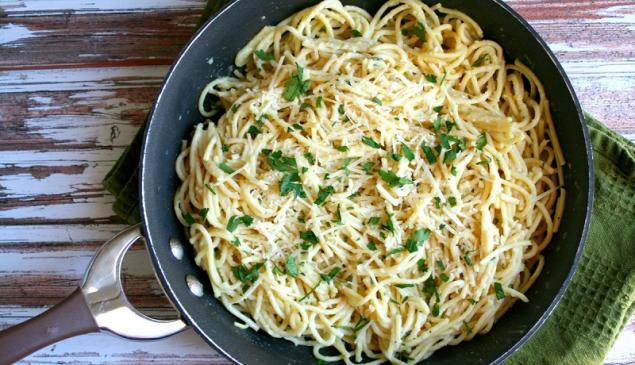 Pasta with garlic and parmesan cheese in skovorodeIngredienty
4 cloves garlic 1 small onion 1 tbsp. l. vegetable oils 500 ml chicken broth 250 ml of milk 2 tbsp. l. softened butter 225 g fettuccine pasta (shaped like our noodles) or spaghetti salt and pepper to taste 60 g grated parmesan a handful of parsley (fresh or dried)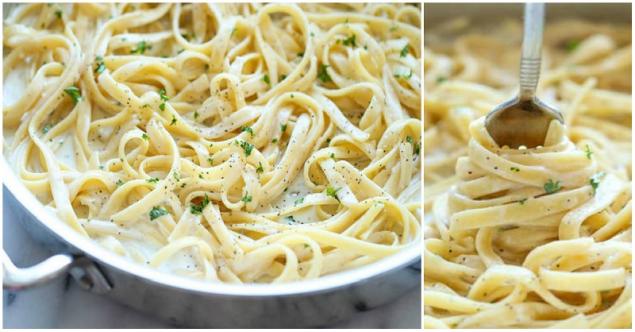 Preparation
To prepare this dish you will need pan , the depth of which will depend on the portion of food. grind the garlic, the onion we shall cut half rings and fry them in vegetable oil until golden brown. Pour into the pan the chicken broth, milk and add butter Salt and pepper to taste. Immerse yourself in liquid paste. Shall the dish until tender over low heat. During this time, the excess liquid has evaporated. Mix pasta with grated cheese and season the dish with fresh parsley. If you have dried herbs, add it to the 3rd stage of preparation.

The video demonstrated perfectly the whole cooking process paste in a frying pan.



Slightly changing set of ingredients and dream with the sauce, you will receive as a result awesome dish with bright taste. < Share recipe with friends, pasta lovers will appreciate it for sure!