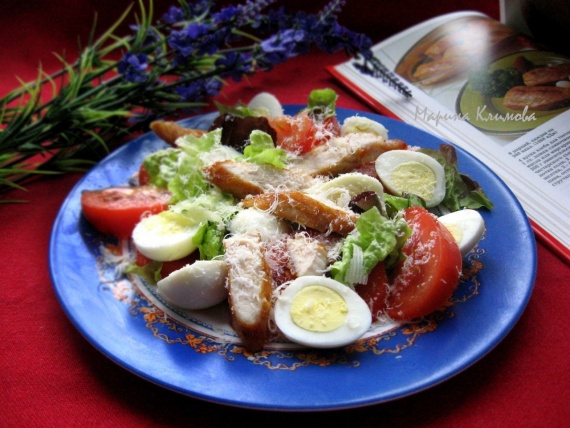 For the preparation we need such products:
Lettuce
Chicken breast - 1 pc
Tomatoes - 2 pcs
Quail eggs - 6-8 pcs
Parmesan - 50 g
Refills:
lemon juice
olive oil
salt and pepper to taste
Method of preparation:
Lettuce washed, dried, break into a salad bowl.
Cut tomatoes into slices. Boil the eggs and cut in half.
Chicken breast cut into two pieces and fry until golden brown. Roasted breast, cut into small pieces.
In a salad bowl, mix lettuce, tomatoes, eggs, chicken breast.
Salt, pepper, season with olive oil and lemon juice.
Ready salad sprinkled with grated parmesan cheese.
Bon Appetite! Cook with love!