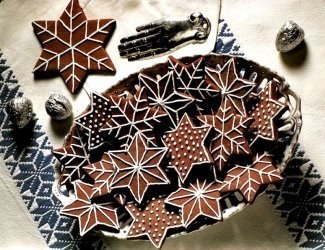 For the preparation of Christmas cookies "Snowflakes chocolate", you will need:
Dough:
dark chocolate - 200g;
wheat flour - 500 g;
soft butter - 225 g;
Sugar - 225 g;
Eggs - 3 pcs;
pinch of salt
Glaze:
Protein - 2 eggs;
powdered sugar - 500 g;
lemon juice - 5 ml.
the necessary tools:
rolling pin;
in the form of a star shape cookie;
baking;
pastry bag with a nozzle for applying the glaze.
A method for preparing cookies "Snowflakes chocolate»
Melt chocolate over low heat and mix it with soft butter. Separately, beat eggs with sugar, add a pinch of salt and flour. Then add the resultant mixture with butter and chocolate mix thoroughly. Next, spread on the dough onto a floured surface and gently mesim. Then roll out the dough to a thickness of about 5 mm.
Use the form cut out cookie dough and gently lay it on the baking sheet, which is set for 10 minutes in an oven preheated to 200 degrees. Then take out the pan and give the liver to cool.
Then proceed to the preparation of the glaze. To do this, sift powdered sugar, whisk the egg whites until frothy lush mass education and gradually add the lemon juice and sifted powder, while continuing whisking constantly, until the mixture becomes viscous. Then get the glaze fill a pastry bag and draw on cookies stars, using a thin nozzle.
Glaze consistency should not be too strong, since in this case is not in place on a cookie, and must not be liquid, so as not to spread.
Then hold the center to the ends of the star lines to get a snowflake. Once struck icing, cookies placed in a sealed container.