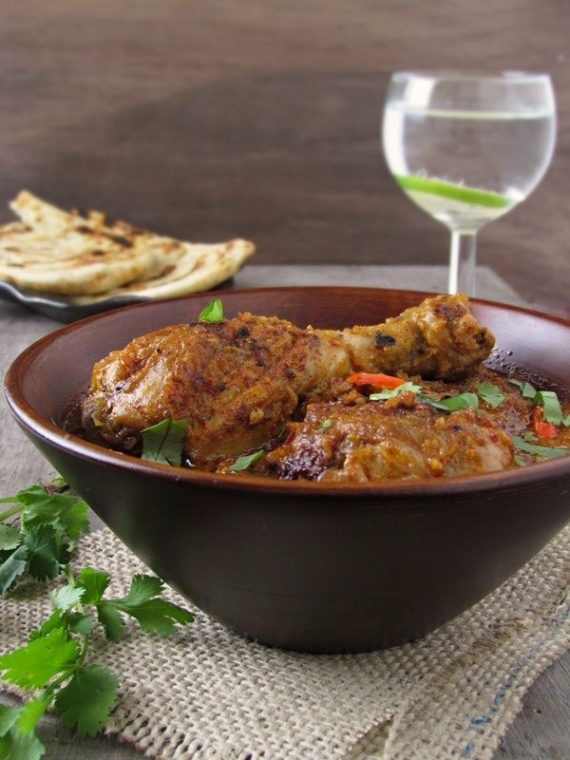 Ingredients:
Chicken - 1 kg (7-8 legs / thighs or dark meat)
Sunflower oil - 1 teaspoon (smear chicken)
Salt - 1 teaspoon 5
For a mixture of spices:
4 whole dried chili peppers
2 tablespoons coriander seeds
6 cloves
1 teaspoon cumin 5
2 black cardamom pods
2 teaspoons black peppercorns
½ teaspoon turmeric
½ teaspoon nutmeg
1 teaspoon salt
For the sauce:
Chopped onions - 1 cup
Garlic - 6 cloves (finely grate)
Fresh ginger (grate) - 5 cm
Bay leaf - 3 pcs
Cinnamon stick - 2, 5 cm
Greek (normal) yogurt - ¾ cup
Sunflower oil - 4 tablespoons
Salt to taste
Cilantro / onion supply (optional)
Preparation:
Wash and dry the meat on paper towels. Grate 1 teaspoon oil and 1 teaspoon salt 5. Leave for 5 minutes in a bowl.
At this time, in a small saucepan on a small fire Throw all intact (not powder) spices (except the turmeric, nutmeg and salt) and fry until you feel the flavor (about 5 minutes). Give spices time to cool slightly, and then pass them in a coffee grinder or mortar in. Finely grind the spices. Add turmeric, nutmeg and salt and mix the whole mixture.
Put the chicken in a row in the pan and carefully Patria blend of spices. Leave for 5 minutes. The remaining spice mix with yogurt and set aside for a while.
On a hot, oiled pan Put the chicken and fry one row on both sides for 5 minutes. Remove the meat from the pan.
In the same pan, heat the oil over fry until golden state of chopped onion, then add to the onions grated ginger and garlic. Throw a bay leaf and cinnamon stick. Leave minimum fire and a minute pour yogurt with spices. Stir well with a bow. Cook for about 2 minutes, bringing the yogurt to a boil.
Return the chicken to the pan, increase the heat to medium and cook for about 5 minutes. If necessary, additional salt. Close the pan with a lid, reduce the heat and leave to prepare the chicken for 25-30 minutes. Do not add water! The chicken itself should let the juice! After turn off the heat, leave the chicken under the hood still about 10 minutes Serve with fresh cilantro or green onions.