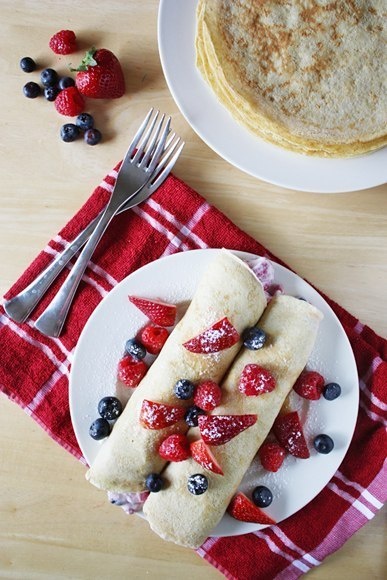 Ingredients:
Egg - 6 pcs
Milk - 1 2/3 cups
Sugar - 1 teaspoon
Flour - 2 cups
Vegetable oil
Strawberry - 500 g
Blueberries - 240 g
Raspberry - 240 g
Strawberry yogurt - 340 g
Powdered sugar
In a bowl, whisk the eggs. Are alternately add the milk, sugar, flour, whisking after each addition, to leave no lumps.
Fry the pancakes in a pan on both sides.
In a bowl, combine strawberries, blueberries and raspberries. Fill the yogurt and mix.
Stuff the pancakes with this mixture. Sprinkle top with powdered sugar. Decorate otavshimisya berries.