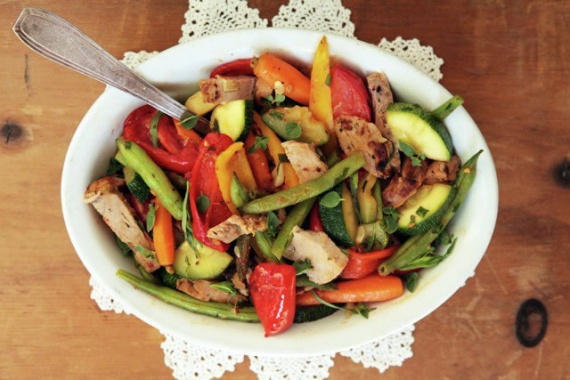 Time:
15 minutes
Ingredients (for 4 servings):
carrots - 2 pcs
zucchini (small) - 1
pepper - 2-3 pcs
beans - 1 handful
tomato - 2 pcs
Garlic - 2 cloves
tarragon (tarragon) - ½ beam
ham - 400 g
vegetable oil (unscented) - 3-4 tablespoons. spoon
salt
freshly ground black pepper
Preparation:
1. Carrots cut into slices, zucchini - cubes the size of half a walnut, boiled pork - small pieces. We cut off the tips of the beans. Peppers and tomatoes to cut slices, garlic and tarragon finely chop.
2. Heat a skillet in vegetable oil. Put carrots. After a minute, add the beans and garlic. Stir, cover with a lid. Cook over medium heat.
3. After two minutes, add pepper. Stir again and close the lid.
4. After a minute or two to send in a saucepan zucchini and tomatoes. If the vegetables start to burn, add a couple of tablespoons of water and reduce heat. Once the tomatoes warm up, add tarragon, pork, salt and pepper. Stir and remove from heat as soon as the meat is warmed up.