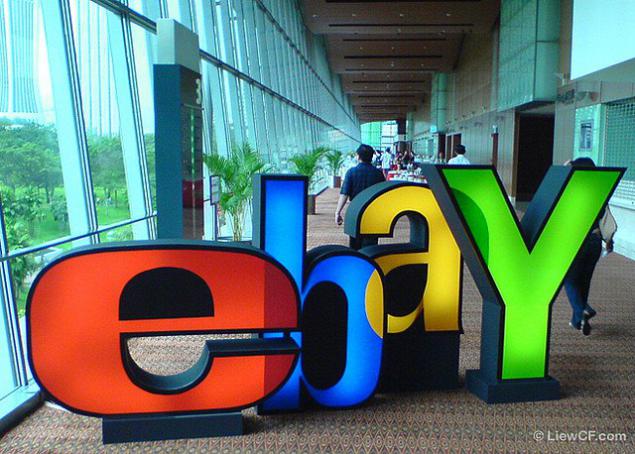 On eBay I led a desire to earn more than the interest to buy something for yourself.
We rested in Turkey with some guys from Kazan, and they were the owners of a few years has become quite a successful company, which is the essence of business is as follows: they take order, buy goods on eBay (mainly they work with the American branch), bring added their mark and give the goods to the customer. Now companies such as many of you know, there is quite a lot. These guys started small: buying custom clothes, shoes, household appliances - well then switched to vehicles (cars, scooters, motorcycles, ATV), jewelry, exclusive clothing and accessories, industrial equipment.
Such a scheme of business and I was very interested, though I had never engaged in trade and shopping abroad - still decided to try it myself. I easily found the intermediary company in the US, which has agreed to serve my orders. As I wrote above - now there are a great many companies and, as a rule, almost the entire staff of such companies is fluent in Russian, which facilitated the process of communication in the extreme. :-) We agreed with them on the distribution of profits and algorithm steps: everything is simple - do I place, am submitting payment, then they order goods, get it to your US address and then send to me, well, I received the goods I give to the client . In parallel, I thought myself a buy on eBay on their own, without the involvement of intermediaries: t. E. I take the order, he buy and pay it and received, give the client.
Since I've never worked with eBay and payment system Paypal, then had to urgently learn. I opened the case under this payment card bank "Avangard", got her up and even with my basic knowledge of English, easily registered in these two companies. With Paypal nothing complicated at all, but of course with eBay had little knowledge podnakachatsya, t. To. To buy and sell it, it is necessary to know at least the main points of trade, which are almost identical in all online auctions.
Now the question remains in search of these same customers - the first course were my friends and acquaintances. I easily took them a couple of dozen orders, tell us a little than American shopping is different from ours: it was the clothing Hugo Boss, Armani Exchange, Victoria Secret, Marc Jacobs shoes and Lacoste, a pair of belts and fashionable glasses, a pair of belts and bags, and facilities for fishing (spinning reel, and so on. n.). I was just given a list of items with eBay and a couple of links to an Internet shops. What came to me with eBay without any problems to win at auction and to negotiate with the seller to send in the Russian Federation. With online shopping came a little more complicated - they were in the United States and flatly refused to send in the Russian Federation. At this stage, I hooked American partners, who immediately advised me to buy this product in different online stores that offer free shipping to the United States. After 3 weeks I have received all the goods and distributed them to customers. Thu-thu, worst-first came out: all sizes all arranged and approached.
I began gently to promote themselves and their services at various online forums. And to my surprise, just a week scored a dozen orders: mainly parts, accessories and tools for auto-tuning. I'm not a great expert on this issue, but here helped my American partners: they picked the right product according to the list and send me a consolidated parcel. I have slowly started to order products for yourself and your family, t. To. Was more than pleased with the quality and prices of goods that are ordered for customers. But the most profitable, of course - it's the customers that make expensive orders. This I realized after a young lady ordered a Louis Vuitton bag, which cost the US more than 3 thousand dollars. The bag was purchased as soon as possible and I gave her hand at the airport courier services which we often use to avoid very expensive to send things by mail. Received a certain level of reputation (of all its clients, I asked to leave me feedback on the forums) I got a certain level of orders, regular customers. Now I am working with a new direction - the sale on eBay. I went to an artist with a proposal to sell at an auction of his work.
Samoilov Anton.