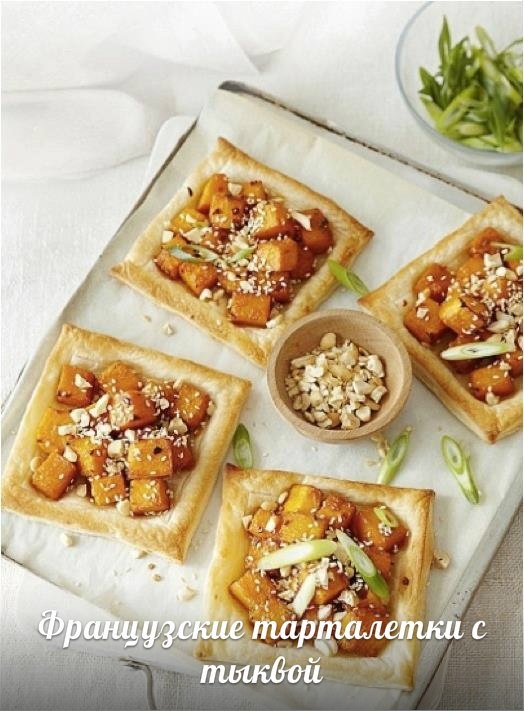 Products:
1kg pumpkin
2 sheets frozen puff pastry
3 teaspoons toasted sesame
¼ cup chopped cashews
3 chopped shallot bulbs
½ teaspoon chili flakes
1 teaspoon cumin
1 tablespoon vegetable oil
2 tablespoons meda2 tablespoons soy sauce
Method of preparation:
1) Clean the pumpkin, cut into cubes. Quickly and easily it can make multirezka Moulinex Fresh Express. Slice the onions. Defrost the puff pastry.
2) Fry the pumpkin for 8-10 minutes on low heat. Add the chilli, cumin, honey and soy sauce, carefully fry until the pumpkin becomes glazed. Cool in tech. 10 minutes.
3) Cut the dough into 4 squares. Make an incision 1 cm from each end of the tartlets. Place on a baking tray covered with baking paper.
4) Fill the tartlets with a mixture of pumpkin and bake at 220 degrees for 15-20 minutes. Before serving, sprinkle with sesame seeds, cashew nuts and shallots. Eat warm.