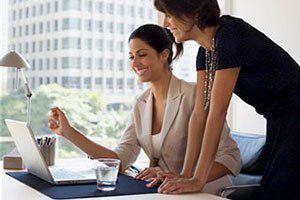 For many successful women's ultimate goal is to find a balance between all the important parts of her life.
But what does "all at once" really? Does it mean that it entails financial stability, a happy family, a powerful career and a good home? Most likely, the ultimate goal of women is a combination of all these things. If everyone was able to achieve all this without any casualties, there would be no reason to write such an article. The equation is simple: something will have to give in order to get something. So how do you get it all at once?
Flexibility in the workplace
Juggling career and family demands is undoubtedly a difficult task, so a flexible work schedule can be a lifesaver for successful women. Although flexible schedule provides an ideal solution, it is not always easy to find. There are many pros and cons of working at home, which is offered by various companies, and while the staff there are many technologies to perform almost any job without being tied to the office, not every employer believes that flexible working is a good solution. Unfortunately, too many women feel less valuable if the request or accept non-traditional schedules, especially if other people are working in their offices on a traditional setting.
Experts say that women should not be ashamed to look for opportunities to adjust the schedule to suit your needs. They argue that the rigidity in the workplace is the new "glass ceiling", because it constrains women, especially mothers, to achieve their career potential. To employers can fully realize the potential of the female workforce, women should ask and confidently make flexible load.
Take time
It sounds simple, but successful women are famous for the fact that not getting enough time "for yourself." For those who are self-employed or as a freelancer, is even more difficult to find the time. Since the time off is necessary for human well-being, it is necessary to plan it in advance and give it the same weight as the other subjects on the agenda. Only 38% of workers use their earned vacation - an average of 14 to 18 days a year. However, putting yourself in the first place, we can become more productive in the long run.
In addition to casual leave, a woman also needs to allocate some time every day. Even if it's only 20 minutes of meditation, exercise, or easy reading, the time allotted for the restoration of physical and mental health is likely to improve overall health and worldview.
Encourage other women
Pop culture portrays successful women constantly digging a hole to each other. And this is not quite true. In the women's team periodically disputes, though small, but it ofisesluchaetsya Women more often than we would like. Of course, women should not blindly agree with each other or smile rather than to argue. They must be able to express themselves in such a way that it would be respectful of others. We need to think about the motivation of his words before declare something in public. Should ask ourselves whether the chosen point of view is so important, or to blame the annoying colleague.
You must be able to work as a group to change public opinion on the first change of its own. Managing expectations about achieving a balance just might be the key to finding him.