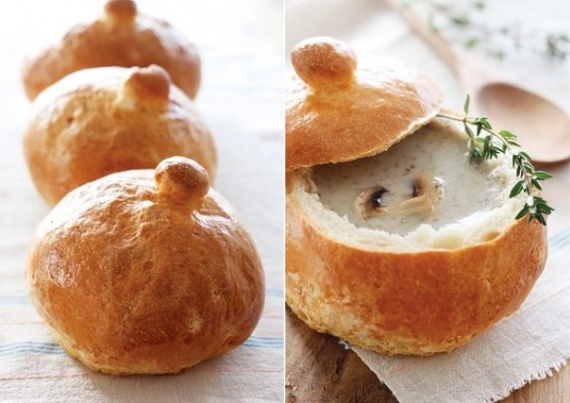 Ingredients:
The St mushrooms 250g.
Potatoes -100gr.
Bow rap. -70gr.
Carrots -70gr.
-5gr Greens.
Cream 33% -100gr.
Water -200gr.
White wine suh.-20g.
Rye bread -600gr.
Garlic -2gr.
The oil was stretched. -20gr.
Pepper mole. -1gr.
Salt -4gr.
The method of cooking the recipe Mushroom soup in bread.
Onions, carrots and mushrooms fried in vegetable masle.Vlivaem wine, water and evaporated napolovinu.Dobavlyaem kartofel.Varim until ready ovoschey.Probivaem blenderom.Vlivaem cream and cook another 10Minutes, adding salt and pepper. In bread cut off her hat, take out the crumb and bake in the oven until a korochki.Natiraem garlic bread and fill it sup.Posypaem greens.