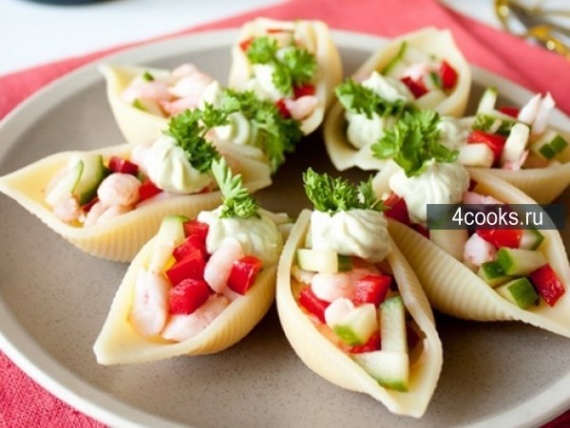 Ingredients:
Large seashells - 16 pcs
Shrimp - 150 g
Cucumber - 1 pc
Sweet pepper - ½ piece
Mayonnaise - 2 tbsp
Basil - 2-3 sprigs
Salt
Recipe:
First boil the pasta according to package directions. Then drain and let cool.
In a saucepan, pour water, salt and shrimp boil. Then peel them and chop.
Cucumber and pepper cut into equal cubes. Mix all ingredients in a bowl and season with salt.
Now lay the salad in a shell.
Making the sauce. In a blender, mix mayonnaise and basil. Garnish with a drop of sauce and herbs.
Portion salad of shrimp in shells ready.
Bon Appetite