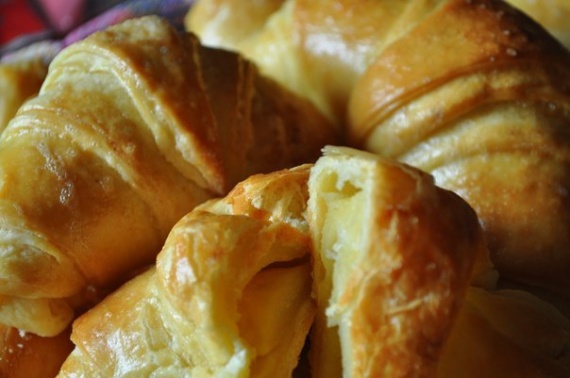 Warm, with the scent of the butter. Baking them is not easy. Croissants require patience and effort. Need to use flour from durum wheat, but not coarse grinding.
Quantity: 12 large or 18 mini-croissants
500 g of flour from durum wheat
1 package yeast fast
1 tbsp sugar
1 tsp salt
vegetable oil, for greasing pans and bowls
250g chilled butter + a little grease bowl
200 ml of warm milk
150 ml of warm water
1 egg whisk
1!) Mix the milk and water, dissolve yeast. Mix all the remaining dry ingredients in a large bowl. Stir in 50g butter, collect the resulting mixture slide and make a well in the center. Pour the milk and yeast mass into the prepared hole. Mix all hands.
2!) Put the dough on a floured flat surface and knead the dough right hands. Wrinkle and stretch in all directions until it is smooth, almost silky.
3!) Wash bowl under test. Before returning to her dough, to lubricate the bottom and sides with oil, so that the dough is not sticking. Cover with foil and remove the dough in a warm place to give him up.
4!) In the meantime, put the remaining butter between two sheets of edible film. Gently tap the film softening oil. Work quickly so that the oil was cold. Roll the butter in a rectangle measuring 20x15 cm.
5!) When the dough has doubled in volume increase (after about an hour), to shift it on floured surface and roll out the obmyat rectangle of 50h25 cm. In the center of the box to put butter, sprinkle with brown sugar and cinnamon, wrap the dough with one edge , then the other (though covering oil) to get the parcel. Again, roll the dough into a rectangle and vnovsvernut. Wrap the dough with parchment and keep in the freezer until the oil hardens (about 20 minutes) Repeat this procedure three times.
6!) Two pan greased and floured. Roll out the dough into a thin rectangle, 5 mm thick, cut away the excess. Cut into three equal rectangles, each cut into triangles 4-6.
7!) Dipping your fingers in flour, roll triangles vrogaliki toward an acute angle. Try not to turn too tight or too loose. Pridat bagels crescent-shaped cover with a towel and put into a warm place for about an hour.
8!) Preheat the oven to 200C. Lubricate croissants with beaten egg and bake for 10-15 minutes until golden brown. Cool on a lattice, or basement so.
When the family will be accepted for croissants, be sure to be on the table butter and raspberry or strawberry jam!