Siniora Stojko, Bulgarians, had to be put into the luggage compartment of his two-year Spitz because the company Blue Air does not allow passage of animals as hand baggage and in the cabin. The luggage Spitz bit the tape, which his leash was attached to the front and through the hatch for the luggage that was left open, he jumped out of the aircraft.
Meanwhile, the airliner left the terminal and began to taxi to the runway.
The man saw through the window that his dog runs after liner, barking at him. The owner of the animal alerted the crew and the pilots passed this information to dispatchers who banned off. The airliner returned to the airport terminal.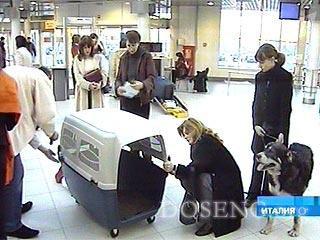 When viewed from the plane turned out that was not closed one of the hatches through which the dog and jumped. If the airplane took off, unclosed hatch would cause a disaster. None of the devices are not notified of the unavailability of pilots to fly, but the animal's behavior helped to avoid the crash.
"Thanks to the dog," - said one of the leaders of Fiumicino Airport Luca Chiarlini.
"He sensed the danger, and warned his demonstrative flight crash," - he added.