Shooting 100-series Ukrainian serial "Hold Me Tight", which began in mid-September to show on the channel "Russia", go so far. This is a story about a young girl Polina Pavlova, who is trying to succeed in the dance scene. In the story of Pauline will participate in the tournament, "Star Dance" (the analogue of the "Dancing with the Stars", which was successfully held in Russia and Ukraine). Kinosorevnovanie stretched as much as 30 series. And the participants were not only Ukrainian artists, but our star dancer Natasha Koroleva and Julia Menchov.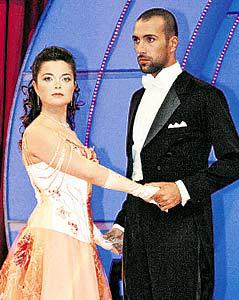 I must say, especially the girls did not have to reincarnate - the plot they will be stars, which are taught to dance on the project. However, for the film Queen Natasha was coined nickname Natalya Arkhipova. The singer herself chose this name because the name Arkhip her 5-year-old son. By the way, during the negotiations about the shooting Natalia also insisted that it was filmed with her partner on "Dancing with the Stars" Eugene Papunaishvili.
Julia Menchov in the series also met with his partner in the project by Ian Halperin. But unlike Natalia long. According to the script because of backstage intrigues pair had to be separated, and Julia will dance with Ukrainian dancer Dmitry Digusarom.
Not so long ago on the show lit up and the group "VIA Gra". The girls played on the show itself. By the way, their new song "Kisses", which is now full of music conquers the charts - is the soundtrack to the TV series. And the name telenovel "Hold Me Tight" is taken from the composition.
* * TVNZ