Do law enforcement officials have been (and probably still is) a lot of ways to get information. These methods do not like to show films about the police. Here are twenty of all the options that a person can experience in their torture chambers.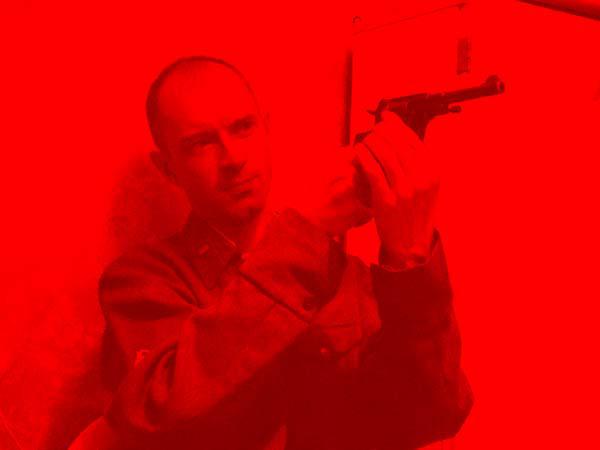 1) sound manner.
Plant a person under investigation for the six meters. eight and make all speak loudly and repeat. Already harassed person is not easy. Or make two horn made of cardboard and had come up with fellow investigator, close approaches to the prisoner, screaming into his two ears: "Confess bastard!" The prisoner stunned, sometimes loses hearing.
2) To extinguish the cigarette on the skin of the person under investigation.
3) Light the way. Sharp clock electric light in the chamber or box, which contains the prisoner, excessively bright light for small spaces and white walls. Inflamed eyelids, it is very painful. In the interrogation room on it again direct the spotlight room.
4) Such a notion.
Chebotarev in the night under the May 1, 1933 in Khabarovsk GPU all night, twelve hours - not interrogated there: were taken in for questioning! That something - hands back! Withdrew from the chamber quickly up the stairs to the office of the investigator. Output left. But the investigator, not only asking a single question, and sometimes without giving Chebotarev and sit down, picks up the handset: Pick of the 107th! Its charge is brought into the camera. But he went on the bench, rattles Castle: Chebotarev! On questioning! Hands back! And there: take away from the 107th!
5) Prison begins with box, ie a box or cabinet.
The man had just grasped from the outside, even in the summer of his inner movement, ready to find out, to argue, to fight - at the first prison step slam into the box, sometimes with a light bulb and where he can sit, sometimes dark and such that it can only stand still pinned down by the door. And keep him here for a few hours, half a day, daily. Watch the complete obscurity! - Maybe he is immured for life? He never anything like this in my life met, he could not guess! Go its first hours, when all it is still burning from the spiritual vortex is not stopped.
6) When you do not have enough boxes, and made more so.
Elena Strutinskaya in Novocherkassk NKVD imprisoned for six days on a stool in the hallway - so that it is nowhere leaned, did not sleep, did not fall and not get up. It's six days!
7) According to local conditions, boxing may be replaced by divisional pit, as it was in Gorokhovets army camps during World War II.
In this hole, the depth of three meters, two meters in diameter, was arrested faced, and there a few days in the open, the hour and the rain was for him and the camera, and restrooms. A hundred grams of bread and water to him to go down on a rope.
8) Make the accused kneeling - not in some figurative sense, but in the literal:
on his knees, not to would sit on your heels, and kept back straight. In the investigator's office or in the corridor can be made to stand like twelve hours and twenty-four and forty-eight. (Himself an investigator can go home, sleep, have fun, it's designed system: about a man on his knees placed post, replaced by hours. (Looking good so put? Already broken, already are inclined to surrender. Well put so women. Ivanov-Razumnik announces version this method: putting young Lordkipanidze lap investigator izmochilsya him in the face! And what happened? Not taken anything else, Lordkipanidze was it broken.
9) And so easy to make stand.
It is possible to stand only during interrogation, it is also tiring and been broken and. You can during interrogations and plant, but to stand up to questioning by questioning (the warden makes sure not to lean against the wall, as if asleep, and grohnetsya - kicking and lift). Sometimes days vystoyki enough to people exhausted and showed anything.
10) All these vystoykah three, four, five days are usually not allowed to drink.
More and more it becomes clear Combining methods of psychological and physical.
11) Insomnia.
Insomnia (but still connected to vystoykoy, thirst, bright light, fear and uncertainty - that your torture?) Stirs the mind, undermining the will, the person ceases to be his 'I' ...
12) In the previous development - interrogators conveyor.
You do not just sleep, but you three or four days continuously interrogated removable investigators.
13) cooler.
No matter how bad the camera, but the lock-up is always worse than her, the camera always seems there Paradise. In the cooler man harassed by hunger and usually cold (in Sukhanovka have hot and lockups). For example, Lefortovo punishment cells are not heated at all, the battery heat only the corridor, and in this "warm" corridor duty officers walk in boots and a quilted jacket. The prisoner is stripped to his underwear, and sometimes to some pants, and he had to immobility (closely) to stay in the cooler hours, three, five (hot gruel until the third day). In the first minutes you think, I can not take an hour. But by some miracle people incubates its five days, maybe acquiring the disease and for life.
14) To consider any kind of lock-lock standing in a niche?
Already in 1933 in Khabarovsk GPU so tortured SA Chebotarev: locked naked in a concrete niche so that he could not bend his knees or straighten and move the arms or turn heads. That's not all! It began to drip on top of cold water (like a textbook! ..) And pour over the body Brooks. He, of course, has not been announced, it's all just twenty-four hours ... this is terrible, not terrible - but he lost consciousness, he opened the next day, as it were dead, he woke up in a hospital bed. He led an ammonia, caffeine, body massage. He could not immediately recall - where it came from, it was the day before. In a month he became unfit even for interrogation.
15) Hunger.
This is not such a rare method: recognition of the prisoner vygolodit. In fact, the famine element entered into the overall system impact.
16) Beating, leaving no traces.
Bute and rubber, beat and mallets, and sandbags. It hurts when they hit on the bones, for example, interrogators boot shin, where the bone is almost at the surface. Kombrig Karpunicha Bravo hit twenty-one days in a row. (Who says, "thirty years all the bones ache and my head"). Remembering her and the stories he has fifty-two receiving torture.
Lefortovo Colonel Sidorov after the war used the free kick galoshes for hanging male appendages (players receiving the ball in the groin, can this impact estimate). From this comparison, there is no pain, and usually lost consciousness.
17) in Novorossiysk NKVD invented a machine for clipping nails.
Many Novorossiysk then on shipments saw slezshie nails.
18) And a straitjacket?
19) A vznuzdanie ("Swallow")?
This is - the method of Sukhanov, and Arkhangelsk prison knows him (investigator Ivkov, 1940). Long stern towel laid over your mouth (vznuzdanie), and then through the back ends tied to the soles of his feet. So, wheel on its belly, with a crisp back, without food and water lie down two days.
20) But the worst thing that you can do this:
undress from the waist down, put on his back on the floor, legs dissolve, they sit at hand (a nice non-commissioned officers), keeping your hands.
And the investigator - do not stop the woman - gets between your divorced feet and the toe of his shoe (his shoes) gradually, steadily and all the stronger prischemlyaya to the floor that made you once a man looks you in the eye and repeats, repeats questions or suggestions betrayal. If he presses the first time a little harder, you will have fifteen seconds to cry out that you all recognize that you are ready to plant, and those twenty people, which is required from you, or slander in any print his shrine ...