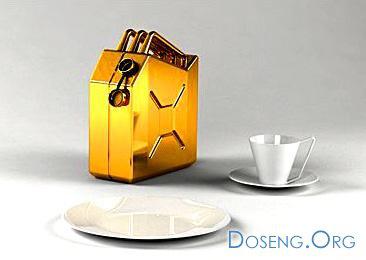 Oil - a piece expensive. To have it means to have power. In order to emphasize the human dependence on black gold, a trio of German designers DESIGNKOMMANDO created a tea set "BeautiFUEL life".
Beautiful life, their idea is to start with a daily tea. This drink is poured into a cup of gilded tanks for gasoline. After a couple of months, you really will be in full confidence that every time drink no ordinary tea, oil or gasoline.
If you suddenly drink will come to an end, it is not necessary to think about the purchase of an oil rig - a new brew tea. To purchase service, you must contact one of the designers association.