Well, continue my photo story about the memorable moments in Oscar history the Academy of motion picture arts and Sciences, or simply "Oscar".
The first part of the link vev.ru/blogs/oskar-istoriya-v-fotografiyah-part-i.html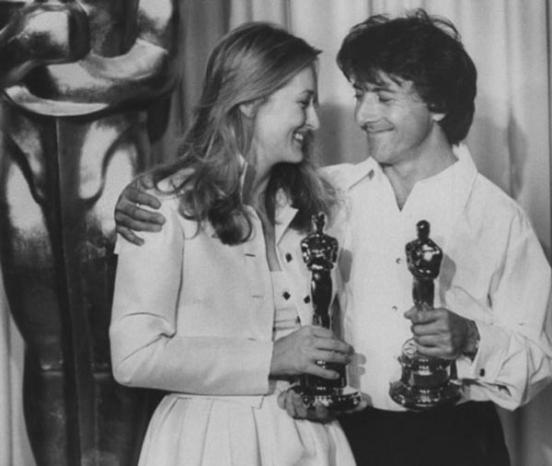 80s
1980. Goldie hawn and Liza Minnelli — small break during a never-ending series of nominative and winners.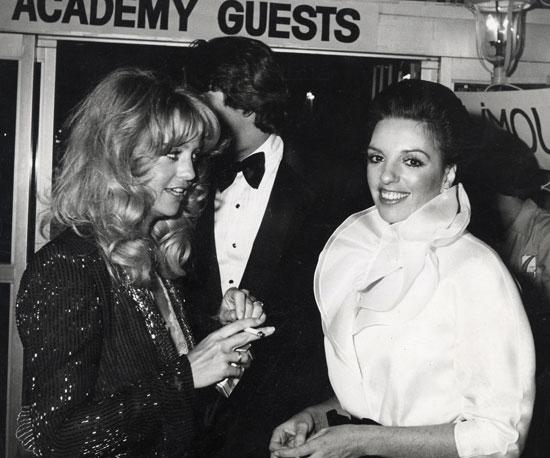 That's the first "Oscar" in the hands of Meryl Streep. In 1980 she received it for her supporting role in the film "Kramer vs. Kramer", where her partner, the winner was Dustin Hoffman.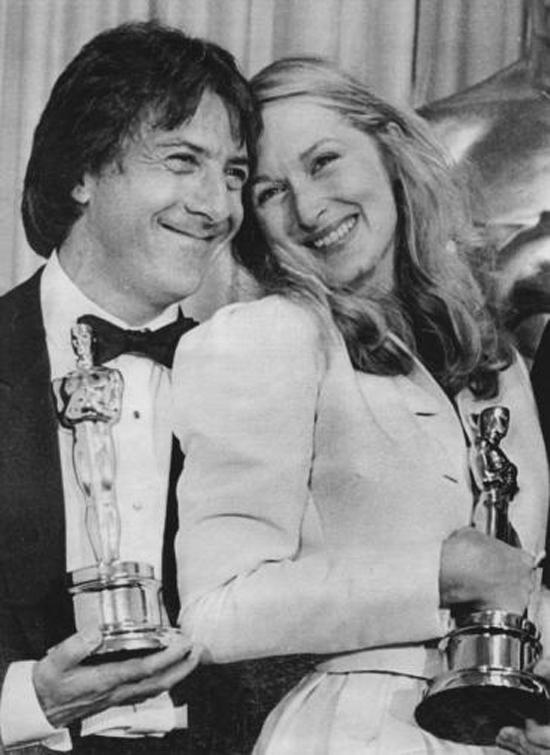 The second statuette was not long in coming and two years later she became the best actress of the year, starring in the drama "Sophie's Choice". To date, Meryl 16 nominations for "Oscar" and two wins. I hope this year will be the third.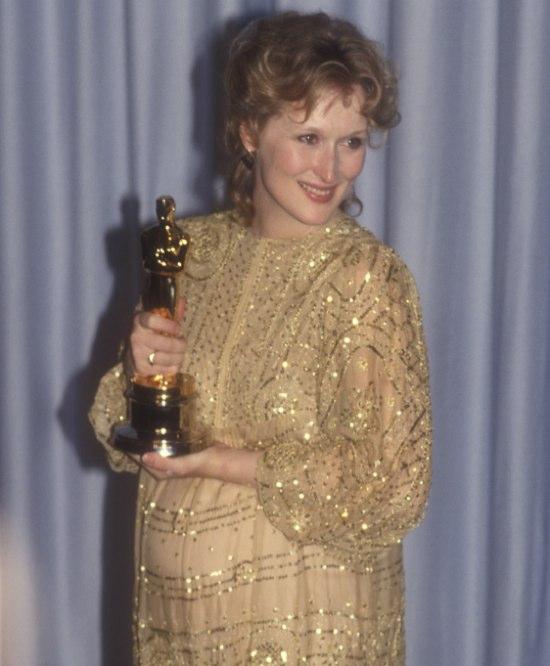 Robert De Niro is the winner in the nomination "best actor" for the film "raging bull", in which he had much to gain weight, and sissy Spacek is an extraordinary woman with extraordinary eyes, which personally I remember of the horror film "Carrie". 1981.
Michael and his then girlfriend, 16-year-old Brooke shields.
Steve Martin and Bernadette Peters, 1981.
Robert Redford and his reward, but not for acting, as many will think, and for directing in 1981, Redford made the film "Ordinary people" and left a mark in the history of cinema as a talented Director.
Angel: 8-year-old drew Barrymore on the red carpet "Oscar". Who would have thought that after a couple years it starts to use what little girls should not be consumed.
Shirley MacLaine and Jack Nicholson, and 1984.
Lionel Richie kisses the Oscar for best song for the film "White nights," 1986.
Still nobody knows 11-year-old Angelina Jolie with brother James and daddy, the famous actor John Voight. Now Angie is known throughout the world, but about dad forgotten. 1986.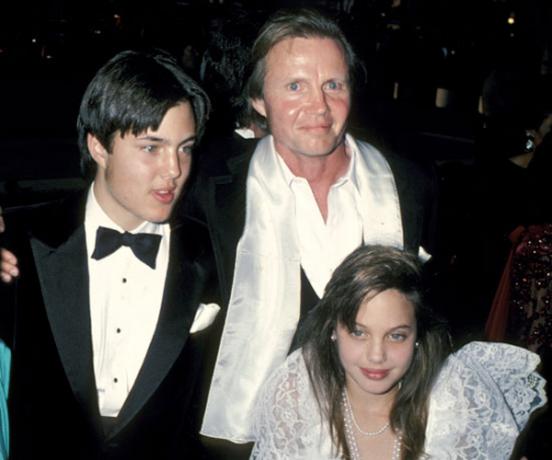 The same company, but two years later. Angelina grew up, but with a brother passionately kissing haven't.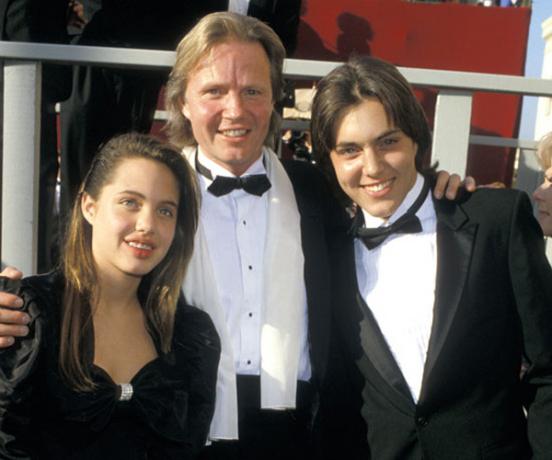 We all know Helena Bonham Carter as a woman, not like the others. Well, here it is exactly like no one else. Well, with age, the actress has learned to take care of yourself. 1987.
One of the best onscreen couples of all time — the incredible Patrick Swayze and Jennifer grey! Look at Swayze — what posture, what a man! 1988.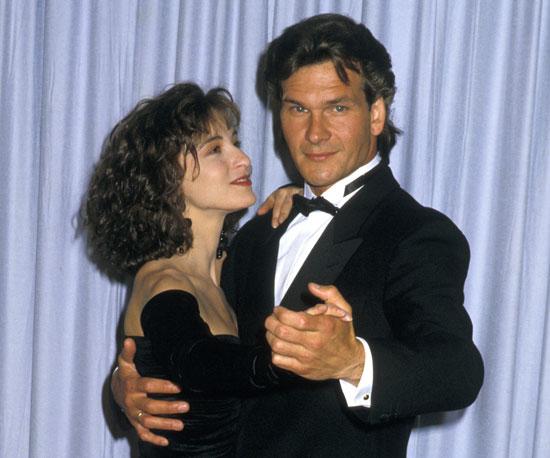 Goldie hawn, Kurt Russell and Meryl prude, 1989.
Here is the outfit — all outfits outfit! For those of you who can't bottom Cycling shorts. Demi Moore and Bruce Willis — then still happily married, but tasteless dressed.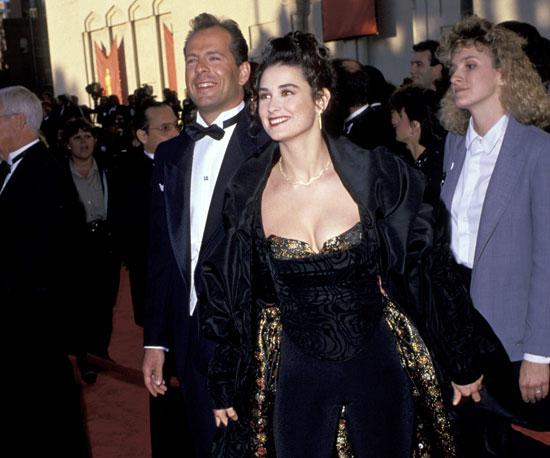 The first and the last ceremony "Oscar" for river Phoenix. 4 years later he died of a drug overdose in one of night clubs of Los Angeles. He was 23.
Partners in the magnificent film "rain Man" Dustin Hoffman and Tom cruise. "Oscar" is meant Dustin, 1989.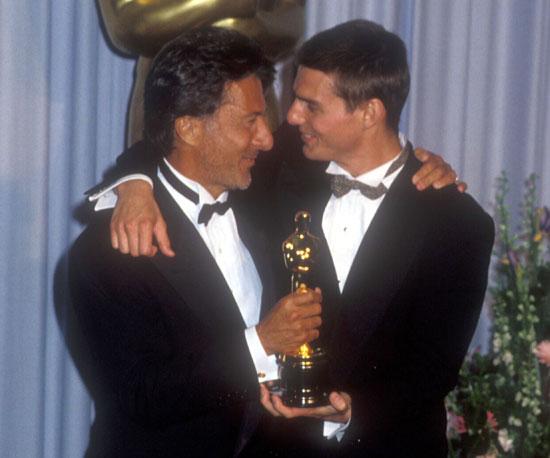 So happy Robert Downey Jr. and Sarah Jessica Parker. For those who don't know you guys dated for 7 years, but their relationship ended due to Robert's addiction to drugs. 1989.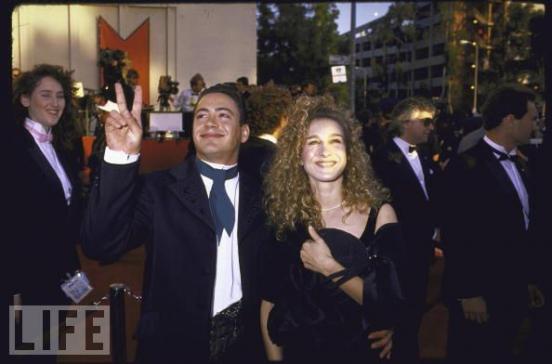 90
Closer to our days. The 90s will be remembered by many of the strongest films such as "Titanic", "Life is beautiful", "Forrest Gump" and "silence of the lambs" and unexpected couples, who attended the ceremony, holding hands.
In 1990, Tom cruise appeared at the ceremony in the company of moms. To be honest, at first I thought it was disguised as a man, but now it is clear, from whom Tom has inherited his gorgeous smile!
1991. Michael Jackson in the image of himself and Madonna in the image of Marilyn.
1992 was a triumph of a film "silence of the lambs". The brilliant Duo Anthony Hopkins and jodie foster pose with their trophies. Anthony, apparently, has not yet out of the way of Hannibal Lecter.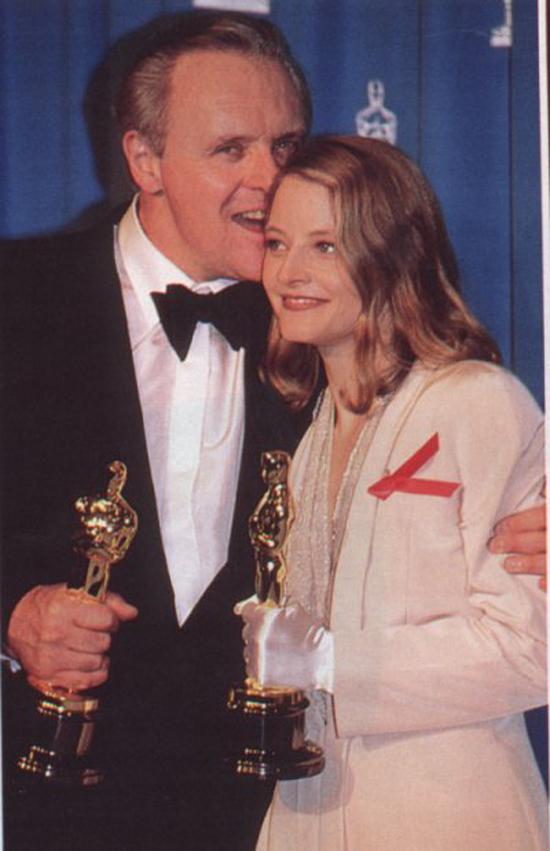 One of the best Directors of our time (not a film, a masterpiece!) Clint Eastwood, accompanied Barbra Streisand in a normal dress and Jack Nicholson.
So young! Steven Spielberg, Tom Hanks and Elton John. 1993.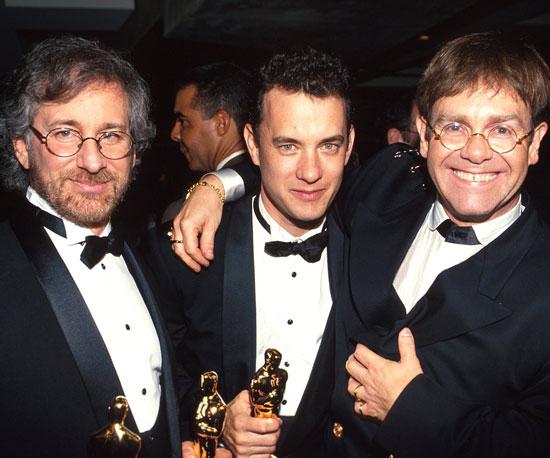 I notice that before brad pitt prefer blondes, but the dark-haired woman turned his life. Brad with his then-girlfriend Gwyneth Paltrow.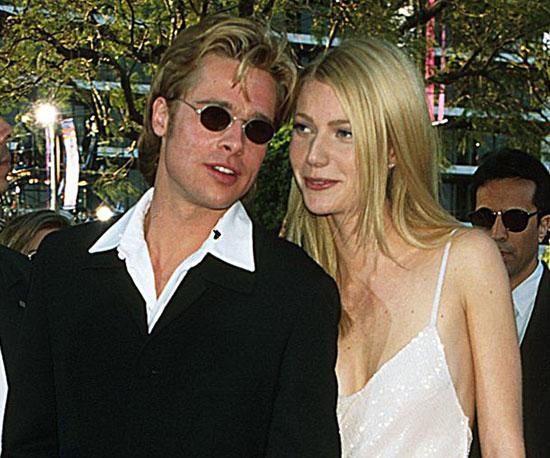 Cuba Gooding, Jr. tries out "Oscar" for a supporting role in the movie "Jerry Maguire"
Didn't know that Susan Sarandon and Tim Robbins met, moreover, they have two children together. 1997.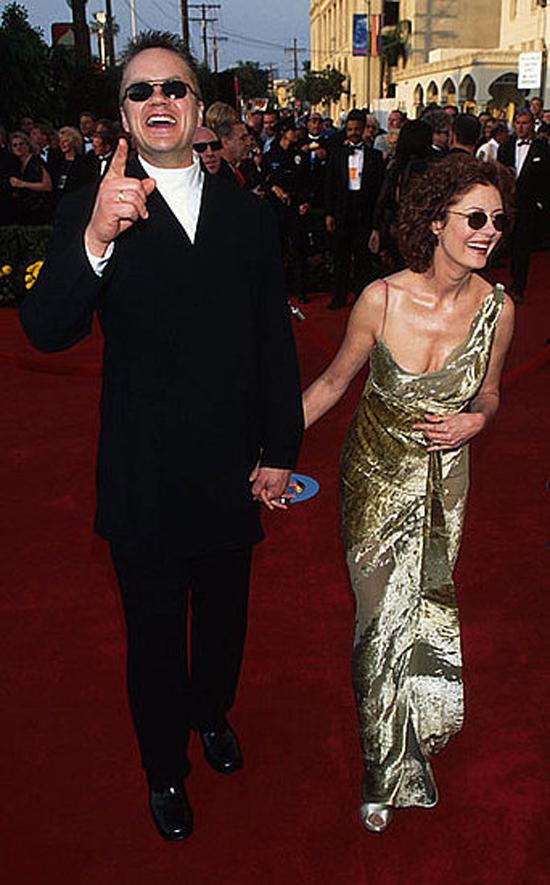 1998. 23-year-old Kate Winslet on the red carpet "Oscar". In that year, the actress was nominated for the award for "Best actress" in "Titanic". Then the award she received, but after 11 years and 4 nominations she finally won the statuette for the film "the Reader". I advise you to view!
Best friends Matt Damon and Ben Affleck happy statuettes for best screenplay for the film "Good will hunting" in 1998. Since then, Damon's acting career took off, and Ben Affleck an I would advise to continue to write the script.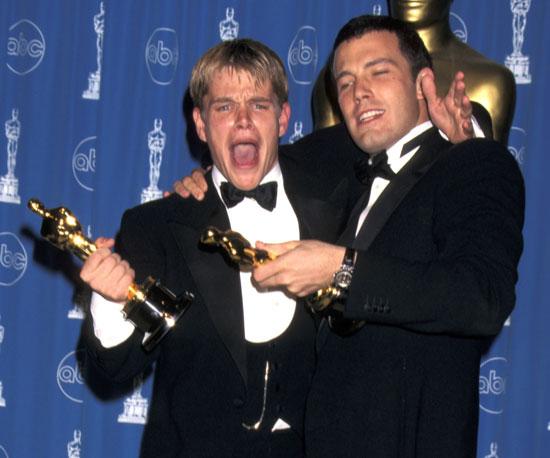 1999. Roberto Benigni was just crazy when I got two Oscars for his film "Life is beautiful". Well, he's such a surge of emotion forgivable — he's Italian.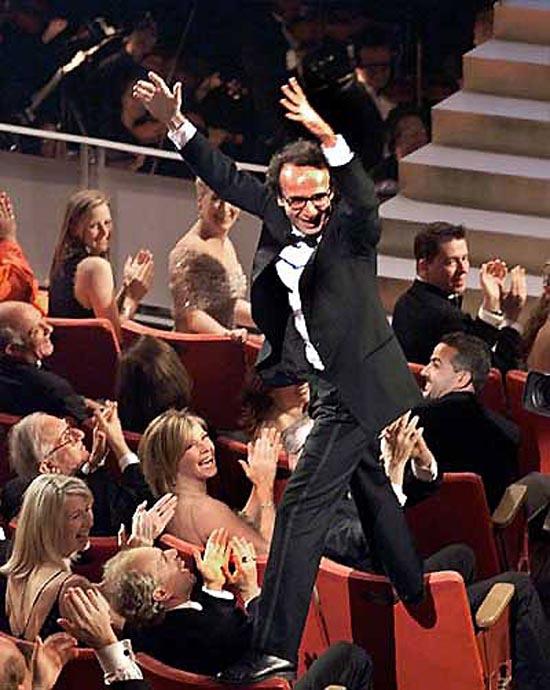 Gwyneth Paltrow at the party to celebrate the Oscars. Dad congratulates the actress with the award for best actress.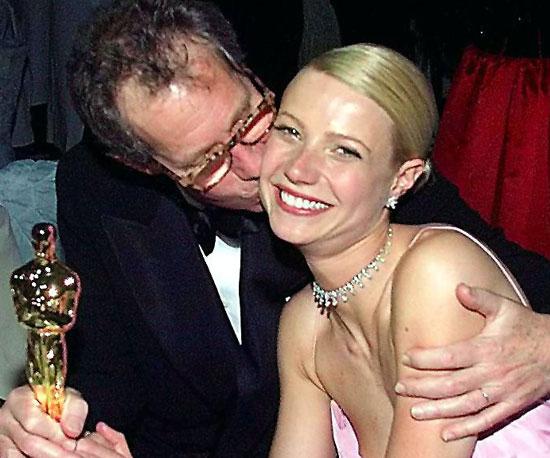 Dustin Hoffman two statues of a reasonable size was not enough and he decided to take home the trophy more. What are they doing them? From foam?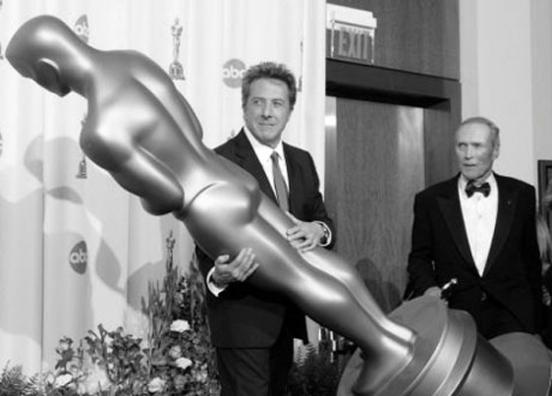 "Manneken Pis" the brothers Baldwin.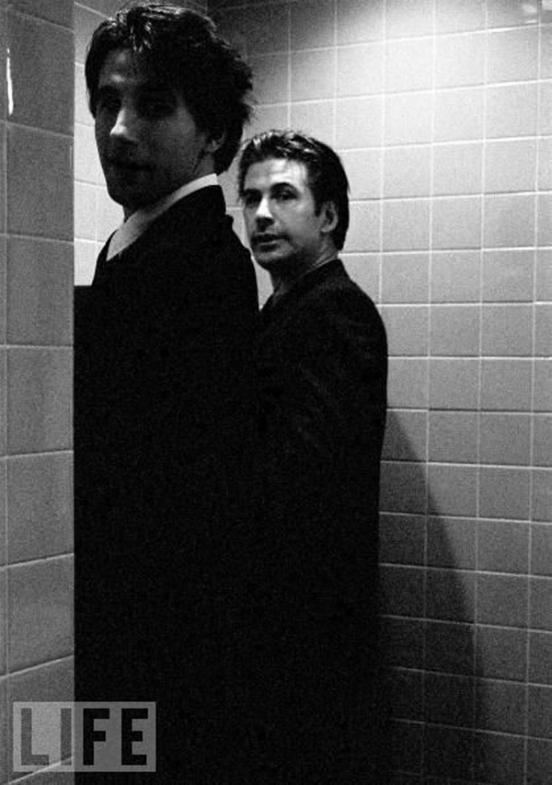 2000s
2001. Julia Roberts and Russell Crowe pose with the Oscars for best actor / actress respectively. Russell looks so cute and harmless, don't even think that he can throw phones.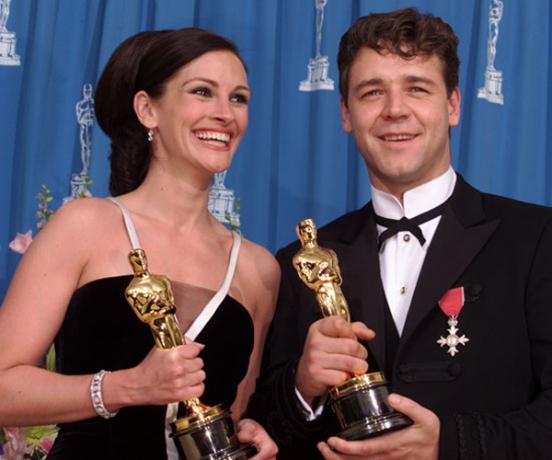 Girlfriend Salma Hayek and Penelope Cruz appeared at the ceremony 2002 together. I hope Actresses not compete with each other on the part of "Oscar", and that Salma is clearly losing: one nomination Hayek against two nominations and one win, Cruz.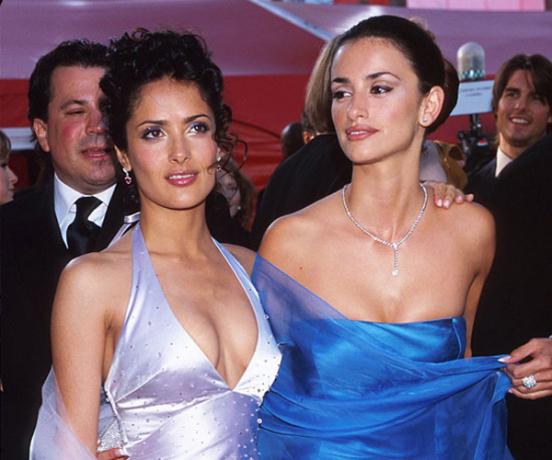 Nicole Kidman was unable to restrain his emotions, when he received the award for her role of Virginia Woolf in the Hours. 2003.
2003. Adrian Brody and Halle berry. As you can see, Adrian is sooo great kisser. So the actor thanked Holly for an Oscar, which she deservedly handed to him for the film "the Pianist".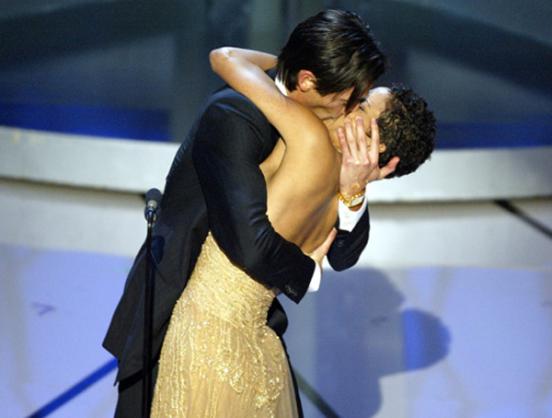 A year later. Adrian was the one who was announced the winner in the nomination "Best actress" and before you mention the name of Charlize Theron, he splashed in the mouth refreshing spray. He came prepared!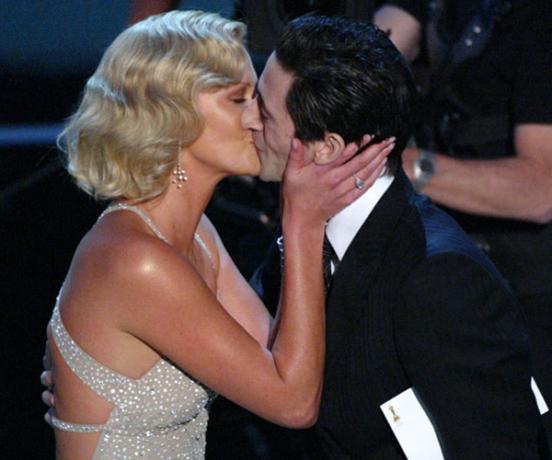 Ryan Phillippe congratulates his ex-wife Reese Witherspoon with a victory. 2006.
Heath Ledger and Michelle Williams. They look so happy... 2006.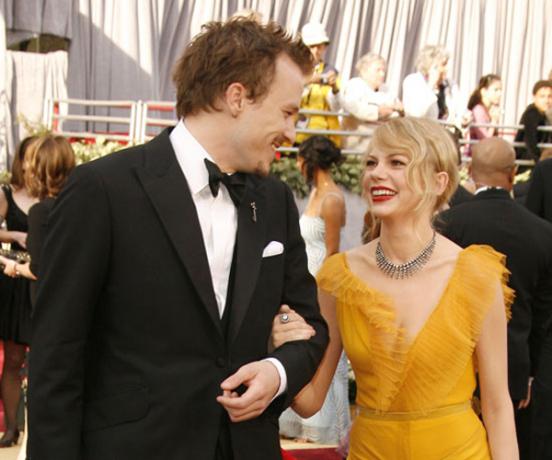 Leonardo congratulates his mentor Martin Scorsese with the win for best Director of "the Departed".
Beyonce and Gwyneth Paltrow about something whispering on the red carpet. 2007.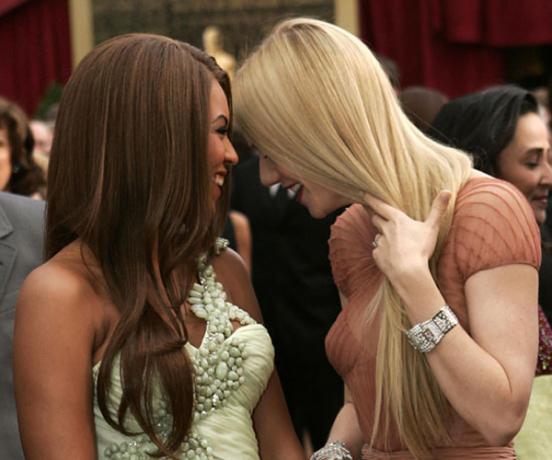 Javier Bardem's mom. Nice to see men who treat their mothers with such tenderness. 2008.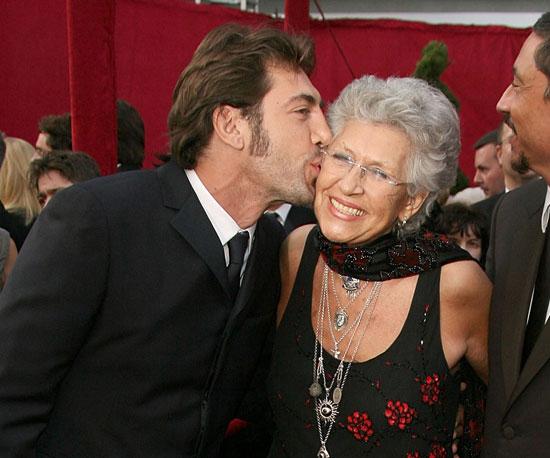 A pair of "losers" — brad and Angelina. The fact that in 2009 they were both nominated for an Oscar, but went home with nothing.
And here are the winners: Kate Winslet, Sean Penn (who lost to Brangelina), and Penelope Cruz.
Interesting photo: Meryl Streep instructing Natalie Portman. 2009.
And finally — a small addition! The organizers of the "Oscar" there is a tradition before each ceremony they collect all the nominees for the gala dinner and make a great photograph with them. I managed to find 7 such photo (2006-2012) — others, or not exist at all, or not in the network. And now let's play my favorite game: find the star in the photo. (photos are clickable)
2006
2007
2008
2009
2010
2011
2012